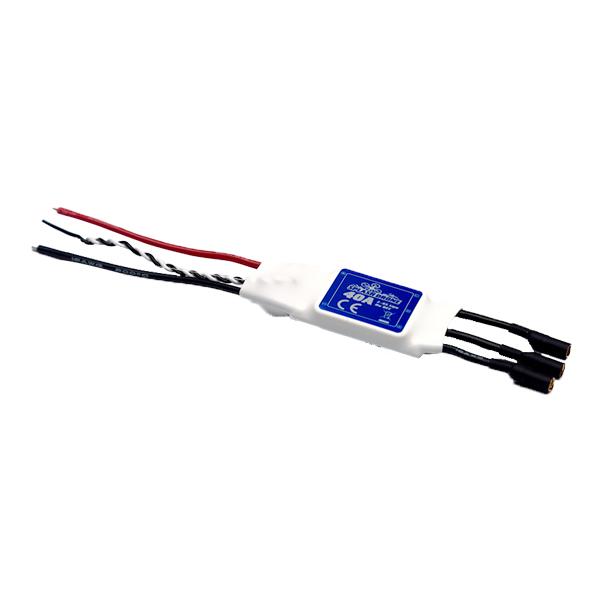 ESC For Splashdrone 3+
Free shipping for order over $900.
Duty-free for USA, AU and NZ.
Buy now, pay later with Klarna.

The Splash Drone 40A ESC is optimized for SplashDrones. The circuits and functions are optimized for reliability and good heat dissipation. Designed for Splash Drones, but also a great choice for other custom drones.
OPTO means this ESC lacks of the BEC Circuit, BEC circuit is to convert the battery's input voltage to 5V for powering the Receiver. Most of the expensive Flight Controllers (e.g. DJI NAZA) has a BEC unit included, so many players will use OPTO ESC to save money and less work load on the ESC. However, if your Flight Controller has NO BEC included, you will need to purchase an UBEC module (5V) to power up the RC Receiver. 
SPECIFICATION:
Output : Continuous 40A, Burst 60A up to 10 seconds
Input Voltage : 2-6cells lithium battery
BEC : NO BEC
Refresh rate of the throttle signal : at least 400Mhz
Timing : High or Intermediate
Red Black cable length : 120mm
Signal cable length : 260mm
Bullet Connector : 3.5mm
Size : 68 x 25 x 8.7mm
Weight : 26g
Escape replacement
I had written an of a month before I would receive them.
Was pleasantly surprised at quick prompt delivery.
That along with price and cost of shipping means would give it
5 stars plus
Warrick
Subscribe now to receive exclusive offers and updates.
Get an Exclusive 5% Off Your First Purchase