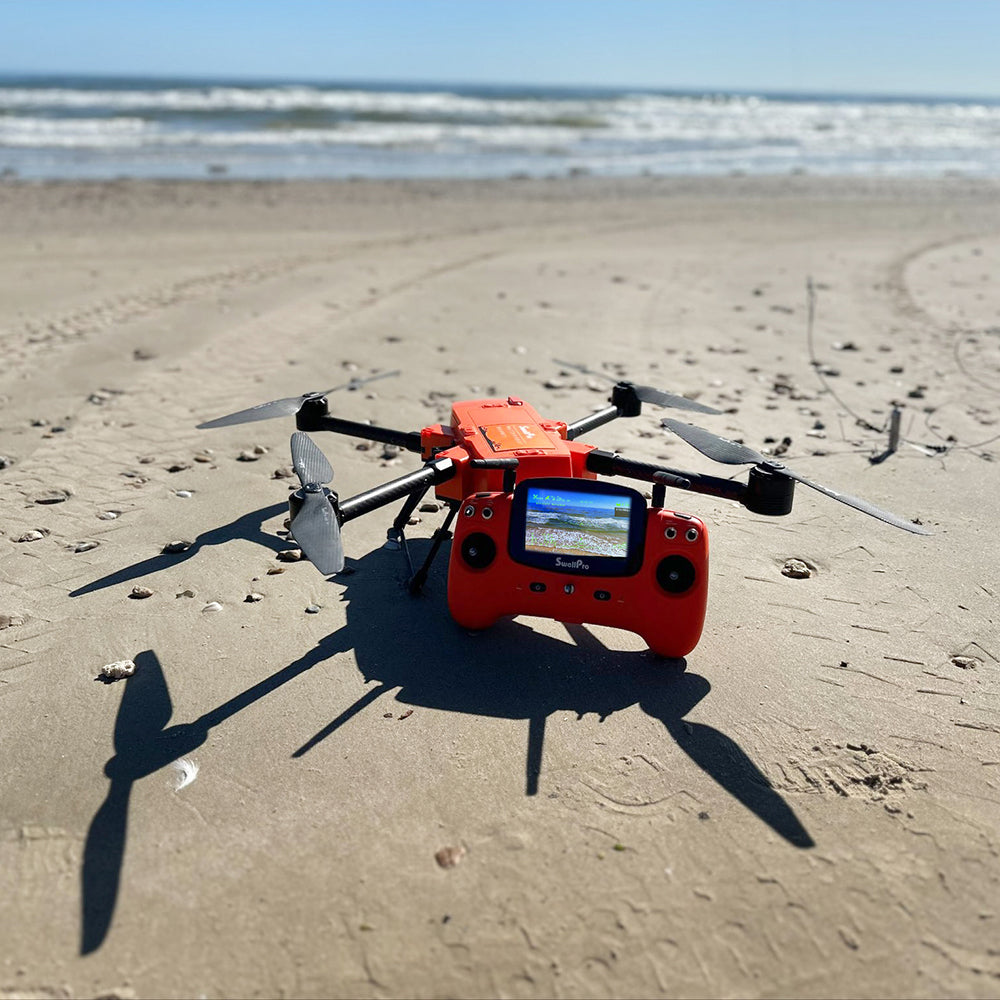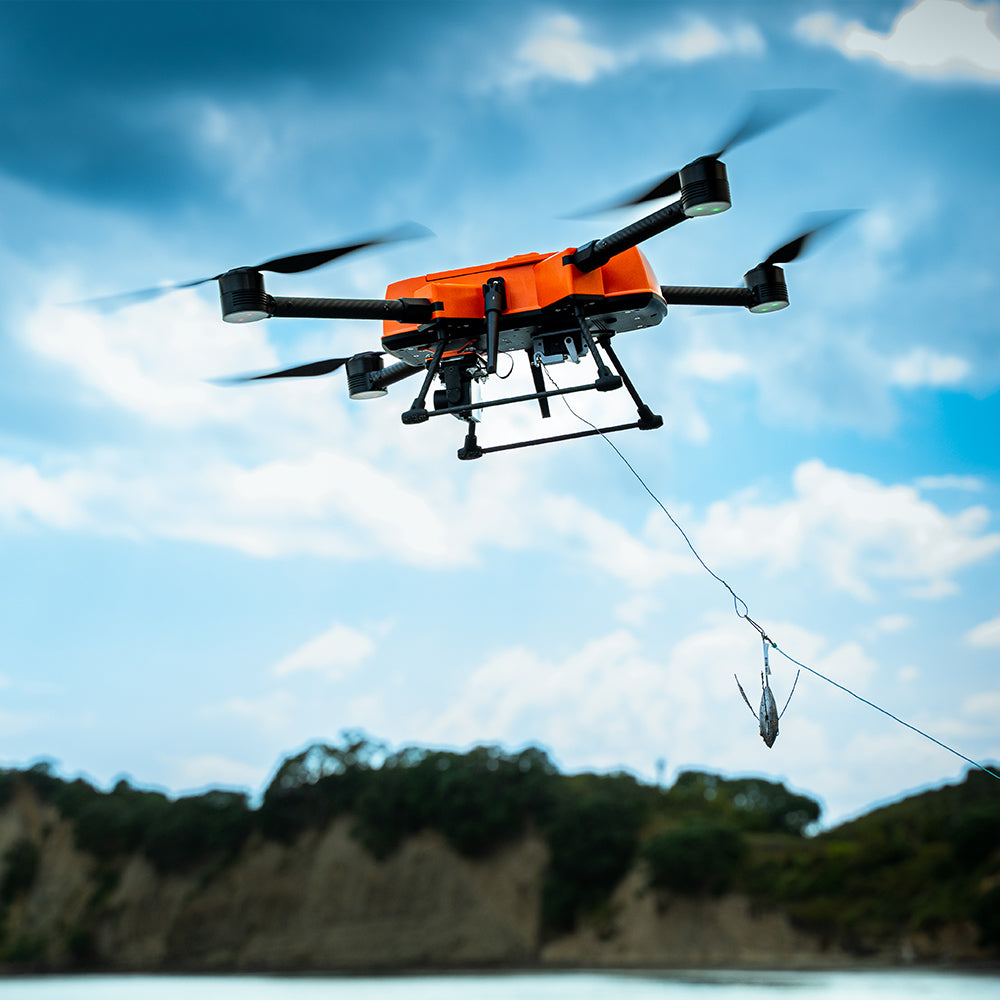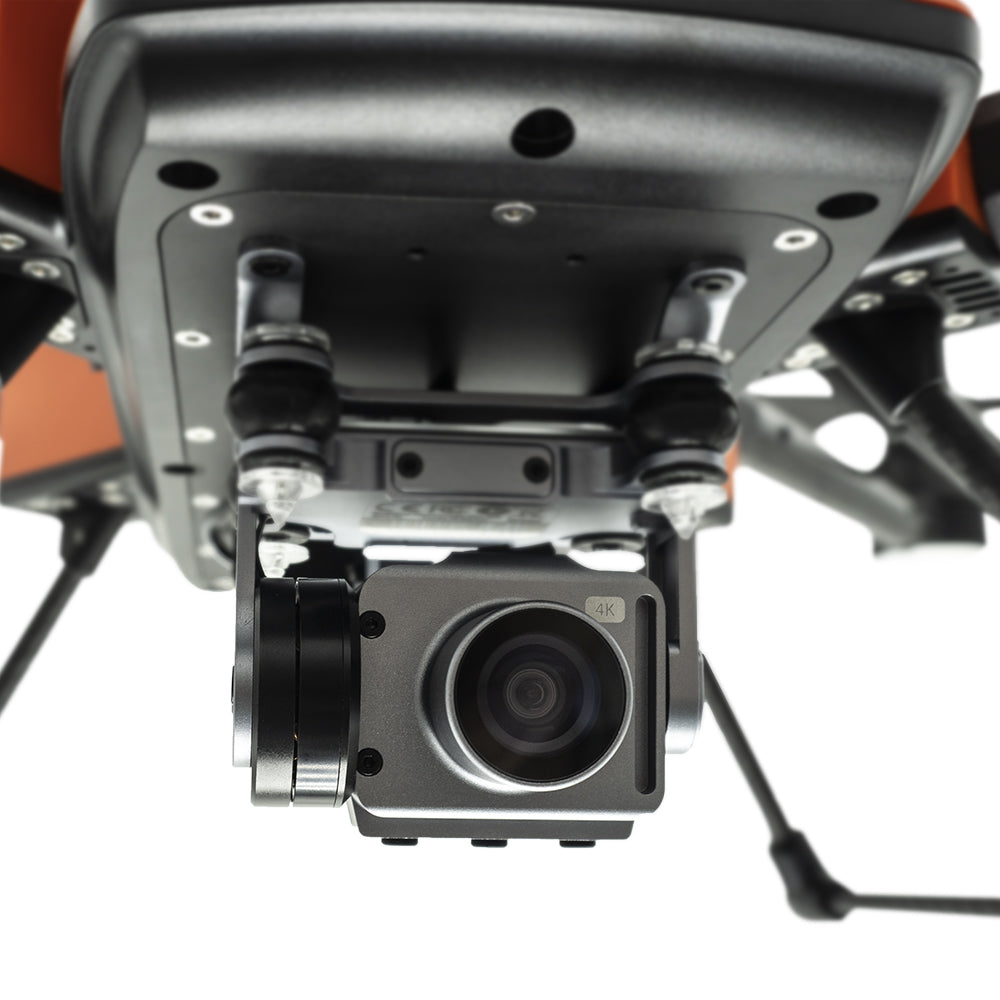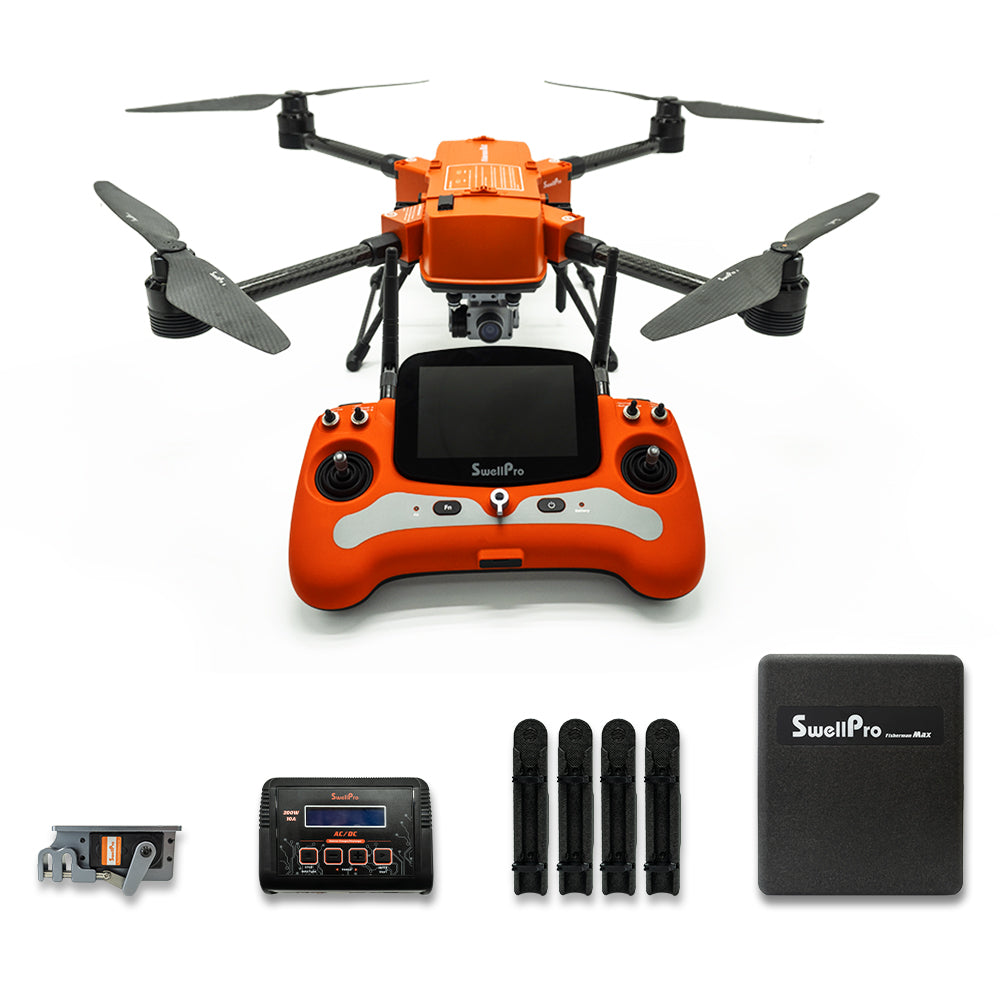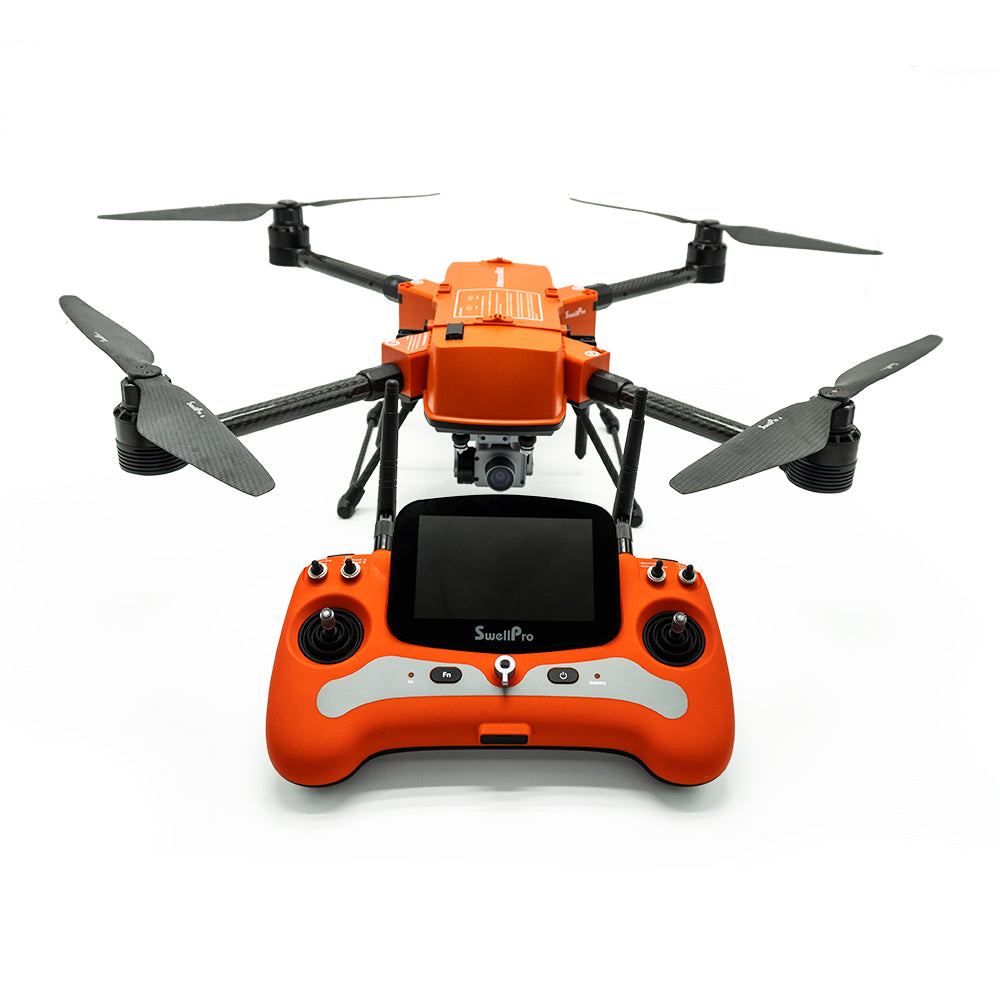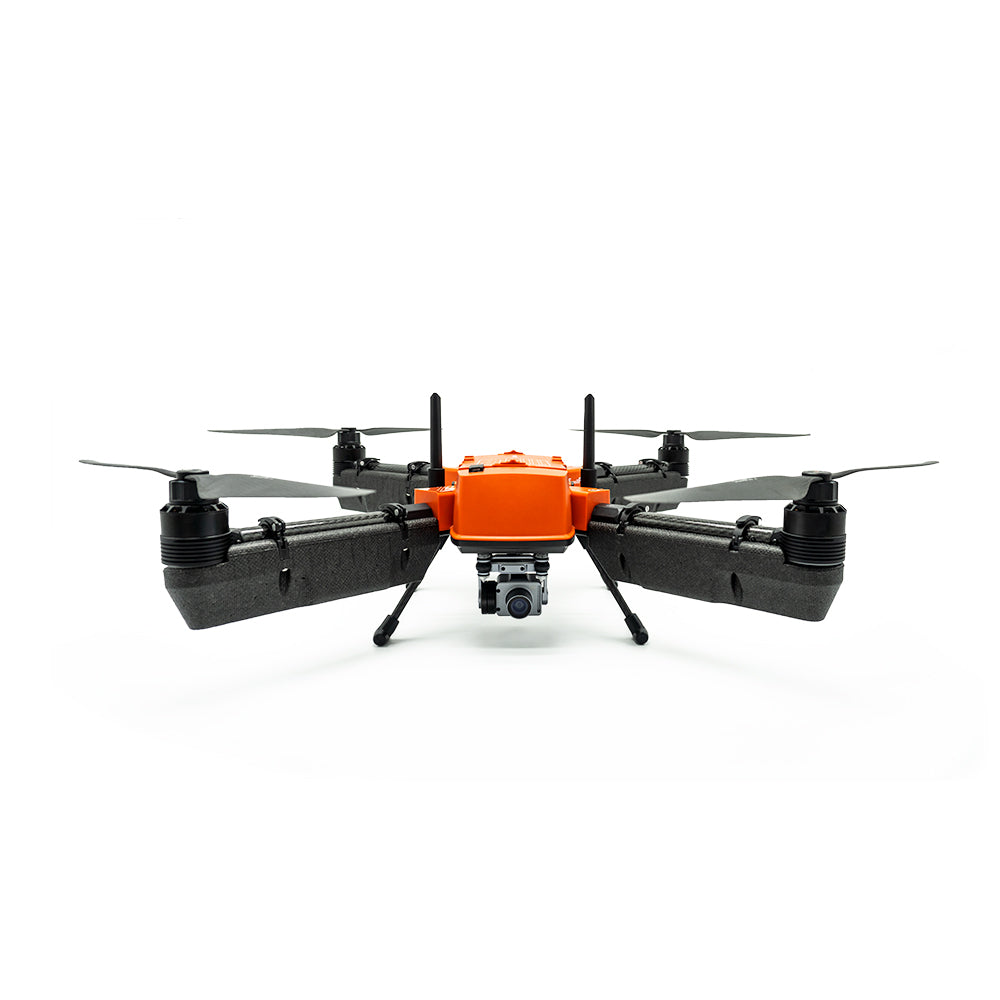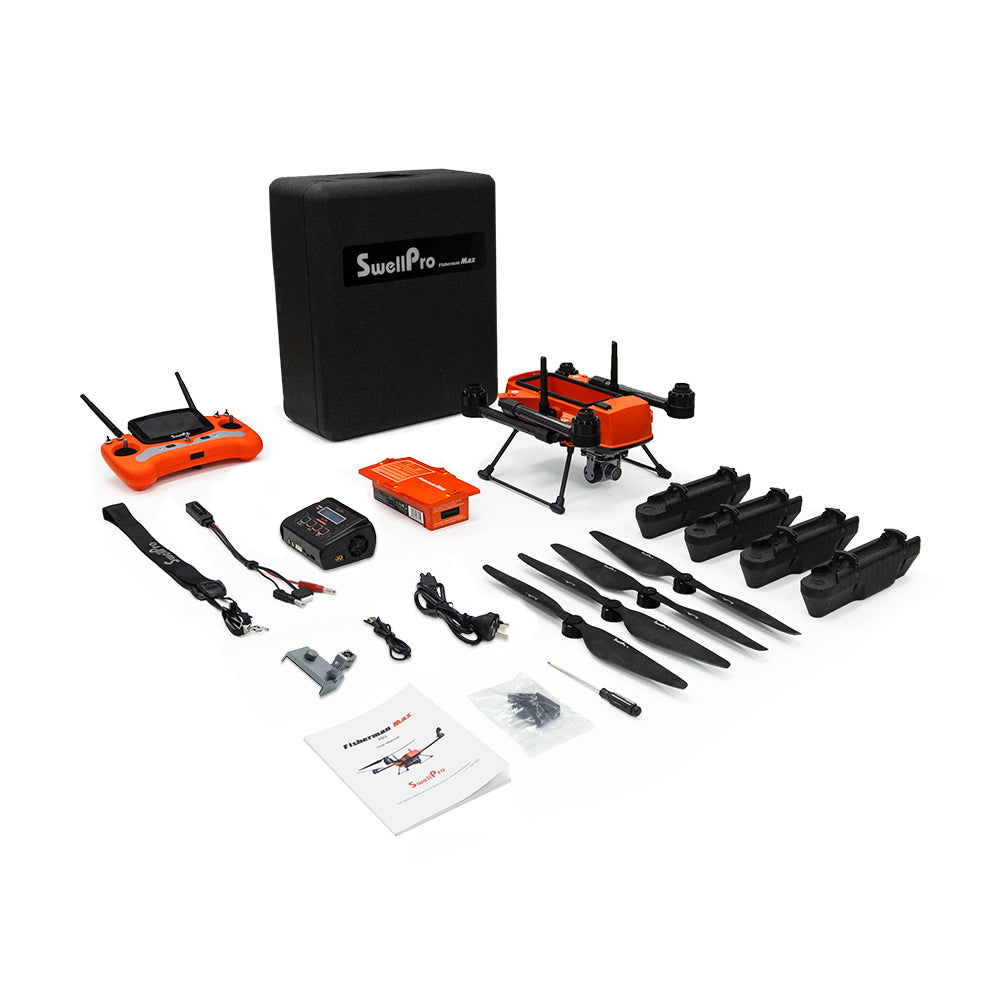 Fisherman MAX Heavy Lift Fishing Drone
Come with a bait release and a 4K camera.
7.7 lbs / 3.5 kg bait capacity.
IP67 Saltwater-proof.
Calibration-free.
Extra Propellers & Battery:
Extra Propellers & Battery
Free shipping for order over $900.
Duty-free for USA, AU and NZ.
Buy now, pay later with Klarna.

The Almighty Fishing Drone
Fisherman Max
Beach Bomber lands monster
with giant baits & Fisherman Max in Texas
This is the Fisherman Max. The newest member in SwellPro's drone fishing fleet, and the most powerful one. It's the fishing drone that pro anglers all over the world have been asking for. Why? It's because Fisherman Max is designed to maximize the success and safety of land-based big-game fishing.
7.7 LBS / 3.5 KG
Bait Capacity
Multi-color
Video Display
1 Mile / 1.5 KM
Casting Range
Calibration-free
Flight Sensors

7.7 LBS / 3.5 KG
Bait Capacity
Fisherman can fly stably while carrying 3.5 kg or 7.7 pounds baits. Heavy baits requires more power so we add a 8800mAh capacity battery with more voltage, high-efficiency 16'' propellers and high thrust motors. Fly big live bait over 700 meters easily and smoothly with total peace of mind. No other drones can handle payload weights like Fisherman Max.
6 Drops
Per Charge
Fisherman Max boasts unmatched power-efficiency across the industry. On one single battery charge, anglers can have up to 6 bait drops over 400 meters / 437 yards, each with 2 kg / 4 lbs baits. Enjoy more time in the air and better fishing results with Fisherman Max.
Drone-Cast with More Confidence
IP67 Saltwater-proof
A waterproof housing and waterproof motors protects the drone from saltwater damage when in or around the ocean. The battery compartment has a 100% watertight rubber seal to further protect the drone and electronics when the battery is installed.
Float & Flip
When the float bars are attached, the Fisherman Max can float safely on the water and will land and take-off even in saltwater. If the drone accidentally capsizes in the water, you can use the joysticks to flip it back to its normal position, and take off!
Level 6 Wind Resistance
Thanks to industrial-grade propulsion system, Fisherman Max has tremendous power to not only lift big baits, but we designed it to also fly safely in strong ocean winds of up to 40 mph (18m/s), providing you greater control and comfort.
1.5 KM / 1 Mile Casting Range
Fisherman Max can fly up to 1.5 km (1 mile) away from the shore. The specially designed rotatable dual antennas on the drone ensure reliable transmission when the aircraft fliess at a high altitude or close to the water, allowing for better control & clearer video from your drone. Anglers can scan large areas of water quickly and drop baits in remote spots without the use of a boat or kayak.
Fisherman Max is factory-calibrated and doesn't require re-calibration. The drone can fly stably without calibration on any beach of the world.
The remote control can immediately send out voice alerts when the weight of the baits exceed the max lift capacity of the aircraft.
Fisherman Max can receive up to 30 GPS satellites, enabling rock-solid flight stability. The improved hovering precision results in an increased bait accuracy and better GPS lock.
Fisherman Max can automatically release the baits and return to the shore when the battery reaches a specific low threshold or a loss of signal occurs.
Multi-Color Display
A 5'' multi-color LCD display is built into the remote controller of Fisherman Max. The display can show the drone's footage in high definition and in real-time, along with the aircraft status such as GPS coordinates, altitude, and battery voltage. Voice prompts can improve situational awareness and warn the pilots to potential dangers. Without using your phone, the remote controller has everything you need for a safe and smooth control at all times.
4K Camera
The Fisherman Max is fitted with a waterproof 4K camera that can shoot clear footage with high detail and accurate colors. The camera can be tilt up and down on the remote controller to broaden your field of view and will let you record your epic fishing experience with video on an SD Card.
Fish Scouting
Watch the drone's live footage to survey underwater structure, channels and read the tides, and even locate fish on the surface! Increase your chances of catching that trophy fish with your very own "eye in the sky".
Cast Accuracy
Pointing the drone's camera straight down, anglers can place their baits right in the strike zone with precision and good timing - enticing the fish to strike.
Portable Design
Fisherman Max can fold up its arms and easily fit into a small carry case or your fishing cart. The arms and propellers are both made from carbon fiber for reduced weight yet increased stiffness. Its compact and lightweight design makes it much easier to transport to the beach than other similar sized drones.
FDFly APP
Auto-Fish
When used with the FDFly APP, the Auto-Fish feature allows the Fisherman Max to automatically fly to fishing spots you've marked on the APP's map and then drop baits on those specific spots. This makes drone fishing even easier for those who have little or no previous drone experience.
Specifications
Waterproof rating: IP67
Drone weight (including battery): 8.3 lbs / 3.78 kg
Size (w/o propeller): unfold: 20*20*7.5 inch / 522*522*192 mm ; fold: 12*10.5*7.5 inch / 306*266*192 mm
Max ascend speed: 7 mph / 3 m/s
Max descent speed: 4.5 mph / 2 m/s
Max flight speed: ATTI: 45 mph / 20 m/s ; GPS: 22 mph / 10 m/s
Max tilt angle: 25°
Max flight altitude: 1 mile / 1500 m
Max flight distance: 1 mile / 1500 m
Max image transmission distance: 0.7 mile / 1000 m
Max payload capacity: 7.7 lbs / 3.5 kg
Flight time: up to 30 mins ( no wind & no load)
Max wind speed resistance: 40 mph / 18 m/s / 35 knots
Hovering precision: ±1.6 feet / ±0.5 m
Satellite positioning system: GPS/Galileo
Motor: 4114 - 400Kv
ESC: 40A
Propellers: #1655 carbon fiber
Operation frequency: 2.405 - 2.475 GHz | 5.725-5.825 GHz
Transmitter power (EIRP): <33 dBm (FCC), <20 dBm (CE) | <33 dBm (FCC), <14 dBm (CE)
Working temperature: 14℉ ~ 104℉ / -10℃ ~ 40℃
Certifications: CE/FCC/ROHS/RCM
What's in the box?
Aircraft x 1
Remote controller x 1
Flight battery x 1
Charger x 1
Propellers x 2 (pairs)
Camera x 1
Bait release x 1
Floating bars x 4
USB-C cable x 1
Charging cable x 1
Power adapter x 1
Phone mount x 1
Carry case x 1
A+
I've owned several high end drones over the year and have outfitted them all with a bait release. None of them compare to this drone. While I've only taken it out on one trip, it performed flawless with decent sized baits flying out to 400yards with ease. Return to home worked as it should and flight was stable and strong. Highly recommend if you like getting baits out deep but don't want to be wet all day/night from kayaking in the surf.
Fisherman Max
It is lovely machine. I am very pleased with my purchase.
Works great
Done about 20-30 drops no issues does great in wind
SwellPro Fisherman MAX is the Best Yet !
I am a marine professional and use the SwellPro Spry+ and Fisherman MAX daily. The Spry is good for selfies, but the Fisherman MAX is the best drone we have ever used for professional use. It carries a heavy payload, which is essential for us, and remains stable and easy to fly. It is an absolute tank, even though it folds up reasonably small. Durability is incredible. That is very important to us. The motors are top quality, the encasement and extraneous components are extremely tough. We use the absolute hell out of it every day with no issues. The screen on the handheld is super useful to us, that way we don't need to carry additional gear, and the salt waterproofness of the drone and its controller have been FULLY tested. I only recommend this product line to my customers, by choice, not by endorsement. It is the perfect drone for professional marine applications.
Subscribe now to receive exclusive offers and updates.
Get an Exclusive 5% Off Your First Purchase