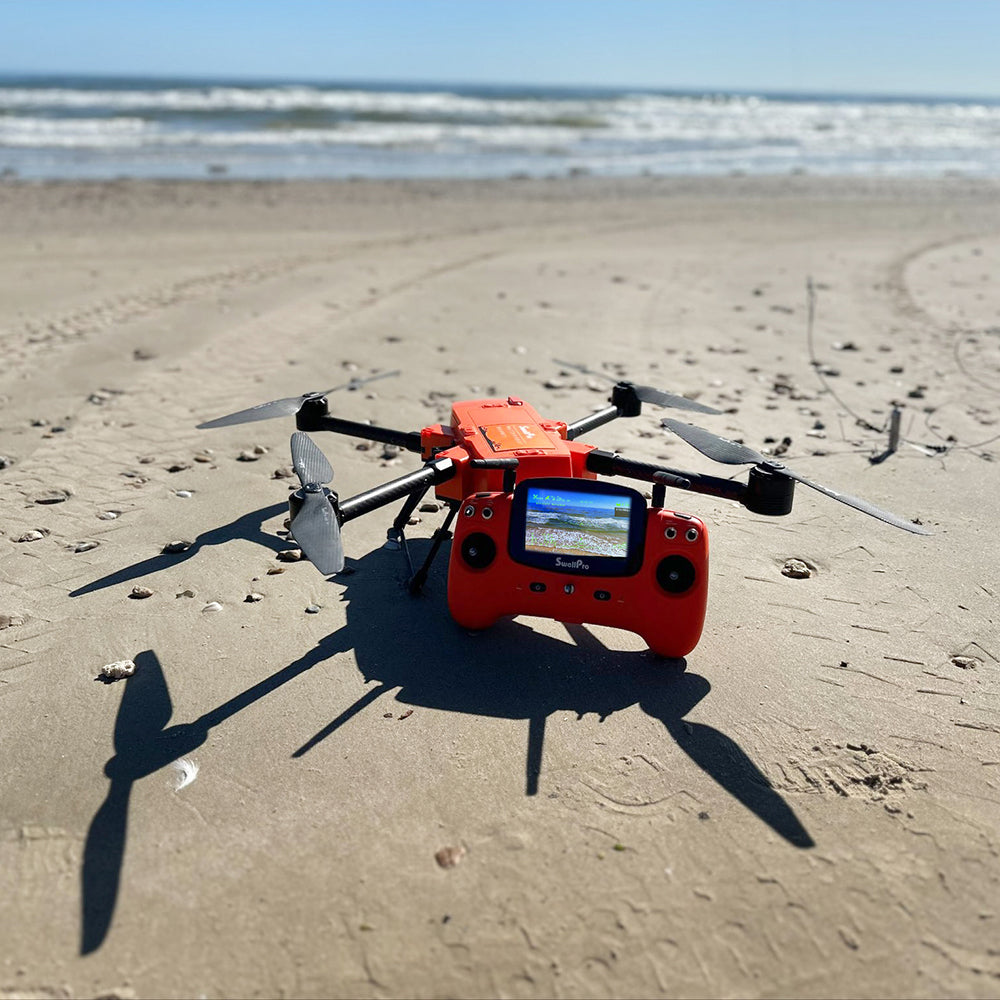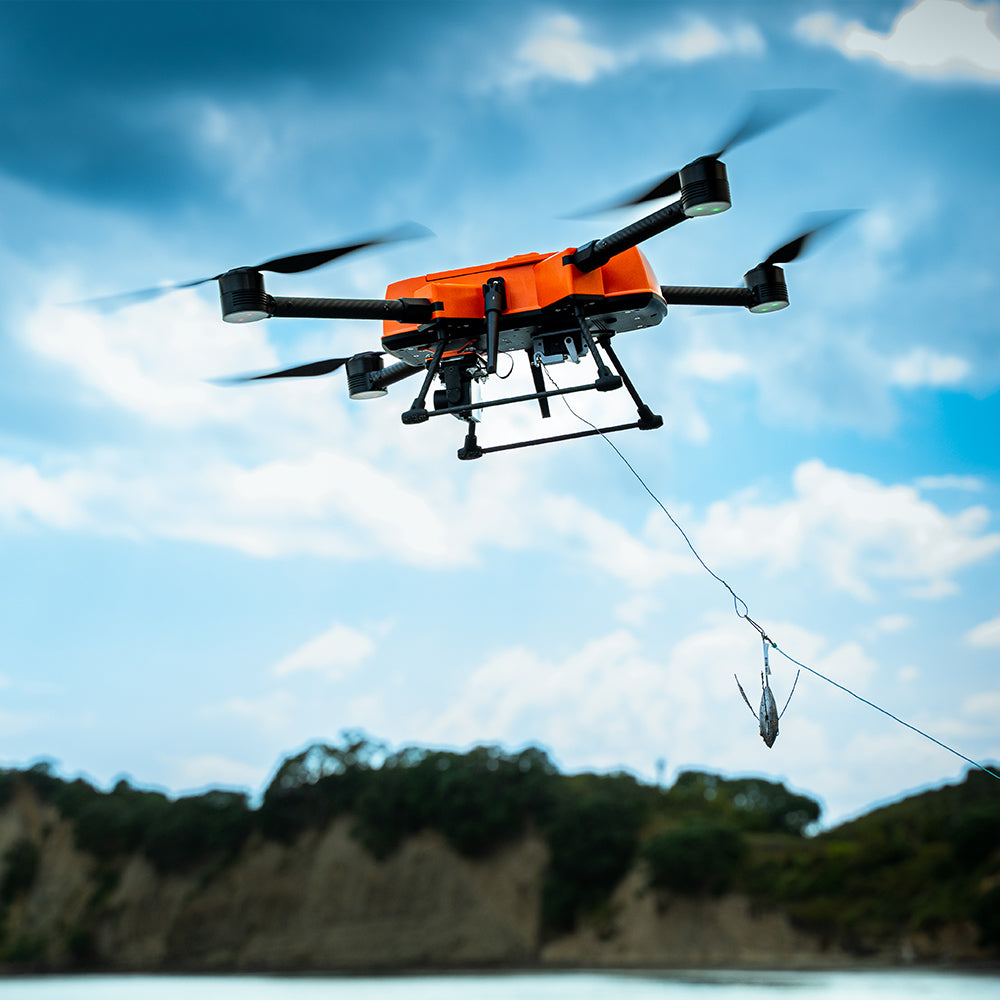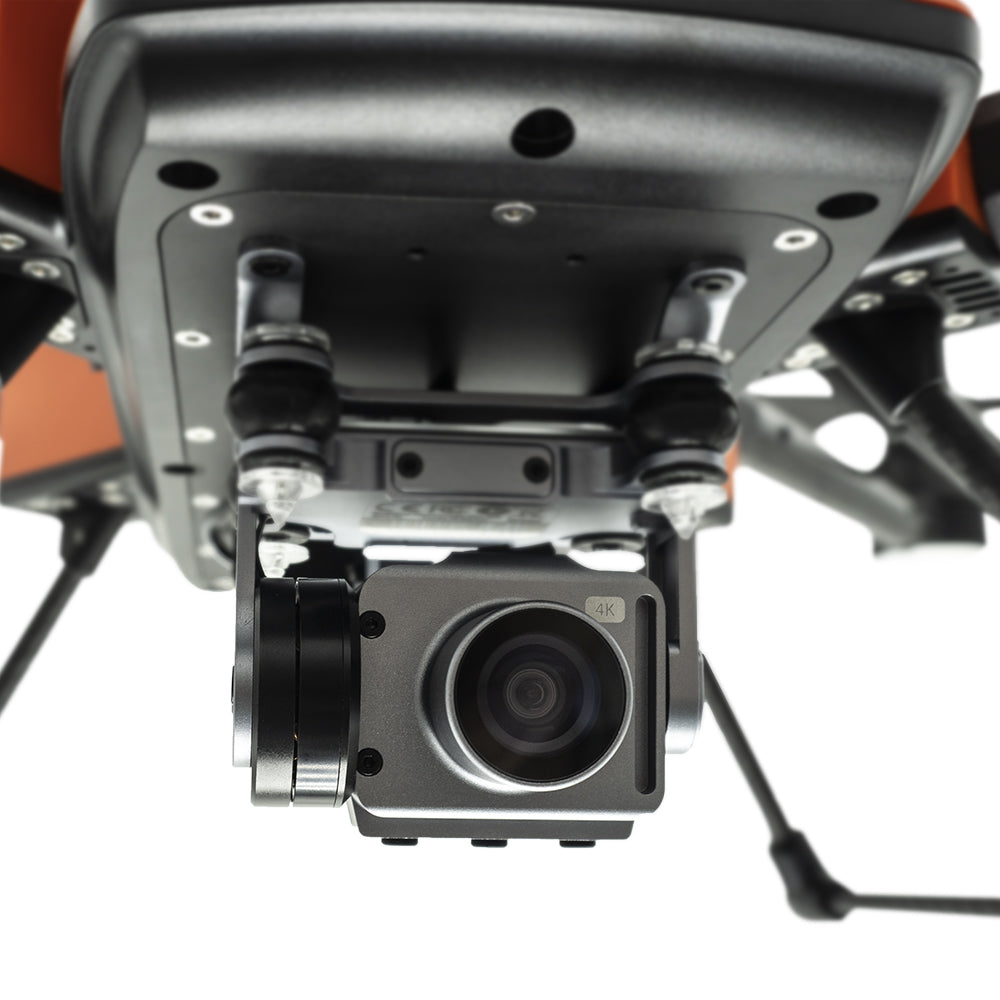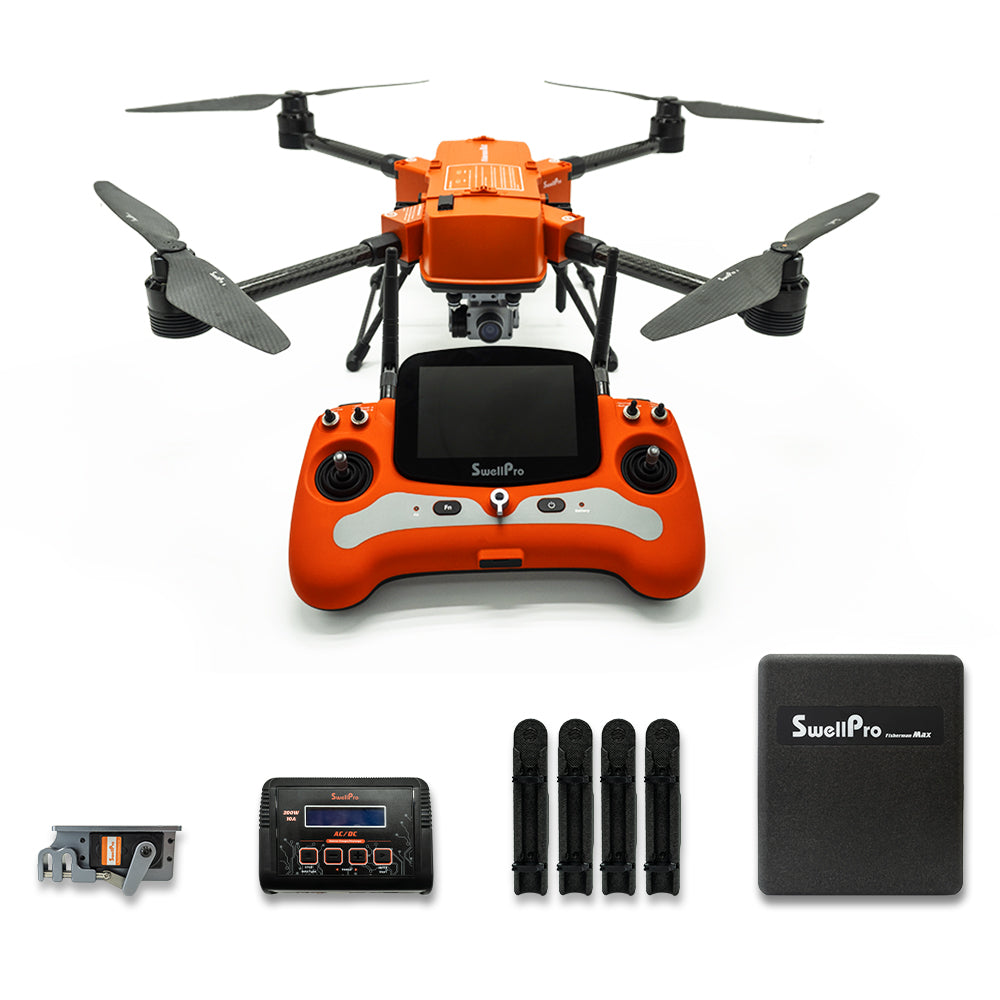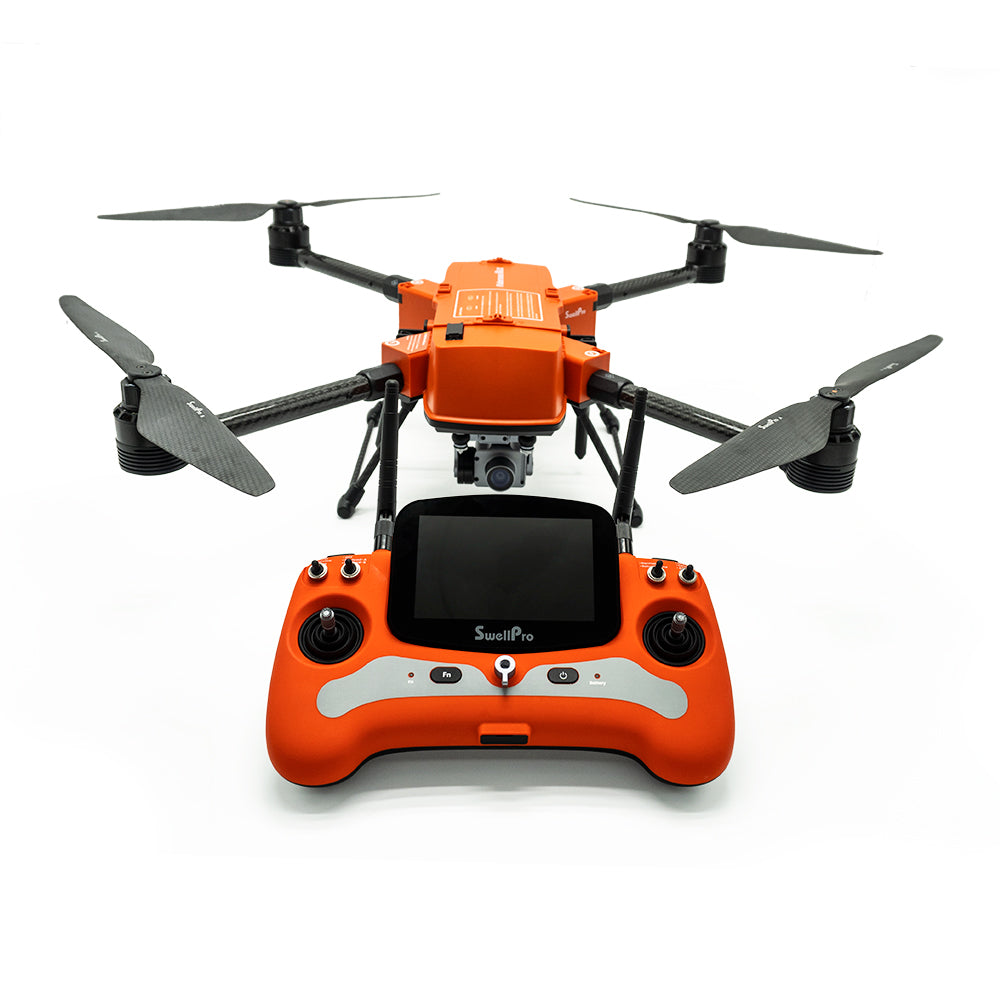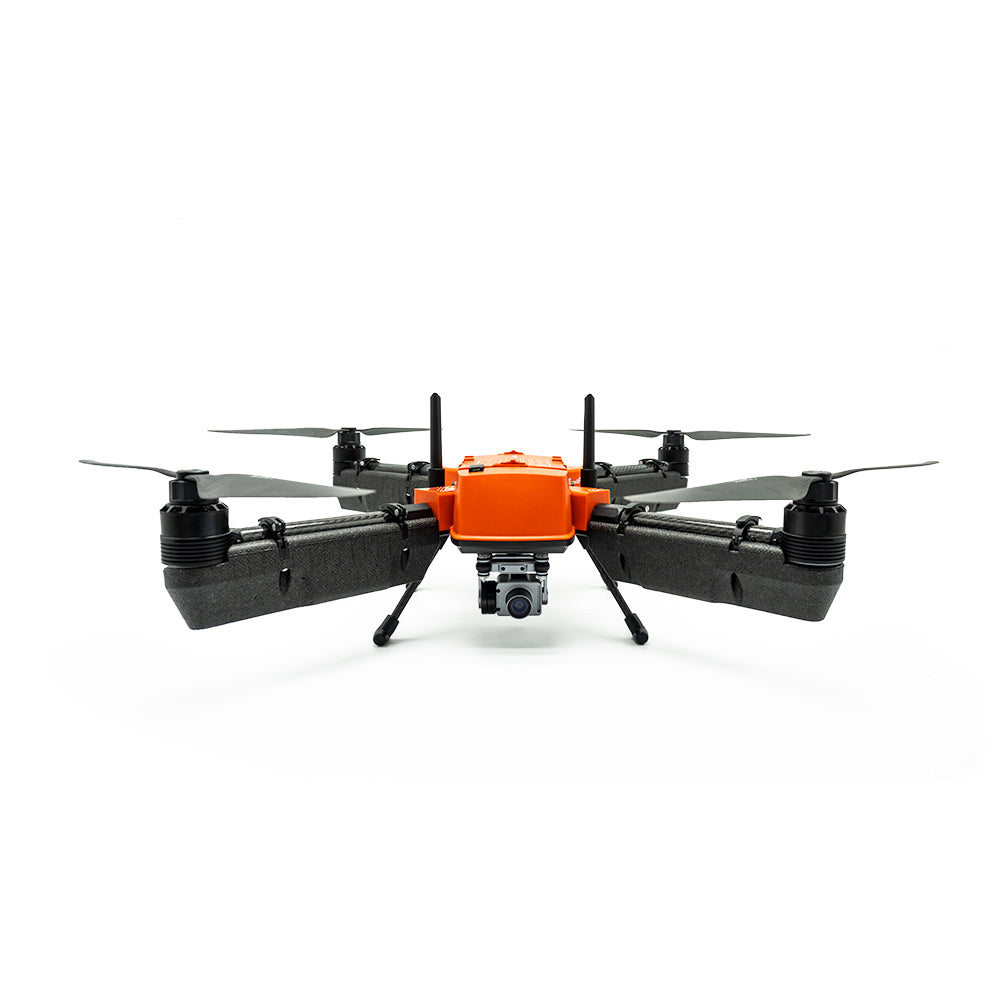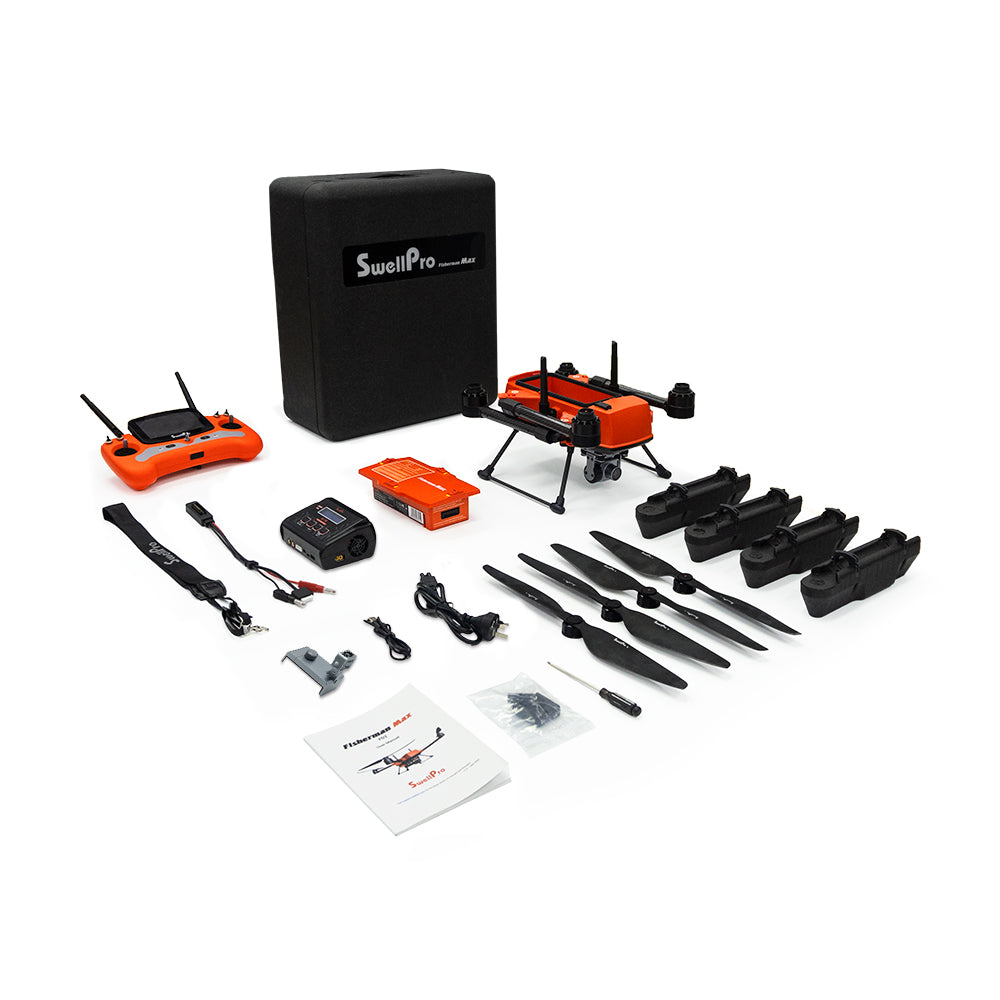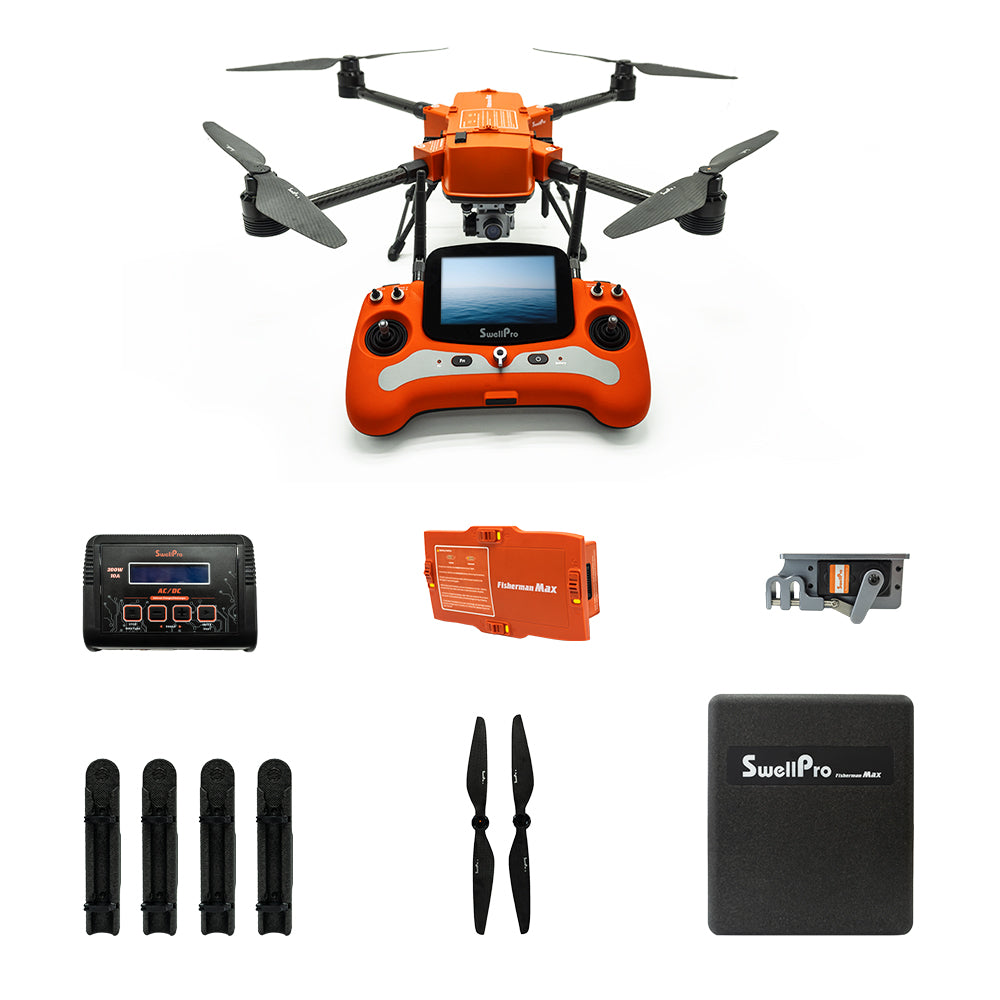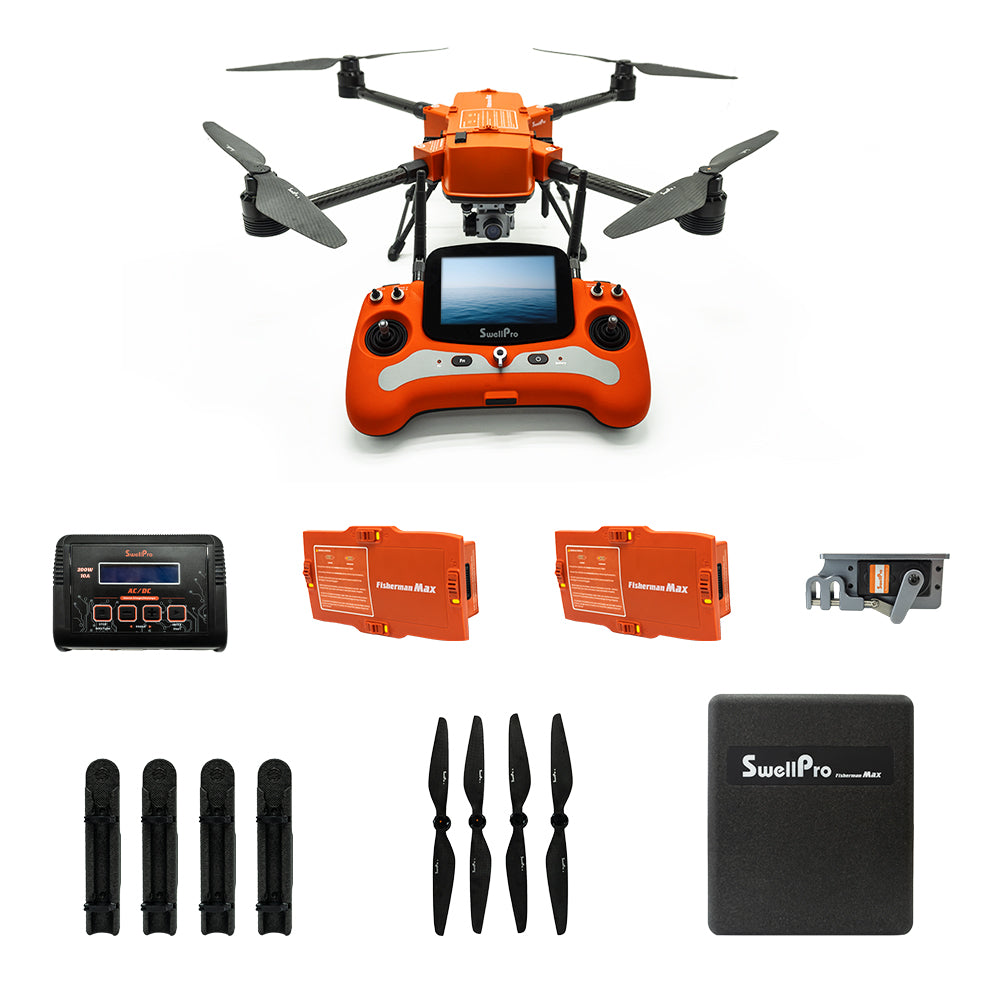 Fisherman MAX (FD2) Heavy Lift Fishing Drone
Come with a bait release and a 4K camera.
7.7 lbs / 3.5 kg bait capacity.
IP67 Saltwater-proof.
Calibration-free.
No Geofencing.
Extra Propellers & Battery:
Extra Propellers & Battery
Free shipping for order over $900.
Duty-free for USA, AU and NZ.
Buy now, pay later with Klarna.

Fisherman Max is SwellPro's top-of-the-line fishing drone that can deliver 7.7 lbs (3.5 kg) baits to deeper waters or inaccessible areas. Without the hassles of kayak or bait boat, Fisherman Max allows pro anglers to spend more time and energy fighting the giant fish, better yet, catch as many big fish as they can in a day.
7.7 LBS / 3.5 KG
Bait Capacity
All-water All-weather Flyable & Fishable
300% Faster Than Boat
Hassle-free

Calibration-Free

S5 Flight Controller

Stay Dry & Safe
100% Land-based
100% Bait Accuracy
4K Camera
Multi-color Display
Fisherman Max For Monster Fishing
in Texas Beach
Video made by Carlos from Beach Bomber Fishing
Drone-Cast For Greater Success
7.7 LBS / 3.5 KG
Bait Capacity
No other drones can match the propulsion design of Fisherman Max. Max can fly stably while carrying 3.5 kg or 7.7 pounds baits over 600 yards. That means pro anglers can fly big live bait or large chunk of meat to attract bigger fish or specific species.
6 Drops
Per Charge
Fisherman Max boasts unmatched power-efficiency across the industry. On one single battery charge, anglers can have up to 6 bait drops over 400 meters / 437 yards, each with 2 kg / 4 lbs baits. Deploy multiple baits into the ocean and skyrocket your fishing success like never before.
300% Faster
Lugging around a heavy kayak is a thing of the past, neither do you need to paddle baits out hundreds of meters. You can set up Fisherman Max and fly over 600 yards in a fraction of time, saving more time and energy for fighting the fish of lifetime.
100% Safe
Kayak fishing can put your life in dangers such as capsizing or drowning. Fishing with Fisherman Max, you don't need to be soaked on the water and can fish in tough weather conditions. Stay dry, comfortable and 100% safe at the beach while waiting for the fish to come to you.
Drone-Cast with More Confidence
Fisherman Max is factory-calibrated and doesn't require re-calibration. The drone can fly stably without calibration on any beach of the world.
With the latest 9th-gen GPS, Fisherman Max can receive up to 30 satellites for rock-solid flight stability and improved hovering precision.
Fisherman Max can automatically release the baits and return to the shore when the battery reaches a specific low threshold or a loss of signal occurs..
The flight controler of Max is fine-tuned to increase stability and reduce pendulum effect while the drone is carrying a swaying baited line.
IP67 Saltwater-proof
A waterproof housing and waterproof motors protects the Fisherman Max from saltwater damage when in or around the ocean. The battery compartment has a 100% watertight rubber seal to further protect the electronics when the battery is installed.
Floating Devices
Fisherman Max comes with 4 floating bars that can be attached to the arms to provide buoyancy when landing on the water. Alternatively, a lightweight self-inflating buoy can be installed to keep the drone afloat upon contact with water.
Level 6 Wind Resistance
Thanks to industrial-leading propulsion system, Fisherman Max has tremendous power to not only lift big baits, but we designed it to also fly safely in strong ocean winds of up to 40 mph (18m/s), providing you greater control and comfort. Who said you cannot catch fish on a windy day?
Drone-Cast with 100% Accuracy
The Fisherman Max advanced version is pre-installed with a waterproof stabilized 4K camera for shooting smooth detail-rich footage. The lens can be tilt up and down via the remote controller, allowing you to see when and where the bait is released.
Multi-Color Display
The remote controller of Fisherman Max advanced version comes with an inbuilt 5'' multi-color LCD display which can instantly show the drone's footage in 720P. From the screen, you can also read the aircraft status including GPS coordinates, altitude, battery voltage and more. The controller can alert you to potential risks with voice prompts. Get full control of the drone without using your phone.
Beach Reading
Pro anglers can read the waves and tides from Fisherman Max's footage to identity structures such as sandbars, troughs, drop-offs, and channels. Dropping baits where the fish are congregating can increase your chances of catching that trophy fish.
Fish Finding
When the water is clear enough, you can even locate fish or fish schools on the surface from the high-quality drone footage, at a fraction cost and time of boat. Drop baits where the fish are - maximize fishing success and minimizing gear waste.
FDFly APP
Drone-cast on The Map
The FDFly APP enables several autopilot features on the Fisherman Max. That makes it even easier for anglers who have no piloting experiences to fly baits out to their desired location.
Auto Take-off
Slide to activate the drone and take it off.
Tap-to-Fly
Fly to the location you tap on the APP.
Fishing Spot Saving
Remember GPS points of favorite fishing spots.
Auto-Fish
Automatically drop baits at saved locations.
Portable Design
Fisherman Max can fold up its arms and easily fit into a small carry case or your fishing cart. The arms and propellers are both made from carbon fiber for reduced weight yet increased stiffness. Its compact and lightweight design makes it much easier to transport to the beach than other similar sized drones.
Specifications
Waterproof rating: IP67
Drone weight (including battery): 8.3 lbs / 3.78 kg
Size (w/o propeller): unfold: 20*20*7.5 inch / 522*522*192 mm ; fold: 12*10.5*7.5 inch / 306*266*192 mm
Max ascend speed: 7 mph / 3 m/s
Max descent speed: 4.5 mph / 2 m/s
Max flight speed: ATTI: 45 mph / 20 m/s ; GPS: 22 mph / 10 m/s
Max tilt angle: 25°
Max flight altitude: 1 mile / 1500 m
Max flight distance: 1 mile / 1500 m
Max image transmission distance: 0.7 mile / 1000 m
Max payload capacity: 7.7 lbs / 3.5 kg
Flight time: up to 30 mins ( no wind & no load)
Max wind speed resistance: 40 mph / 18 m/s / 35 knots
Hovering precision: ±1.6 feet / ±0.5 m
Satellite positioning system: GPS/Galileo
Motor: 4114 - 400Kv
ESC: 40A
Propellers: #1655 carbon fiber
Operation frequency: 2.405 - 2.475 GHz | 5.725-5.825 GHz
Transmitter power (EIRP): <33 dBm (FCC), <20 dBm (CE) | <33 dBm (FCC), <14 dBm (CE)
Working temperature: 14℉ ~ 104℉ / -10℃ ~ 40℃
Certifications: CE/FCC/ROHS/RCM
What's in the box?
Aircraft x 1
Remote controller x 1
Flight battery x 1
Charger x 1
Propellers x 2 (pairs)
Camera x 1
Bait release x 1
Floating bars x 4
USB-C cable x 1
Charging cable x 1
Power adapter x 1
Phone mount x 1
Carry case x 1
Super support and very helpful
They shipped in two boxes I signed for the first one and the second one I did not sign for. I never did receive it. They did ship me. This second package is on the way now I'm very thankful for them for filling their obligations.
Amazing but..
Product quality are perfect but the camera are not good quality
Great
We purchased the fisherman max as our second fishing drone and it has exceeded our expectations.
Love it!!!
Awesome drone!!! The fd2 is a great drone..I love it . Deserves 6 stars
Subscribe now to receive exclusive offers and product updates.
Get an Extra 5% Off on Your Black Friday Order