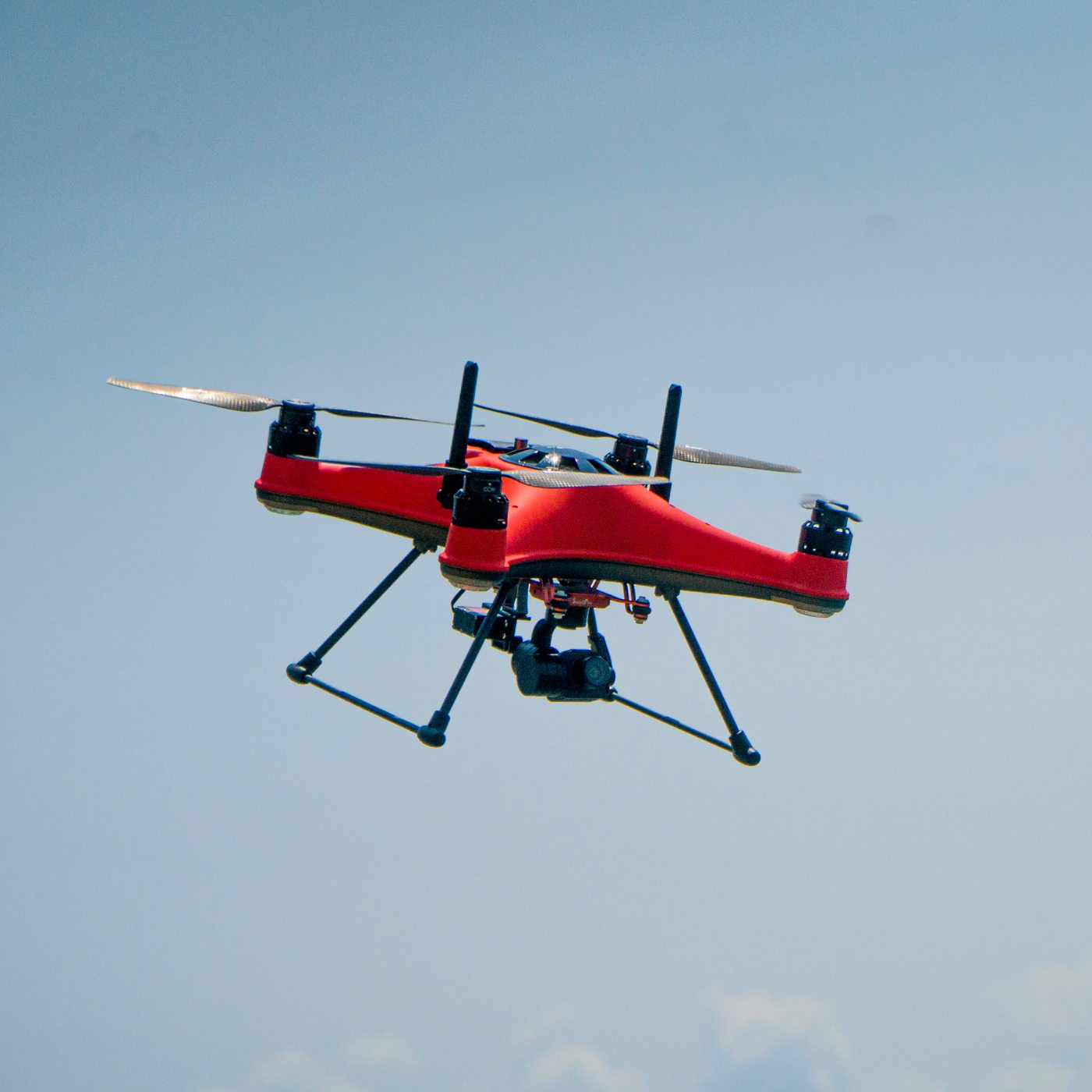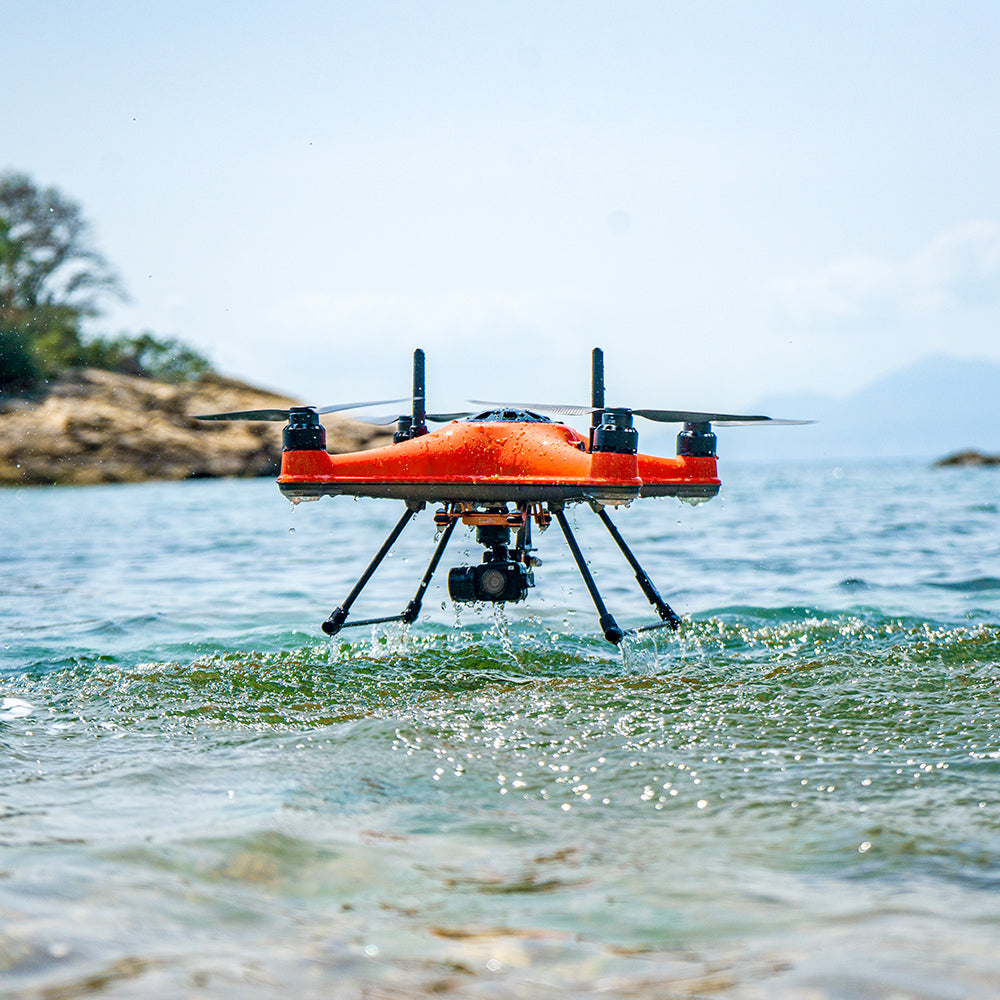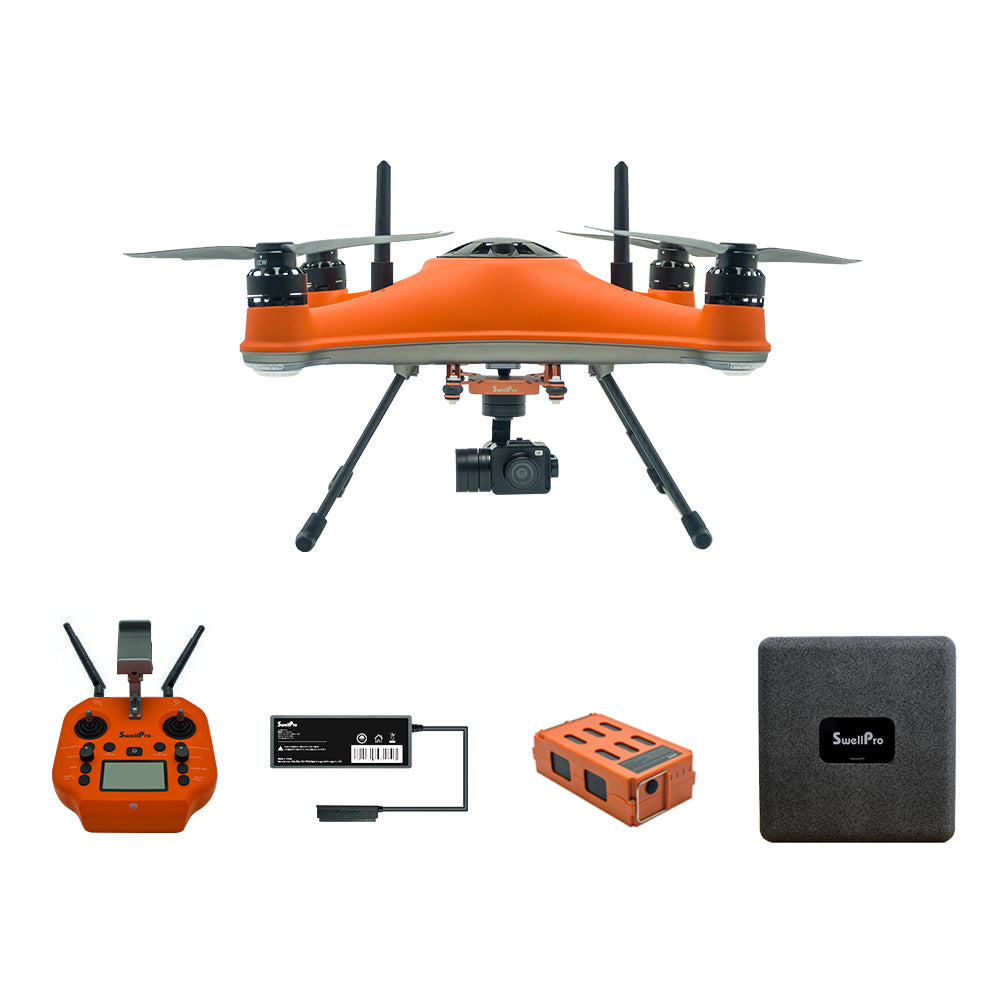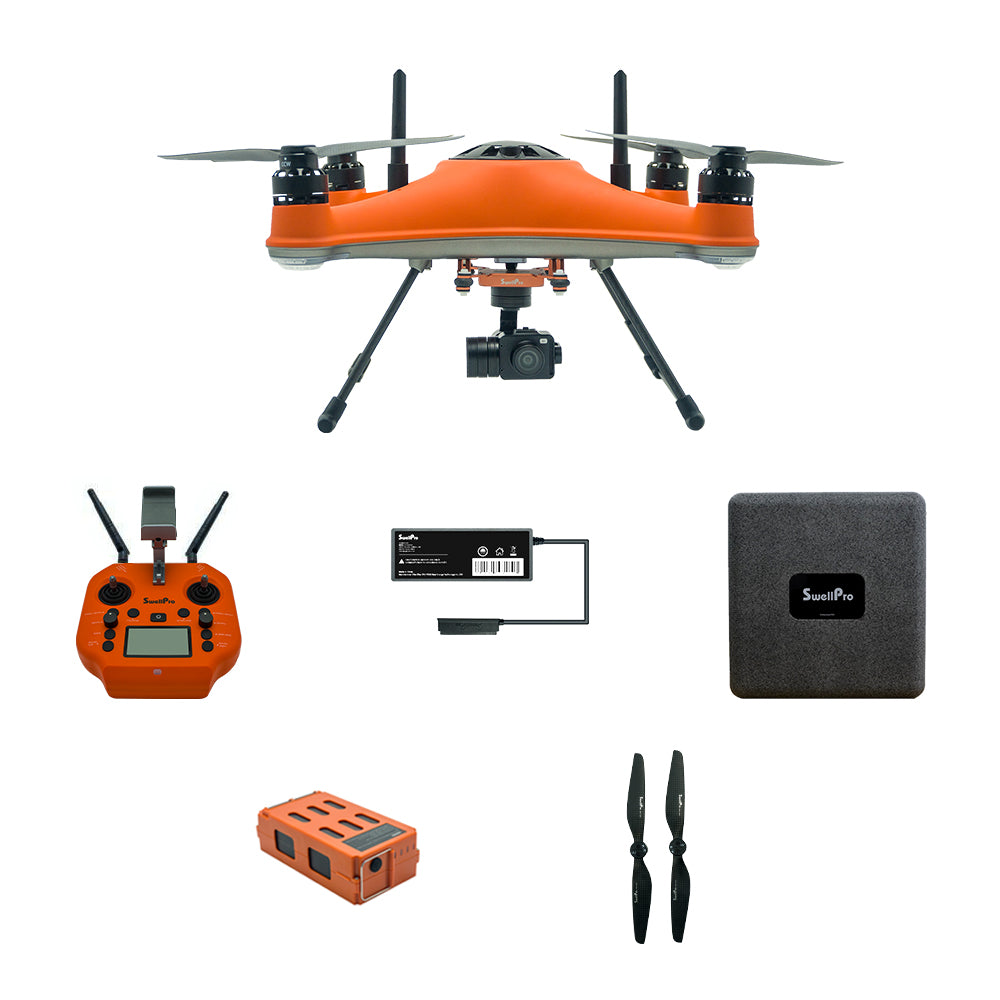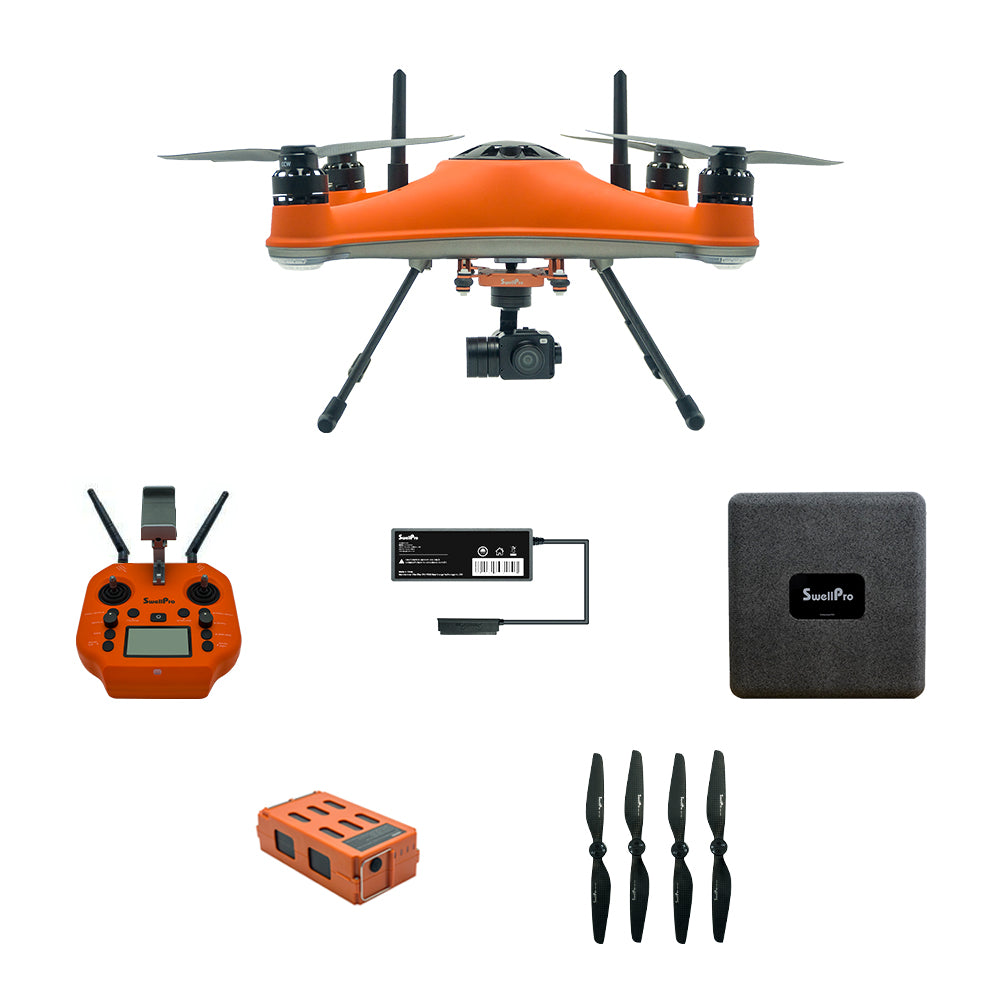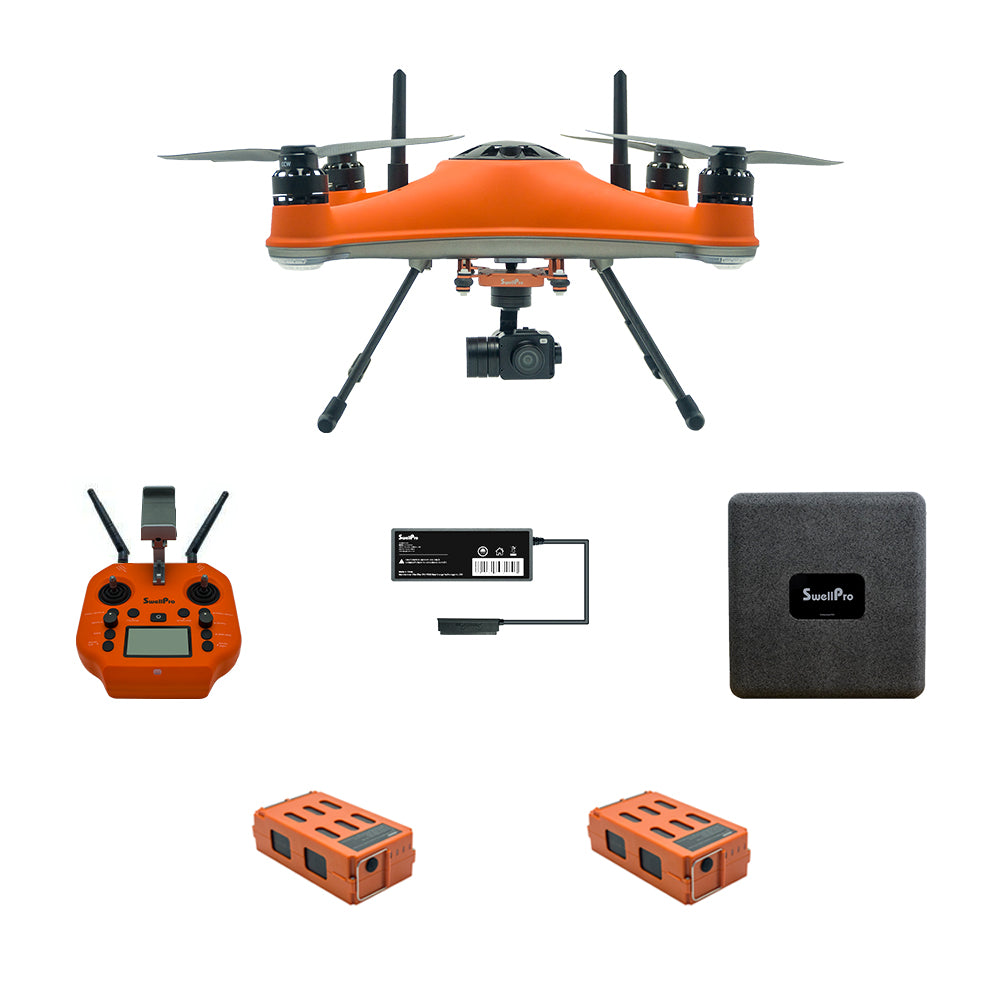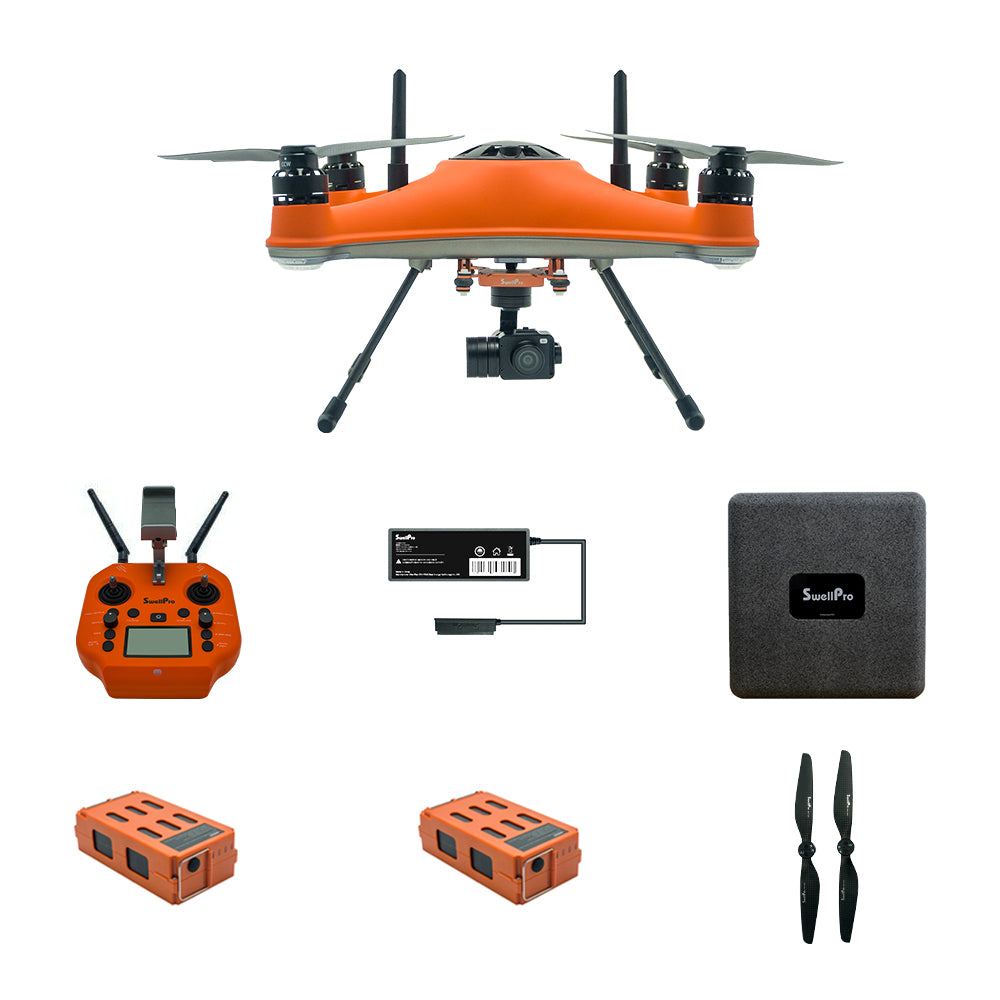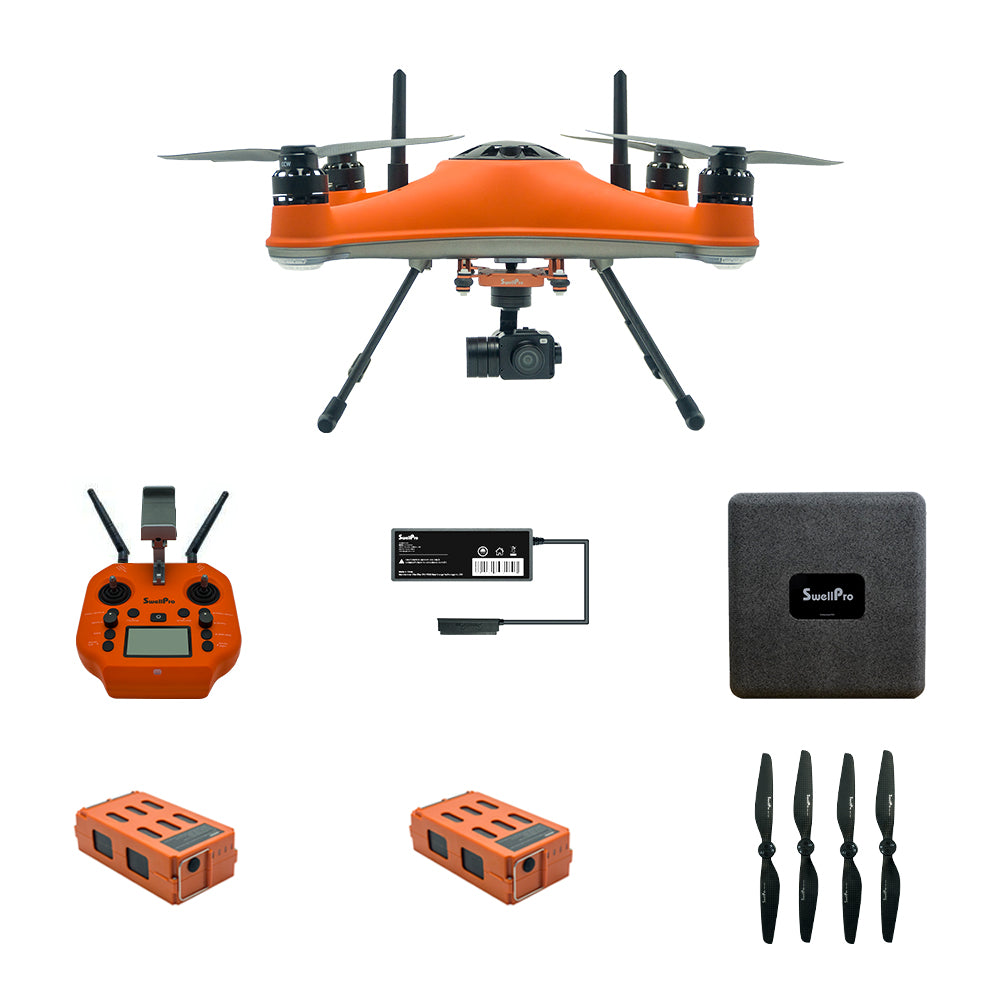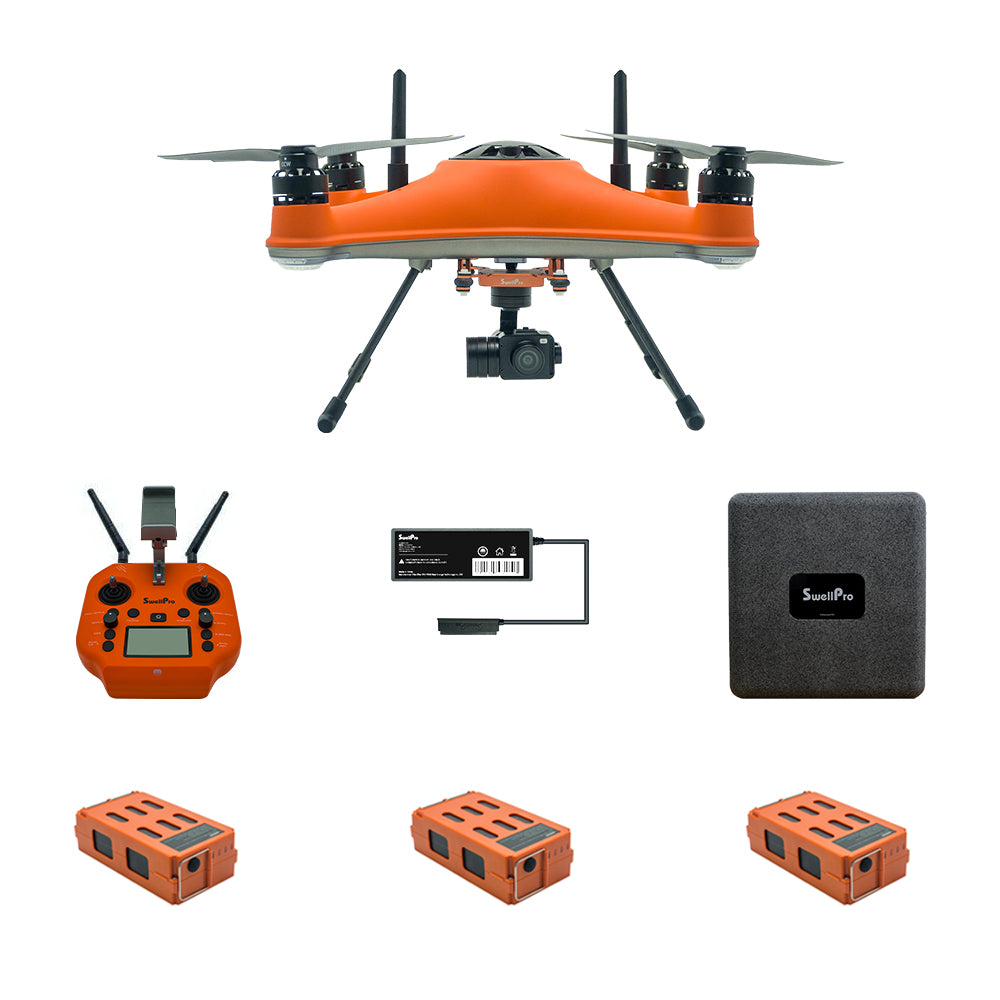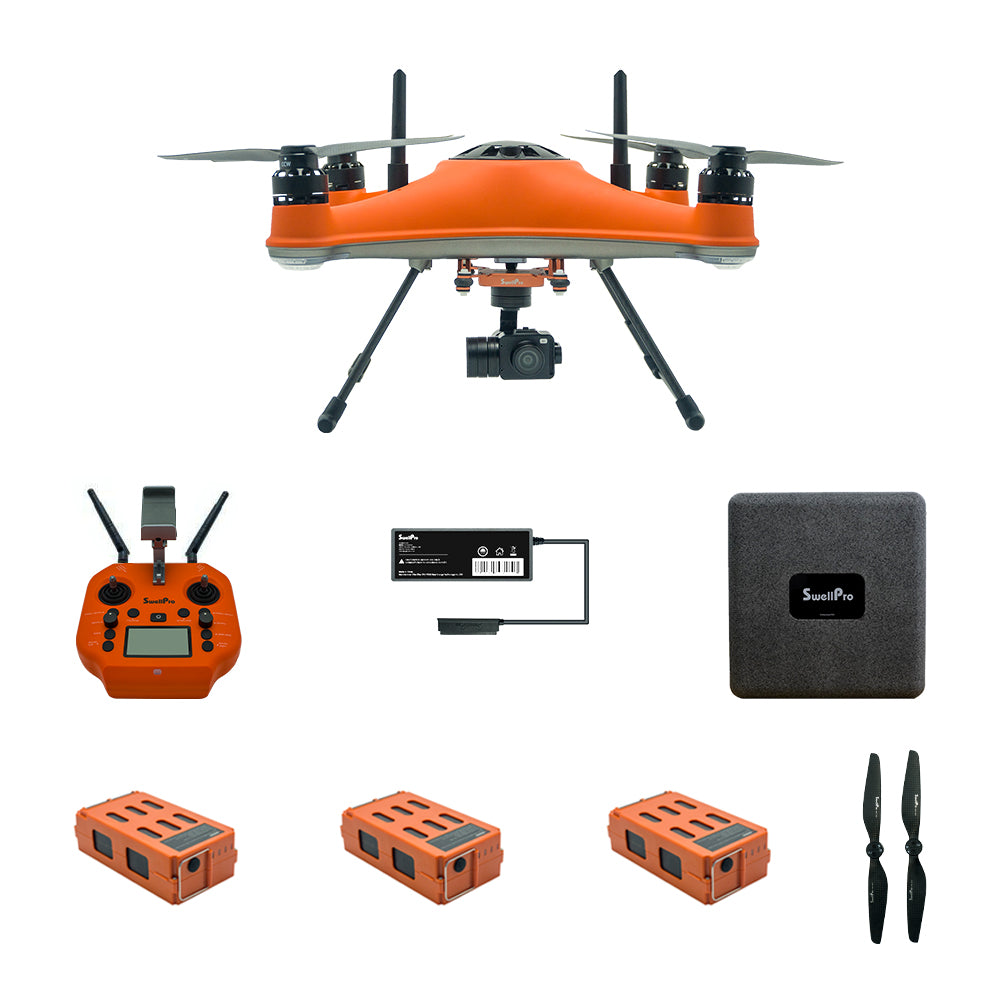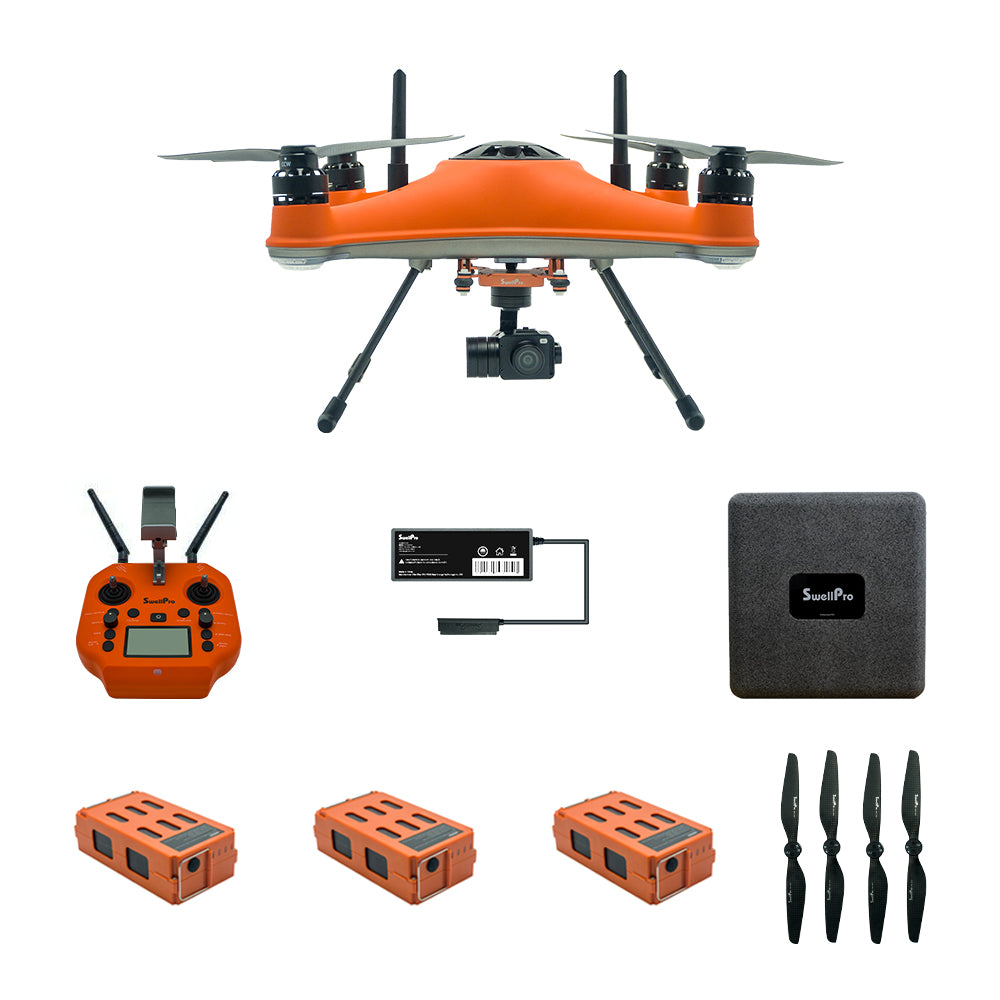 SplashDrone 4 Filming Edition
SplashDrone 4 Filming Edition comes with a GC3-S 4K/3-axis camera.
IP67 Saltwater-proof.
3 Miles / 5 KM flight range.
Up to 30 mins flight time.
Free shipping for order over $900.
Duty-free for USA, AU and NZ.
Buy now, pay later with Klarna.

SplashDrone 4 Filming Edition
SplashDrone 4 is SwellPro's 5th generation waterproof drone. It is designed to carry waterproof 4K gimbal cameras for professional-grade photo and video in various wet environments, whether it's above-water or in-water, rain or blizzard. SplashDrone 4 empowers water enthusiasts and nature lovers to capture their dreamed shots that were considered impossible with total peace of mind.
IP67
Sea-water proof Aircraft
IP66
Waterproof Remote Controller
4K 3-axis
Waterproof Camera
5 km (3 miles)
Image Transmission
Up to 30 mins
Flight Time
Return to Pilot
Dynamic GPS tracking
Boat Mode
Underwater Shooting
Power-filp
Auto Over-water Flip
SplashDrone 4 Review by Captain Drones
IP67 Seawater-proof Body
SplashDrone 4 sets the highest standard of waterproofing technology in the drone industry. The tough, rigid fuselage of is made out of marine-grade ABS to withstand wave impact. Each SplashDrone 4 is factory-sealed to the slightest details and air-pressure tested for our exclusive 100% waterproof guarantee. There is no need to concern about losing your expensive drone and important footage in the drink.
Corrosion-free
Sea air contains salt, which can damage electronics over time. The waterproof motors and internal electronics of SplashDrone 4 are coated with corrosion-resistant coating adding an extra layer of protection over the already total waterproof design.
Floating Design
SplashDrone 4 can float on the water without the need of attaching pontoons or inflatable rescue jackets. Pilots on a small watercraft no longer need to hand-catch the drone. Anywhere on the water could be the platform for takeoff/landing.
Power-flip
When the SplashDrone 4 turns upside down on the water for any reasons, a Power-Flip feature on the remote controller turns the drone back to the normal state to take the control back.
Waterproof Air-vent
A specially-made waterproof membrane placed on top of SplashDrone 4 hatch lid facilitates ventilating and heat dissipation. It allows the barometer to sense the altitude correctly and prevent the inside electronics from being overheated.
IP66 Waterproof Remote Controller
SplashDrone 4 comes with the industry's first waterproof remote controller for your worry-free option. Relax and enjoy total freedom while filming, as your SplashDrone 4 remote controller can be used in the rain, sea spray and can even take a dunking in the water.
Level 7 Wind Resistance
SplashDrone 4 reaches the near-perfect power to weight ratio required to remain stable in a windy situation. 4 high torque and high KV brushless motors provides more thrust than any other consumer-grade drone, keeping SplashDrone 4 on track in winds of up to 31 mph (60 km/h).
Rain & Snow-Proof
Total water-sealed design keeps moisture out of the electronics inside the SplashDrone 4. The waterproof body by its natures stores the right amount of heat to warm up the battery, ensuring a safe flight in a extreme cold weather.
Creative Freedom, Wherever you Fly
GC3-S
Waterproof 3-axis 4K Camera
Capture smooth videos and crisp photos with the fully waterproof 4K camera stabilized by a 3-axis gimbal. GC3-S is our flagship gimbal camera. The powerful gimbal remains stable against wave impact, and even in water while taking underwater shot.
Sailing Trip Shot on GC3-S
Raw Supported
GC3-S can shoot raw photo which allows for a variety of editing options in post-production and creates more possibilities for advanced photographers.
Camera Filters
A package of different filters can be added to the GC3-S to reduce sun glare, jello effect and overexposure. By blocking a certain amount of light from contacting the sensor, photographers will be able to film at slower shutter speed and maintain a lower aperture, successfully achieving a footage.
Smooth+ Mode
Dramatic and abrupt movements of a drone can lead to shaky footage. The patented "Smooth+" flight control allows the pilot to finely tune the Roll and Yaw of SplashDrone 4. Smooth+ makes professional, steady flight control as easy as turning the knobs, resulting in ultra-smooth, cinematic footage.
Boat Mode
When switching on the boat mode and attaching 2 floating foams to the aircraft, SplashDrone 4 can sail on water just like a boat. An extension bar extends the reach of the GC3-S camera deep down the water, providing great underwater shots. The amphibious flying boat is great for underwater photography and environmental monitoring.
Storytelling, from All Angles
5 KM Image Transmission
The latest 5.8GHz digital image transmitter and adjustable antennas ensures a clear and reliable image and control signal range to the SplashDrone 4 of over 5km (3 miles) while airborne. Pilots can instantly see what the GC3-S camera see on the SDFly App connected to the remote controller through WiFi.
More on Shooting, Less on Controlling
Intelligent Follow Me
SplashDrone 4 can quickly follow you at a constant angle from the front, side, and back with the camera always pointing to you. The aircraft actively tracks the GPS position of the remote controller, keeping the subject center-frame and making follow shot for a moving boat much easier.
Cruise Mode
The Cruise Mode allows you to set a constant flight speed and direction for your SplashDrone 4. The feature minimizes any camera shake from manual control and result in a smoother and more professional-looking video.
Proprietary Flight Control System
The S3 flight controller of SplashDrone 4 is designed by SwellPro in-house team with algorithms optimized for a wide range of operations in unusual environments - providing exceptional stability and responsiveness.
Dynamic Return to Pilot
The SplashDrone 4 constantly records the GPS position of the remote controller, allowing the aircraft to always return to the pilot's position even if they are on a moving boat far away from the original take-off point.
Aircraft
Waterproof Rating: IP67
Drone Weight (include battery and propellers): 2.18 kg
Axis Diameter: 450 mm
Max Ascend/Descend Speed: 4 m/s
Max Flight Speed: 22 m/s (ATTI)); 10 m/s (GPS)
Max Tilt Angle: 12.5° (ATTI); 25° (ATTI fast)
Max Takeoff Altitude: 120m (GPS) / ATTI - no limitation
Max Wind Speed Resistance: 8 m/s (11-16knots)(F4); 14 m/s (F7) peak gust
Max Flight Time: 30 mins (no wind & no load) (approx. 25 mins with GC3-S, approx.15 mins with load of 1.5kg)
Max Flight Distance: 5.0 km
Max Payload Capacity: 2.0 kg
Propellers: #1242 carbon fiber quick release propellers
Operating Frequency: 5180 - 5875 MHz
Transmitter Power (EIRP): FCC/IC: ≤ 24 dBm CE/SRRC/MIC: ≤ 20 dBm
Working Temperature: -10℃ ~ 40℃
Satellite Positioning Systems: GPS/GLONASS
Hovering Precision: ±0.5 m (vertical); ±0.5 m (horizontal)
Power Input: 12V/2A | 5V/2A
Certification: CE/FCC/RoHS/RCM/Telec
Remote Control
Waterproof Rating: IP66
Operating Frequency: 5180 - 5875 MHz
Transmitter Power (EIRP): FCC/IC: ≤ 24 dBm CE/SRRC/MIC: ≤ 20 dBm
Real-time Video Transmission: 720P@30fps
Latency: 200 ms (It depends on the actual shooting environment and mobile devices)
Battery: 2S 3600mAhWorking Time: 7 hoursWorking Current/Voltage: 0.3A/7.4V
Mobile Device Mount: Suitable for any size phones; Tablets require a larger mount (sold separately)
Screen: 2.68 inch, 128x64
Working Temperature: -10℃ - 40℃
Remote Charging time: 3 hours
Power Input: 5V/2A
Intelligent Battery
Nominal Capacity: 6600mAh
Voltage: 14.8V
Type: Intelligent 4S LiPo
Watt Hours: 97.68 Wh
Size: 153.6*82.4*48.3mm
Weight: 735 g (±5 g)
Working Temperature: -10℃ - 40℃
Charging Time: 1.5 hour
Max Charging Power: 84 W
Charger
Input: 100 – 240V, 50/60Hz
Output: 16.8V@Dynamic Current / 5V@1.5A
Rated Power: 84.5 W
Type of Plugs available:
Type A: USA, Canada, Mexico & Japan
Type B: Europe, South America & Asia
Type G: United Kingdom, Ireland, Malta & Singapore
Type I: Australia & New Zealand.
GC3-S Camera
Waterproof: IP67
Axis: 3 axis (pitch, roll, yaw)
Pitching Angle: -90° to 0°
Maximum Control Speed: Pitch 60°/s
Weight: Approx. 310g
Size: 113*92*110mm
Image Sensor: 1/2.3" 12M SONY CMOS
Lens: F4.53mm f/2.65,
FOV: 92.6°
ISO range: 100 - 3200
Shutter Speed: 16 - 1/16000 s
Photo Resolution: 4:3/16:9 12M pixel
Photo Shooting Mode: A single shot
Burst Photo:3/5/10 pcs
Interval Photo:1/3/5/10s
Video Resolution: 4K: 3840*2160/30P | 2.7K: 2704*1520/60P | FHD: 1920*1080 30/60/120p | HD: 1280*720/240p
Max Video Stream: 64 mbps
Photo Format: JPEG / DNG
Video Format: MP4, MOV
Support Memory Card: Micro-SD card with a maximum capacity of 128GB, write speed ≥15 MB/s, supports Class 10 or above & UHS-1 rating
Working temperature:-10℃ to 40℃
Splashdrone 4 with Thermal Camera
I've been flying this drone for several weeks - learning the nuances. I have Autel and DJI drones as well.
The swellpro is bigger and heavier but needs to be for what it does.
Seems very solidly made. All connections are via metal plates which are removed by hex screws and all connection plates have o-rings to keep out the water and dust.
The thermal camera has numerous pallets, though I primarily use White Hot and Black Hot (olde school :) ).
No issues controlling the drone or camera.
Its working great for me - I plan to get another !!
Problem with android app SDFly2
no acces at all function. no visualization of camera with th phone.
=> bugs. When a new version ?
Dear, If your drone serial number ends with V01/02/03/04, please use SDFly APP. But if ends since V05 ... ect, please use SDFly 2 APP.
A learning kerb
The first day I received it, I took it out to fly. I found it very difficult to handle, until I read the instructional book and watched a lot of u tube videos. After a few days of theory study I guess you could say, I took it out again and flew it according to what I read and watched on U Tube.
Summary, 2 Words Bloody fantastic. I can honestly say It is easy to fly and . The swell pro has given me evey thing I am looking for. Fishing and photography, but I can see other uses for it once I fully understand what it could do.
I had one small problem when it would not pair. I emailed Swell Pro and recieved an answer within 24 hours. Thanks for your prompt answer. You were on the money. MAKE SURE THE BATTERY IS PUSHED IN ALL THE WAY.
Plenty more to learn but so far it has given me hours of pleasure and some great photos.
If I can offer some important advice, read the instruction book and watch some videos and your first flight won't be as ugly as mine. Thanks Swell Pro.
Very nice
Looks amazing haven't flown it yet tho. Cant wait.
Not staying connected or not connecting at all with my galaxy s21
I love the drone .it does really well I just have a hard time staying connected or not connecting at all to my galaxy s21
Splashdrone 4 version 4
So far so good with the new SD4, with 3x Gimbal camera as well as the payload release option. Out of the box it's exceptionally well built and quality materials. In purchasing it the difficult parts of being on two different continents shows up quickly with language barriers but to SwellPros credit customer service response time and trying to solve issues is excellent. Some parts that one should know up front in the USA anyways is that this drone and firmware supports only a windows based operating system to connect with drone (not discussed anywhere on website) it's able to be used with IOS (Iphones) systems but to install updates this needs a windows based platform. Also I'm using an iPhone for viewing (IOS based) there is definitely a need to upgrade your antennas no question about this it's a must as signal interruption between controller and drone while in use is guaranteed without them. Get involved with a chat group or forum with respect to your version of drone as this will give you plenty of information from fellow owners. So as a new owner and working my way through this process has been a little struggle but doable and very happy with drone and its capabilities so far.
Subscribe now to receive exclusive offers and updates.
Get an Exclusive 5% Off Your First Purchase