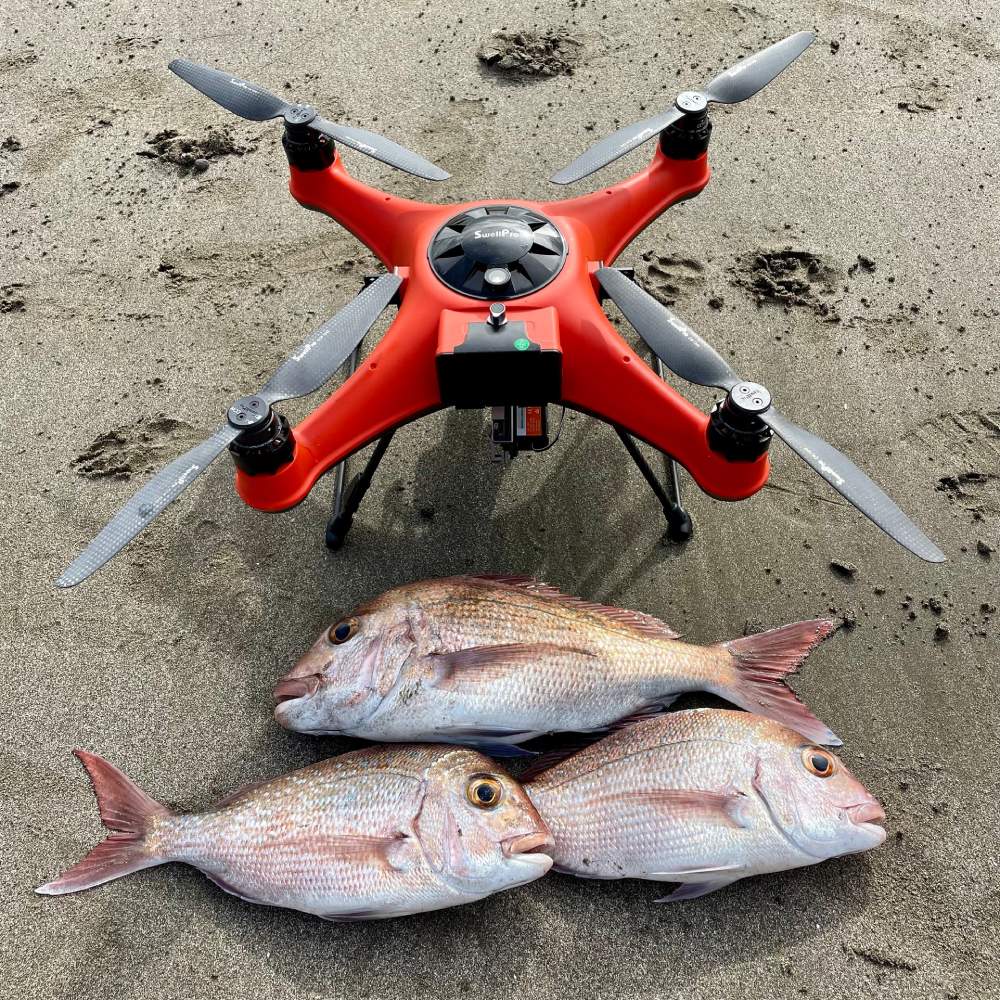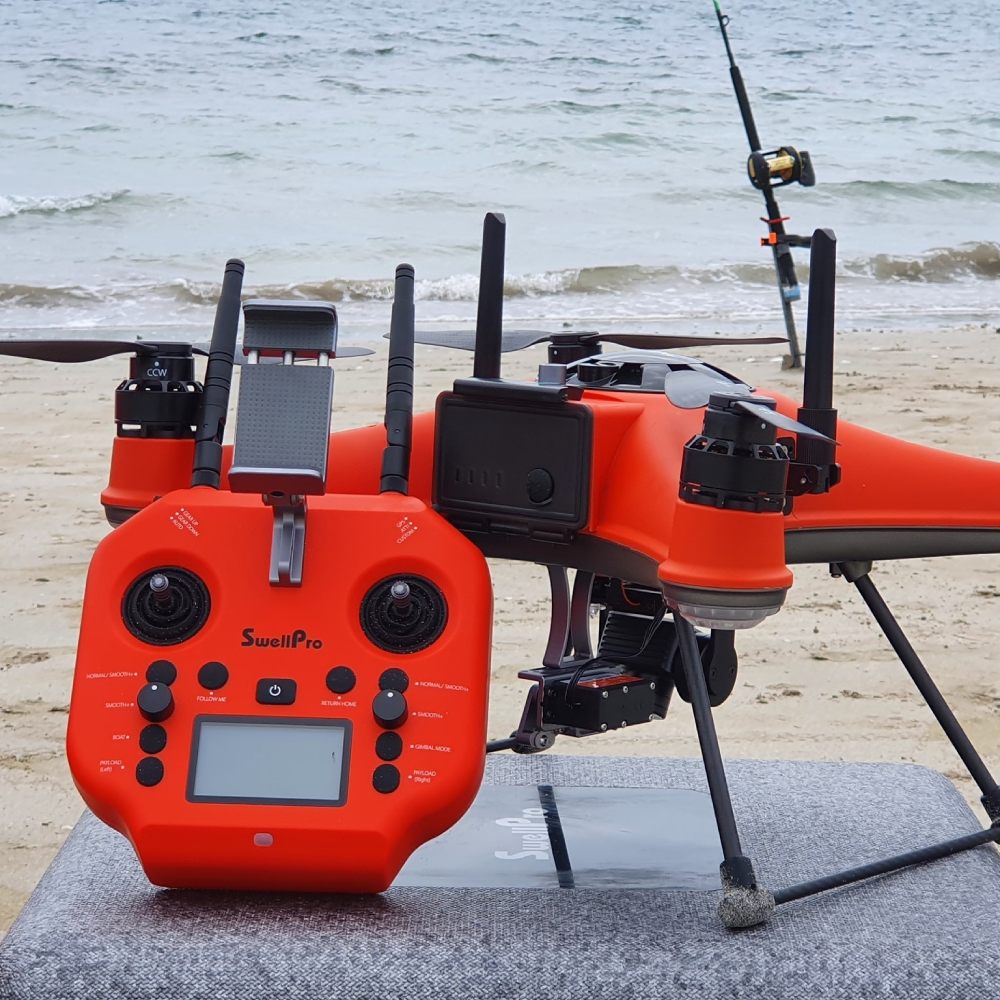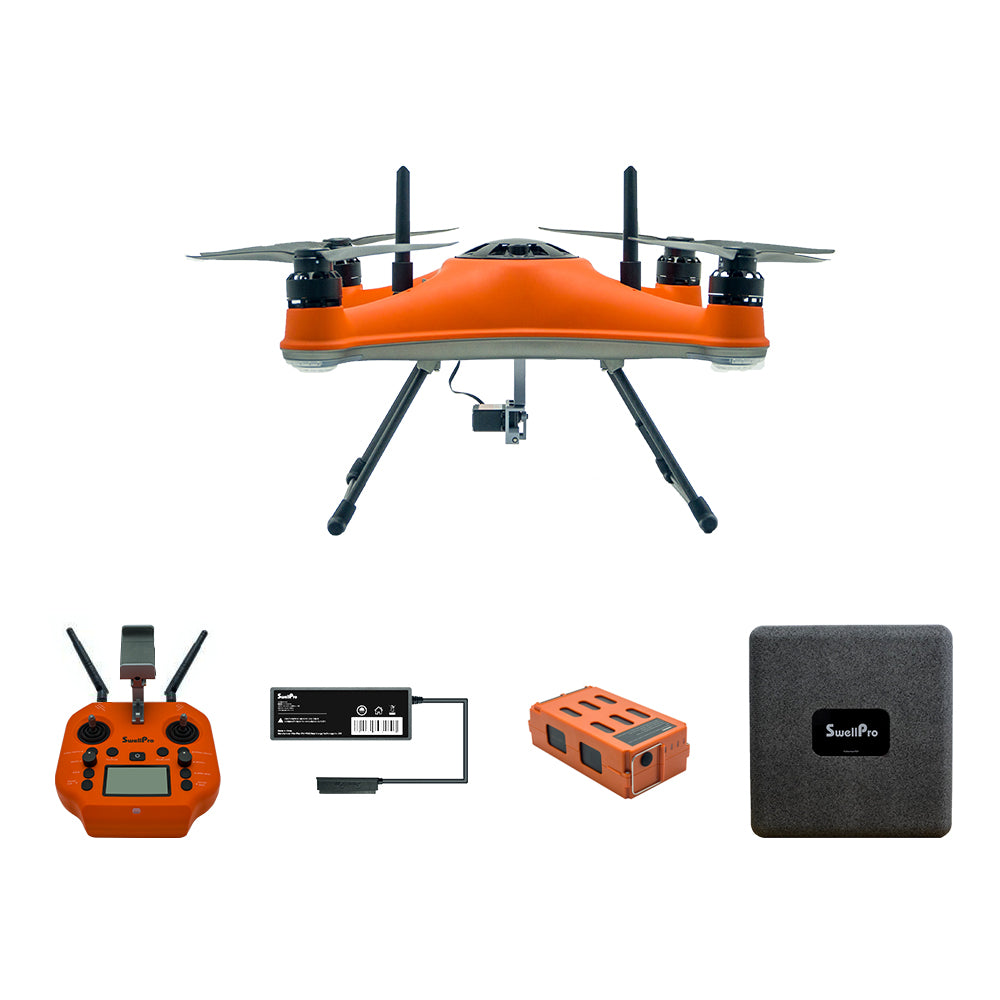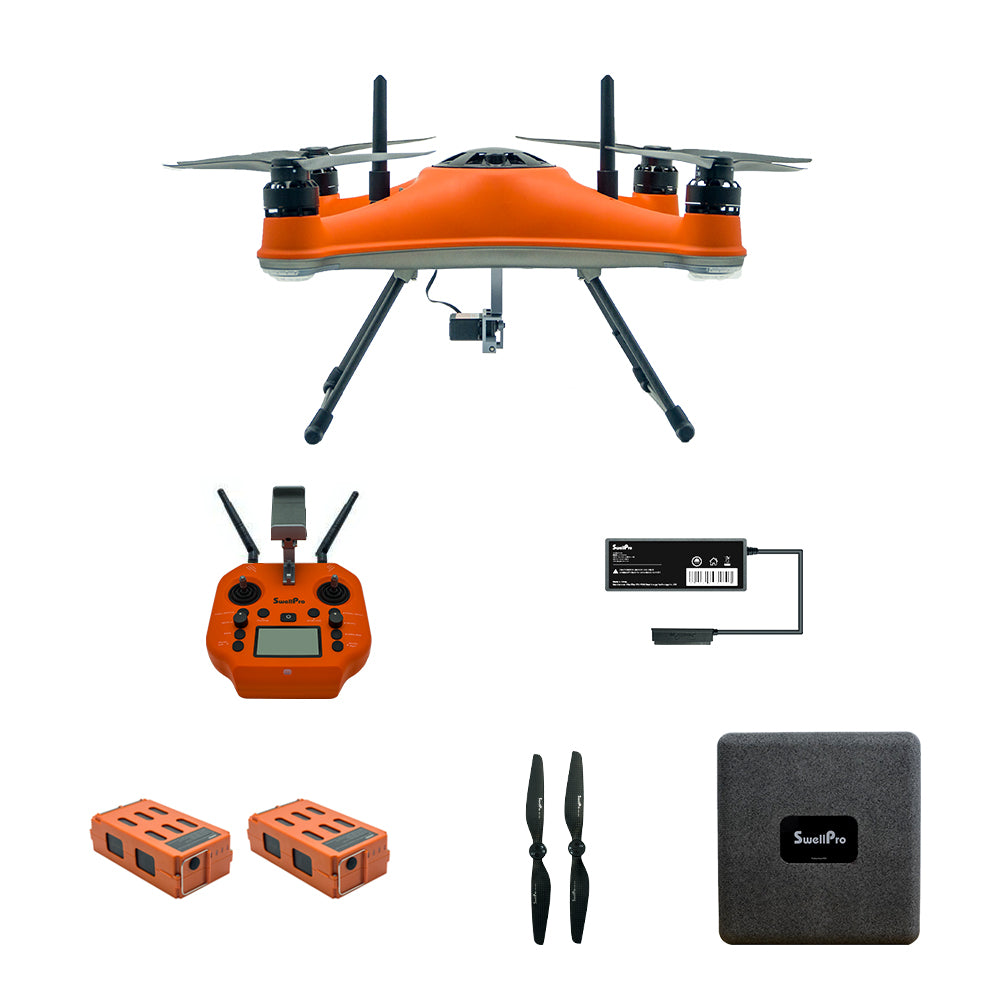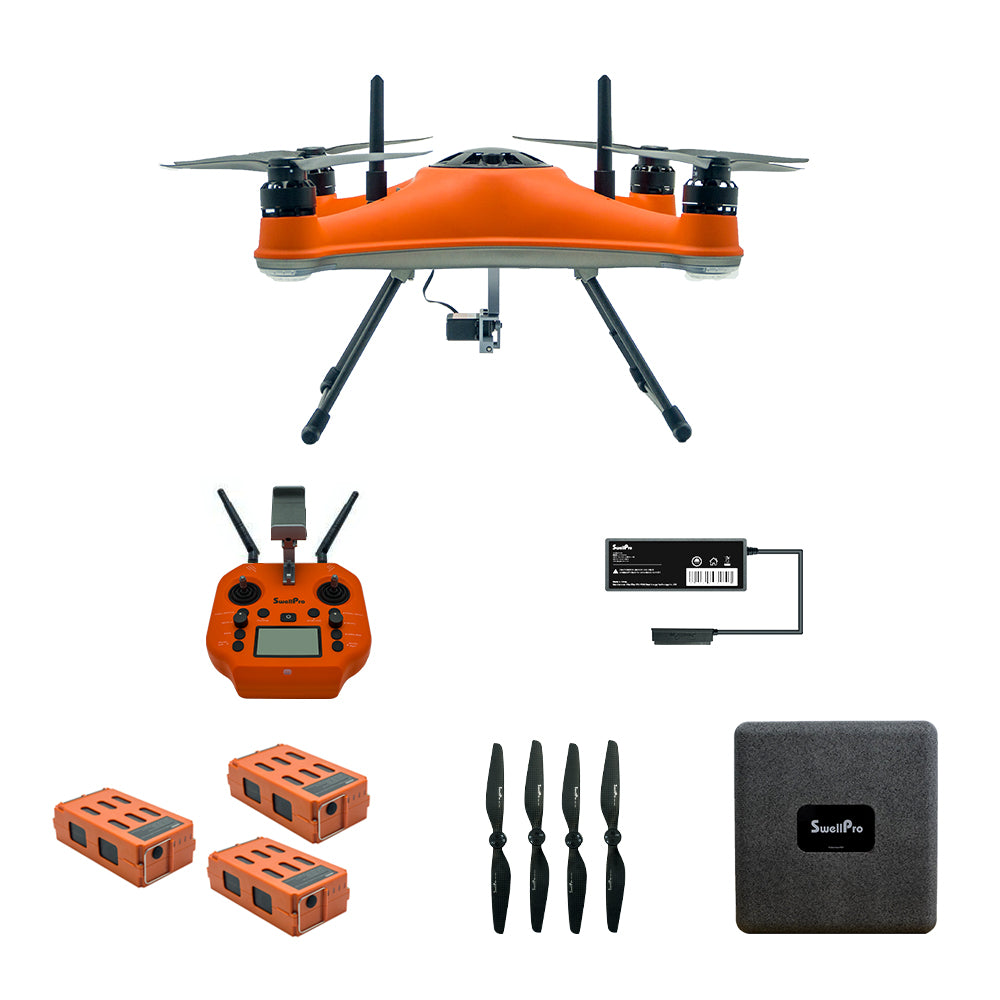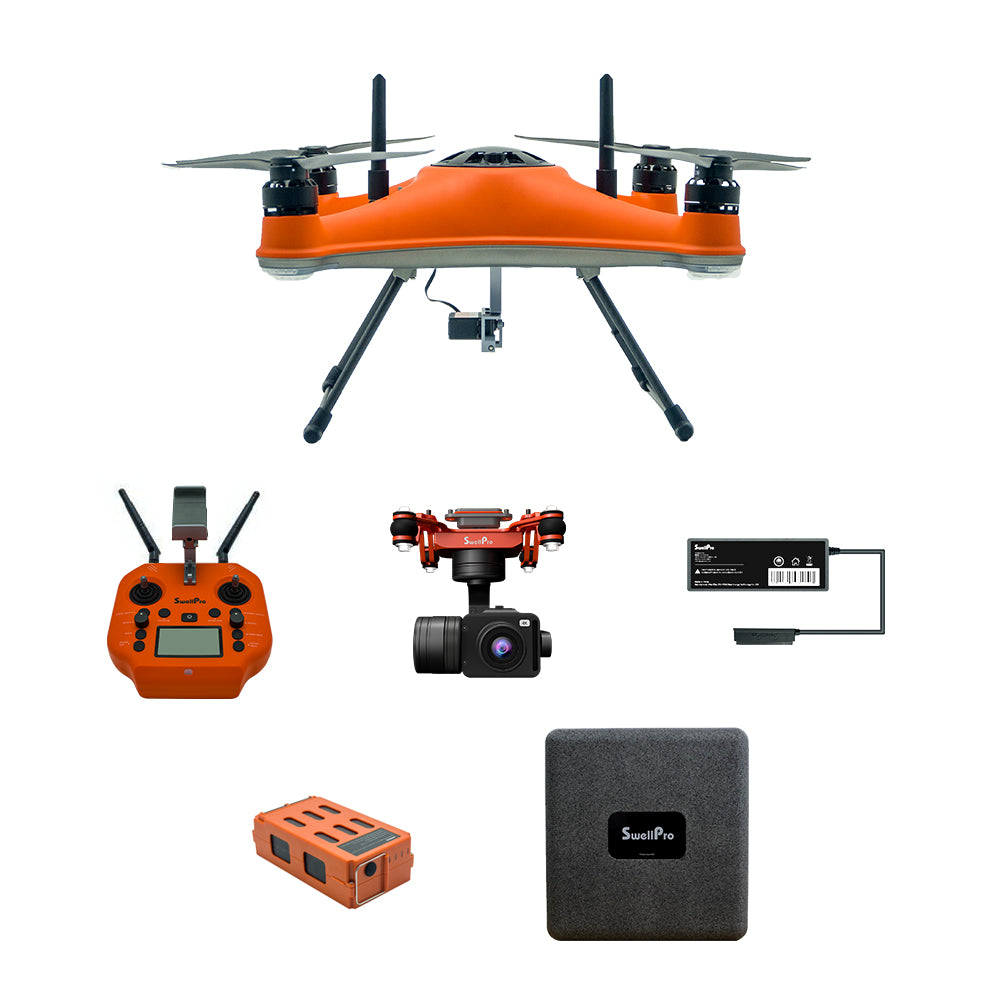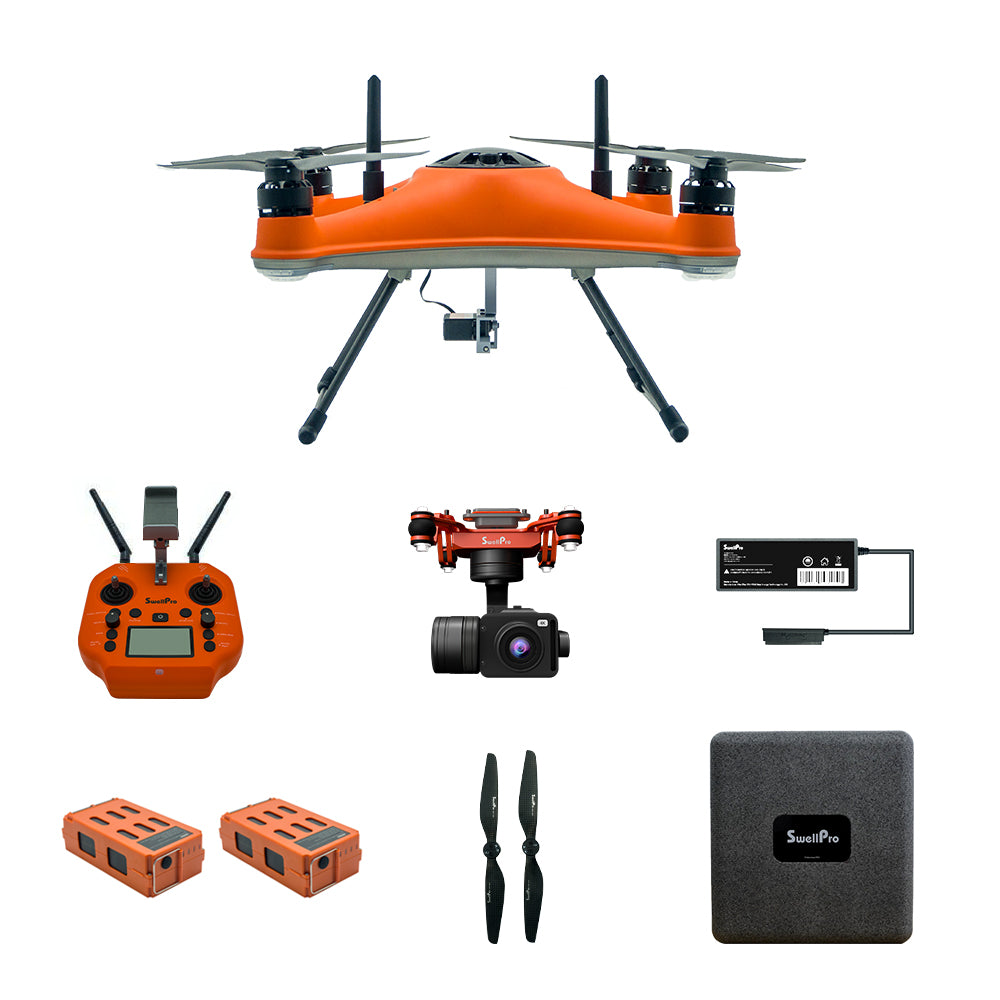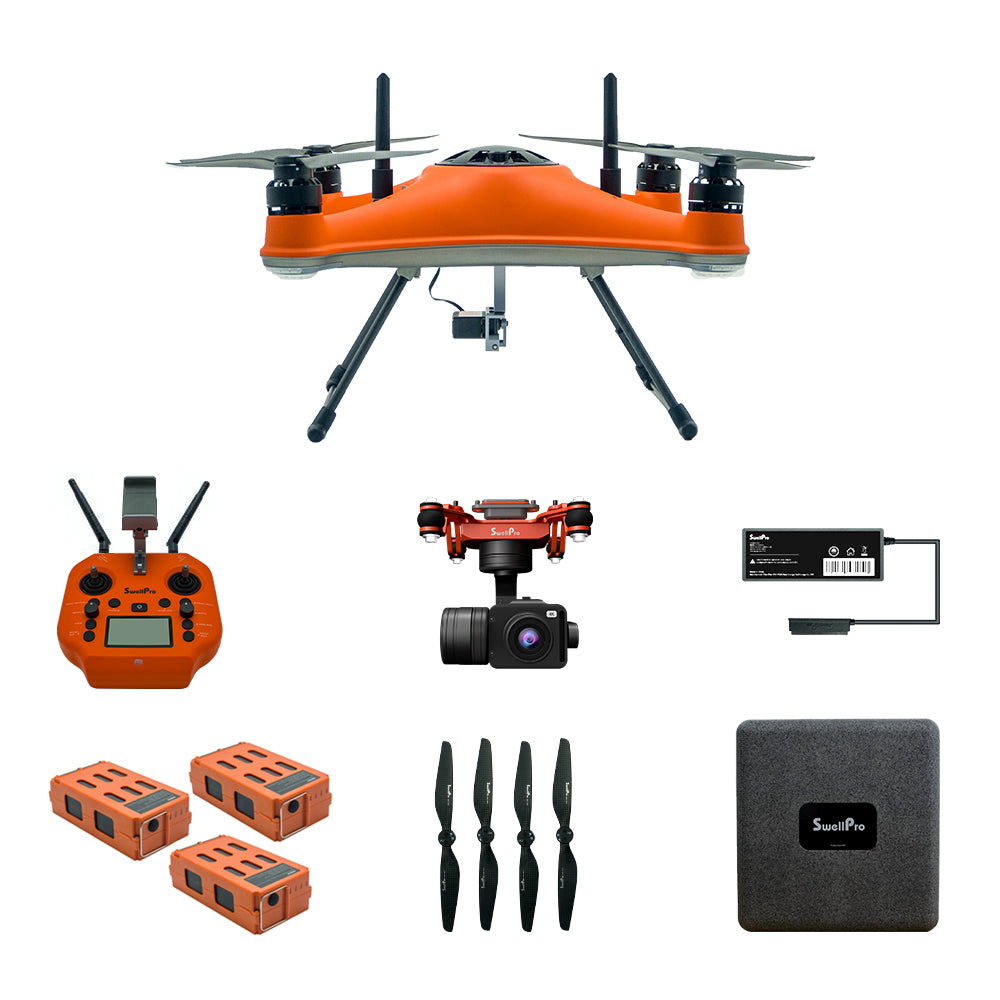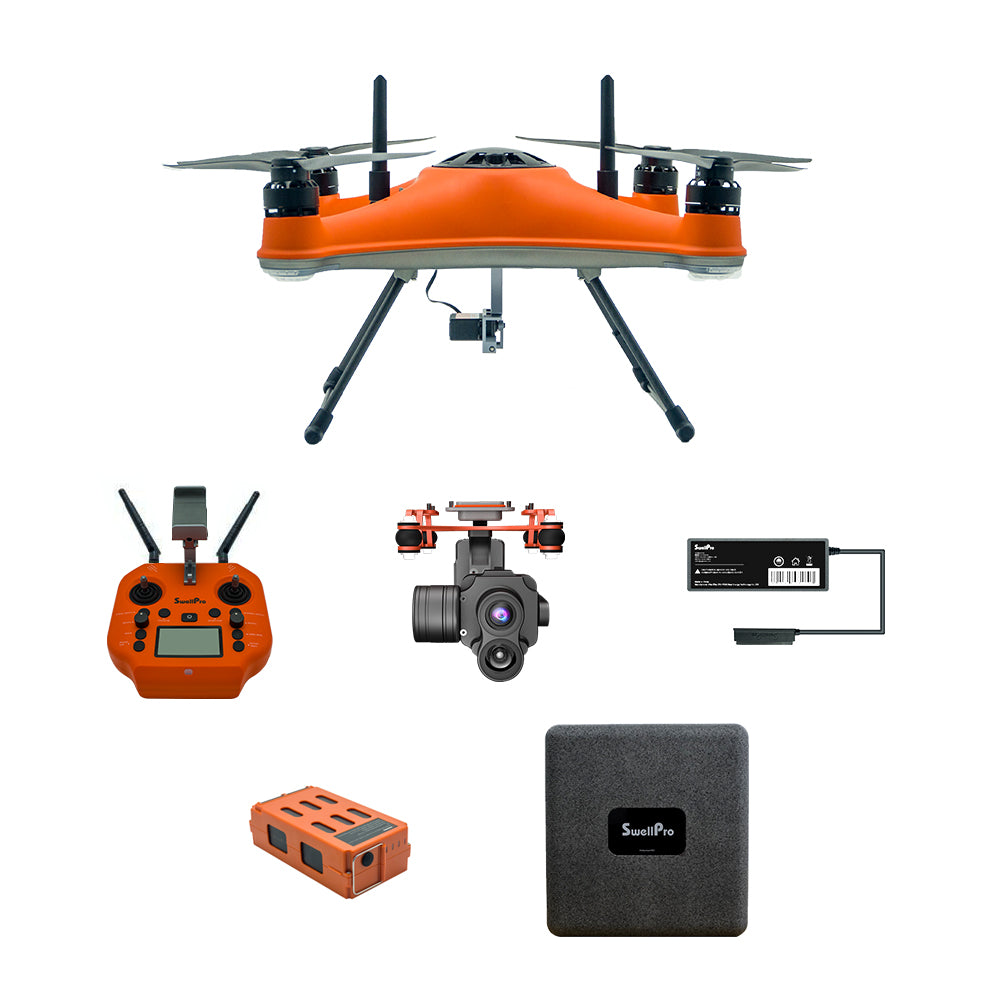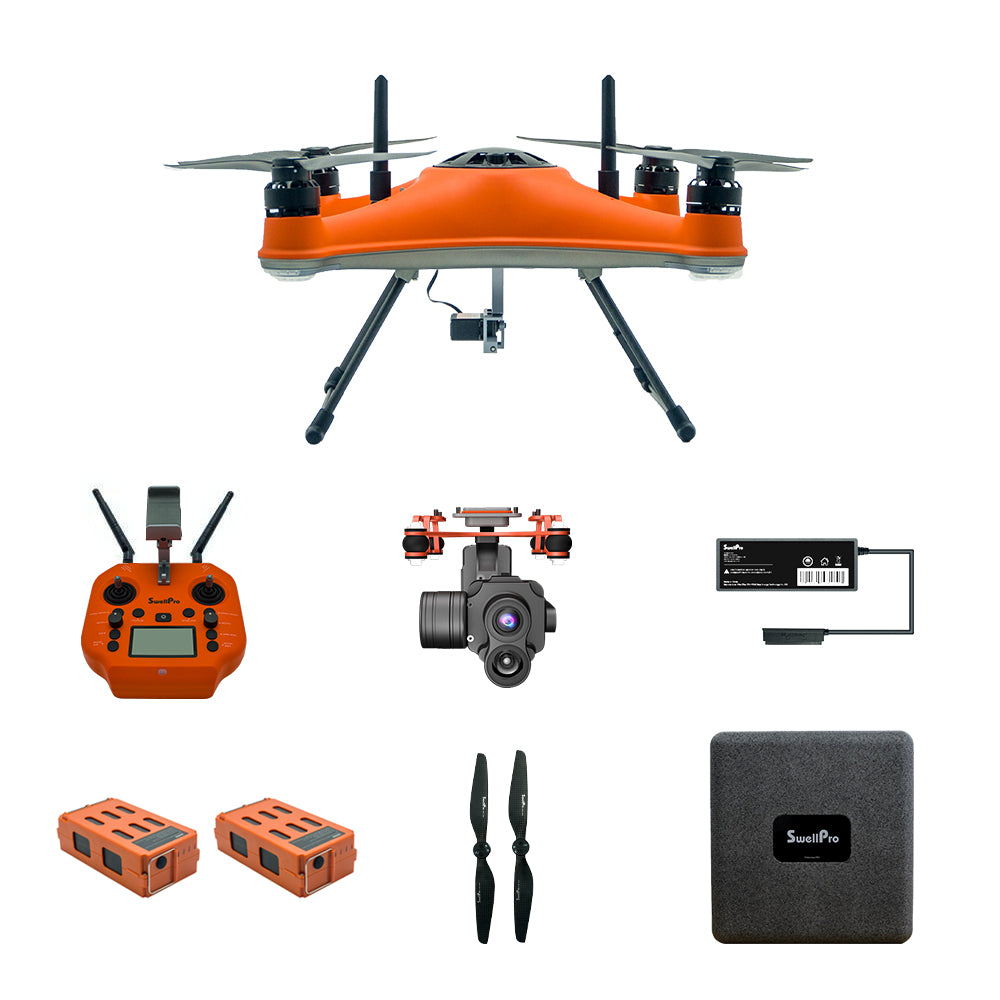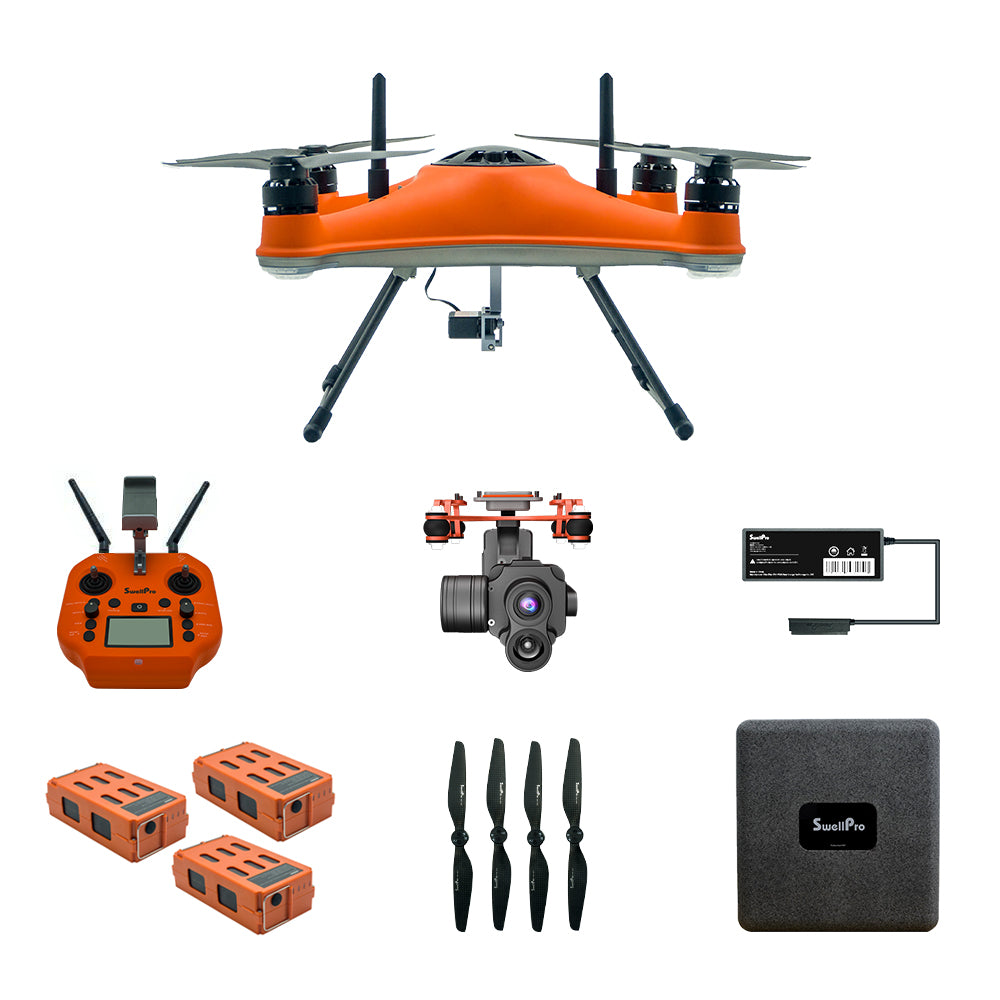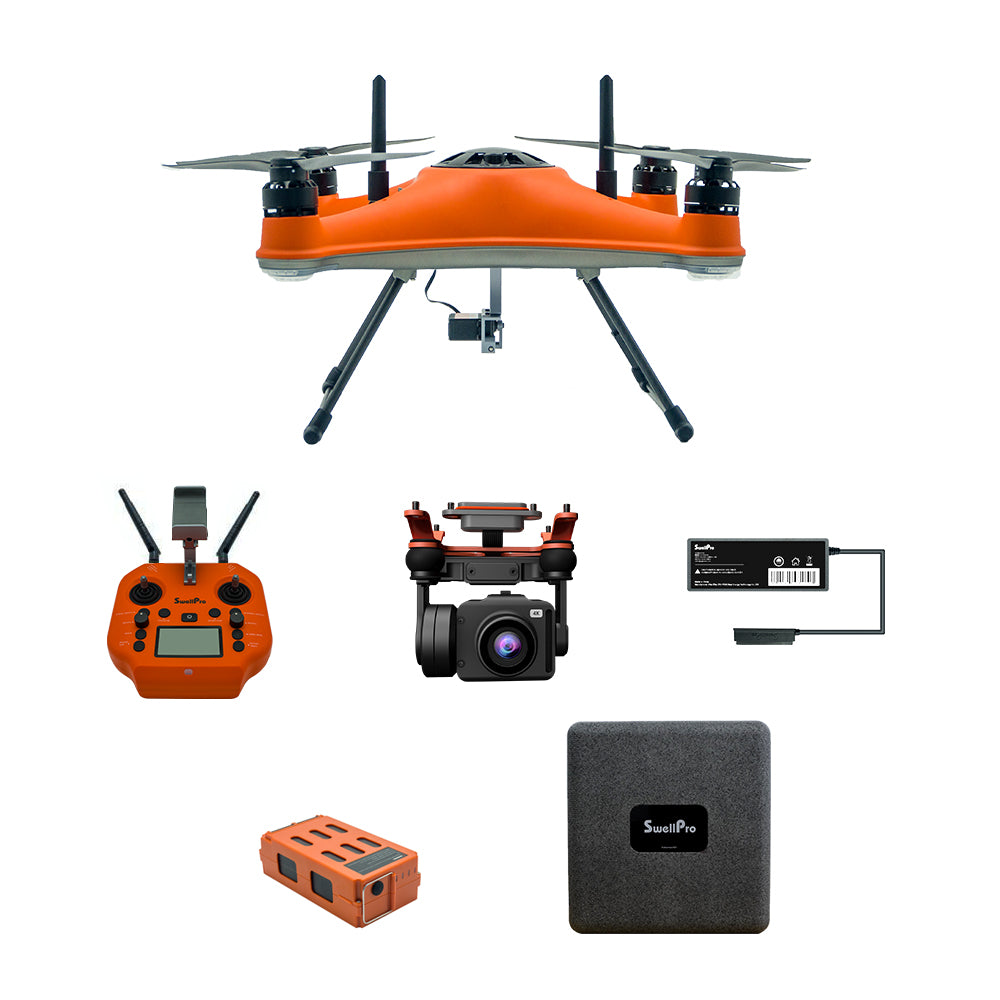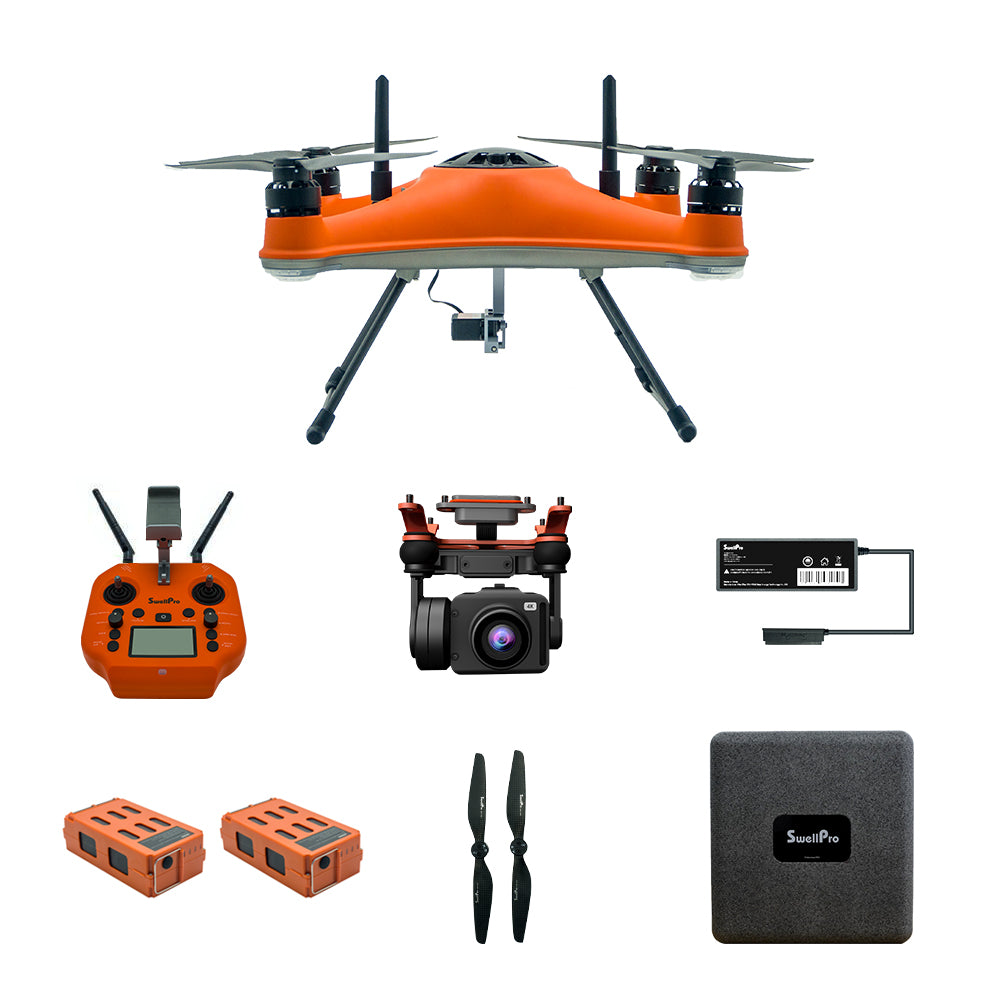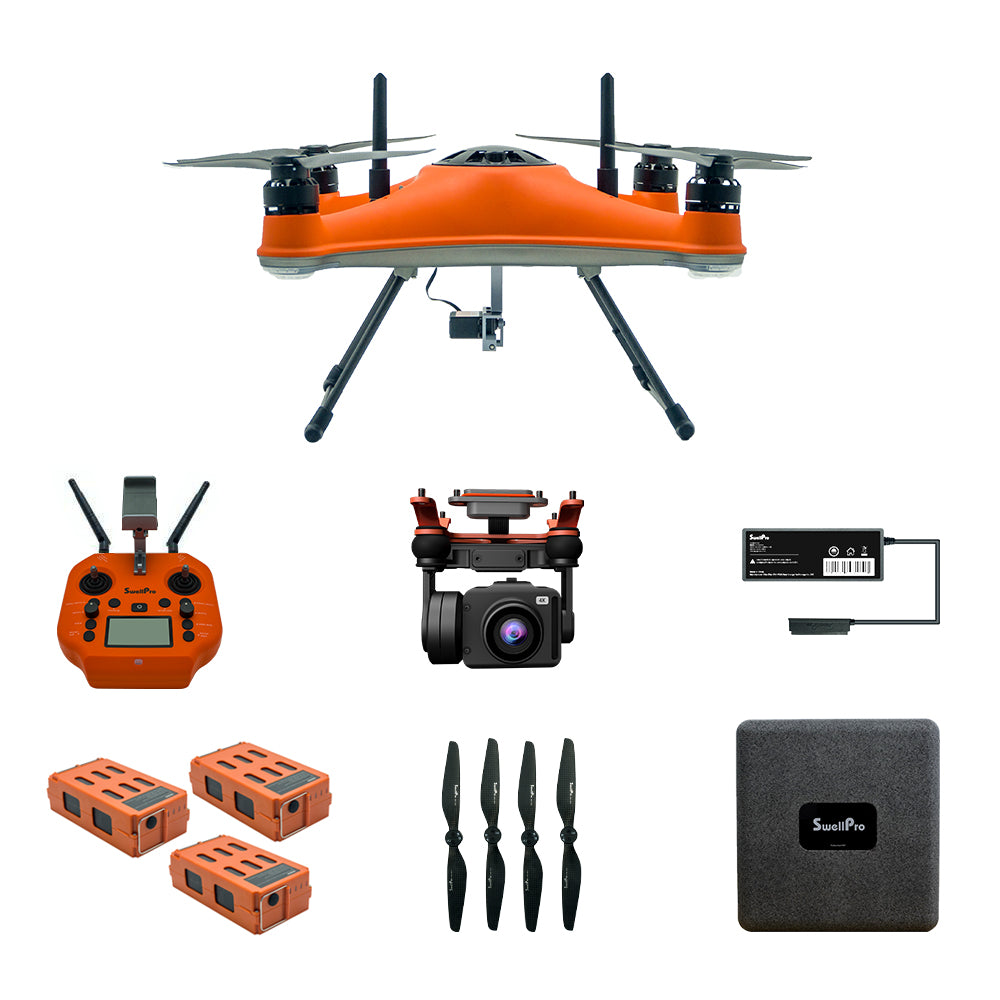 SplashDrone 4 Fishing Edition
SplashDrone 4 fishing edition comes with a PL1-S bait release.
4 lbs / 2kg bait lift capacity.
IP67 Saltwater-proof.
No Geofencing.
Level 7 wind resistance.
Waterproof Camera Options:
Waterproof Camera Options
Extra Propellers & Battery:
Extra Propellers & Battery
Free shipping for order over $900.
Duty-free for USA, AU and NZ.
Buy now, pay later with Klarna.

SplashDrone 4 Fishing Edition
One of the key uses of SplashDrone 4 is drone fishing. The fishing edition of SplashDrone 4 comes with a remote-controlled bait release that can drop baits over the surf. When fitted with one of the high resolution camera modules, it becomes an aerial photography drone perfect for offshore fish finding and fishing trip filming.
20 m/s (38mph)
Wind Resistance
5 km (3 miles)
Casting Range
Up to 4K
Camera Video Resolution
HD Video
Real-time Streaming
Fishing Spot
Saving & Autopilot
Heyskipper Epic Beach Fishing with
SplashDrone 4 Texas
Take Fishing to Next Level
Tailored for Lifting Baits
SwellPro's in-house-designed S3 flight controller is specially programmed for drone fishing. It powers the SplashDrone 4 to remain stable and resist pendulum when carrying heavy baited lines.
2KG Bait Capacity
High-capacity lipo intelligent battery and high-torque motors give the SplashDrone 4 tremendous power to lift payloads of up to 2kg. That means fisherman can attach multiple baited hooks to one line or drop a big bait to catch big fish.
Up to 5 Drops per Charge
Thanks to large bait capacity and up to 30 mins flight time, you can make 5 drops of 800 g (1.7 lbs) baits 600 m (650 yd) with the SplashDrone 4 on a single charge.

5 Km Casting Range
SplashDrone 4 can operate at a range of up to 5 km (3 miles), which is long enough for you to cast a long line and reach any hard-to-access fishing spot from the shore.

All-weather, All-water Fishable
IP67 Seawater-proof Aircraft
Every SplashDrone 4 is factory-sealed and air-pressure tested to guarantee 100% waterproof. The waterproof motors and internal electronics are coated with corrosion-resistant coating to prevent saltwater corrosion.

IP66 Waterproof Remote Controller
The remote controller of SplashDrone 4 is also waterproof and sand-proof for your worry-free operation.
Floatable & Fippable

SplashDrone 4 can float over water and take off from the water again. It can flip back automatically to its normal position when accidentally turning upside down in the water.

Rugged Body

The tough, rigid fuselage of SplashDrone 4 is made out of marine-purpose ABS composite material. The propellers are made out of carbon fiber for high stiffness.

Level 7 Wind Resistance
The propulsion system and flight controller are tuned to maximize control responsiveness and allow the SplashDrone 4 to fly safely in winds up to 20 m/s (38mph).

Heavy on Fishing, Light on Piloting
Rock-solid Stability
SplashDrone 4 incorporates industrial-grade GPS/GLONASS, barometer, gyroscope and a bunch of sensors to hold the position, altitude and balance of the drone during flight. Any fisherman who has no previous piloting experiences can fly SplashDrone 4 safely in various conditions.
Bait Dropping at your Fingertips
Attaching fishing line into the bait release of SplashDrone 4 and later releasing it just requires a push on a button on the remote controller.
Auto-release & Return
SplashDrone 4 can automatically release the bait and return to the shore when the battery level reaches a certain low threshold or the drone loses connection.
High Clarity Offshore Fish Finding
Above-water Scouting

When fitted with one of the waterproof camera options, SplashDrone 4 can capture smooth video of high resolution up to 4K, allowing you to scout from the air to locate fish in the water below.
Underwater Scouting

Since the drone and the cameras are waterproof, you can land the SplashDrone 4 on the water and get a closer look at the fish under the water.
Sonar Fish Finding

SplashDrone 4 can carry a wireless sonar fish finder to detect fish at the bottom of water and send fish visuals to the APP.
SDFly - A Feature-rich Drone Fishing APP

Real-time HD Video Streaming

SplashDrone 4 can stream 720P@30fps video in real time to the SDfly APP through a digital 5.8G image transmitter. The video feedback allows you to easily read the water, identify signs of fish and determine the location for bait dropping.
Fishing Spot Saving & Autopilot

On the map of SDfly APP, you can log the GPS coordinates of favorite fishing spot and make SplashDrone 4 automatically fly to the saved spot where you are going to drop baits.
Accessories for SplashDrone 4 Fishing Edition
SplashDrone 4 fishing edition comes with the PL1-S bait release in the box. The cameras and fish finder are all optional.
GC3-S
Waterproof 3-axis Gimbal 4K Camera
GC2-S
Waterproof 2-axis Gimbal Night Vision 1080P Camera
GC1-S
Waterproof 1-axis Gimbal 4K Camera
Dronar
Wireless sonar fish finder
PL1-S
Waterproof remote-controlled bait release
Differences between SplashDrone 4 & Fisherman FD1
| SplashDrone 4 | Fisherman FD1 |
| --- | --- |
| IP67 waterproof aircraft & remote controller | IP67 waterproof aircraft only |
| 5 km (3 miles) casting range | 1.6 km (1 miles) casting range |
| UP to 3-axis 4K camera | UP to fixed-angle 2000tvl camera |
| Intelligent slide-in 6600 mAh 4S LiPo battery | Standard 5200mAh 4S LiHV battery |
| Compatible with sonar fish finder | Incompatible with sonar fish finder |
| 5.8G digital image transmitter | 5.8G analog image transmitter  |
| 720P video streaming ( via mobile APP) | 800x480 px video streaming ( via FPV goggles) |
What's in the Box?
Aircraft x 1
Remote controller x 1
PL1-S bait release x 1
Propellers x 2 (pairs)
Intelligent battery x 1
Power adapter x 1
Power cable x 1
RC barrel power cable x 1
Micro USB cable x 1
Hex screws and screwdriver x 1
User manual x 1
Carry case x 1
Key Specs
Waterproof rating: IP67
Drone Weight (include battery and propellers): 2.18 kg
Max payload capacity: 2 kg
Max Ascend/Descend Speed: 4 m/s
Max Flight Speed: 22 m/s (ATTI)); 10 m/s (GPS)
Max Takeoff Altitude: 120m (GPS) / ATTI - no limitation
Propellers: #1242 carbon fiber quick release propellers
Operating Frequency: 5180 - 5875 MHz
Transmitter Power (EIRP): FCC/IC: ≤ 24 dBm CE/SRRC/MIC: ≤ 20 dBm
Satellite Positioning Systems:GPS/GLONASS
Hovering Precision:±0.5 m (vertical); ±0.5 m (horizontal)
Power Input:12V/2A | 5V/2A
Working Temperature:-10℃ ~ 40℃
Drone battery: Intelligent 4S LiPo 14.8V 6600mAh
Certification: CE/FCC/RoHS/RCM
Splash drone 4
Amazing drone. The weight it can hold is incredible. Amazing buy
Splash Drone 4
Drone came in quickly and was packaged securely. Used it a couple of times and still getting used to it, but it is amazing. Handles great and performs perfectly with bait drops. Will be adding more accessories soon. So happy I decided to go with this model!
SplashDrone 4 Fishing Edition
Fishing
So far I have really enjoyed the drone we were able to get 3 7 foot sharks was very happy and excited for the future
Awesome Drone!
Very easy to fly and setup! Haven't got to the beach yet but have simulated the drops in yard using return home option and it performs flawlessly! Excited to use it every chance I get for all outdoor activities and parties!
Great Splash drone 4
Great service, very quick delivery. The only problem was finding the SDFly app for my android phone as it is not on the play story?
Subscribe now to receive exclusive offers and product updates.
Get an Extra 5% Off on Your Black Friday Order