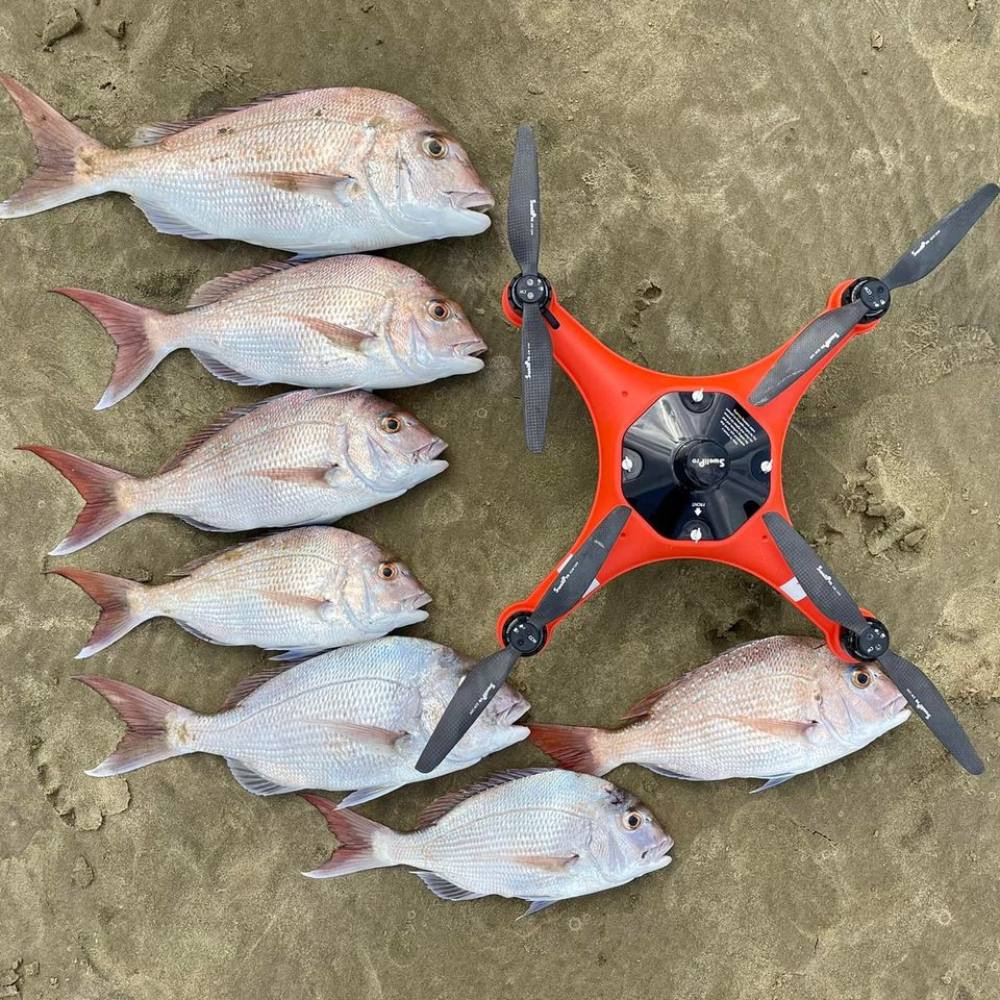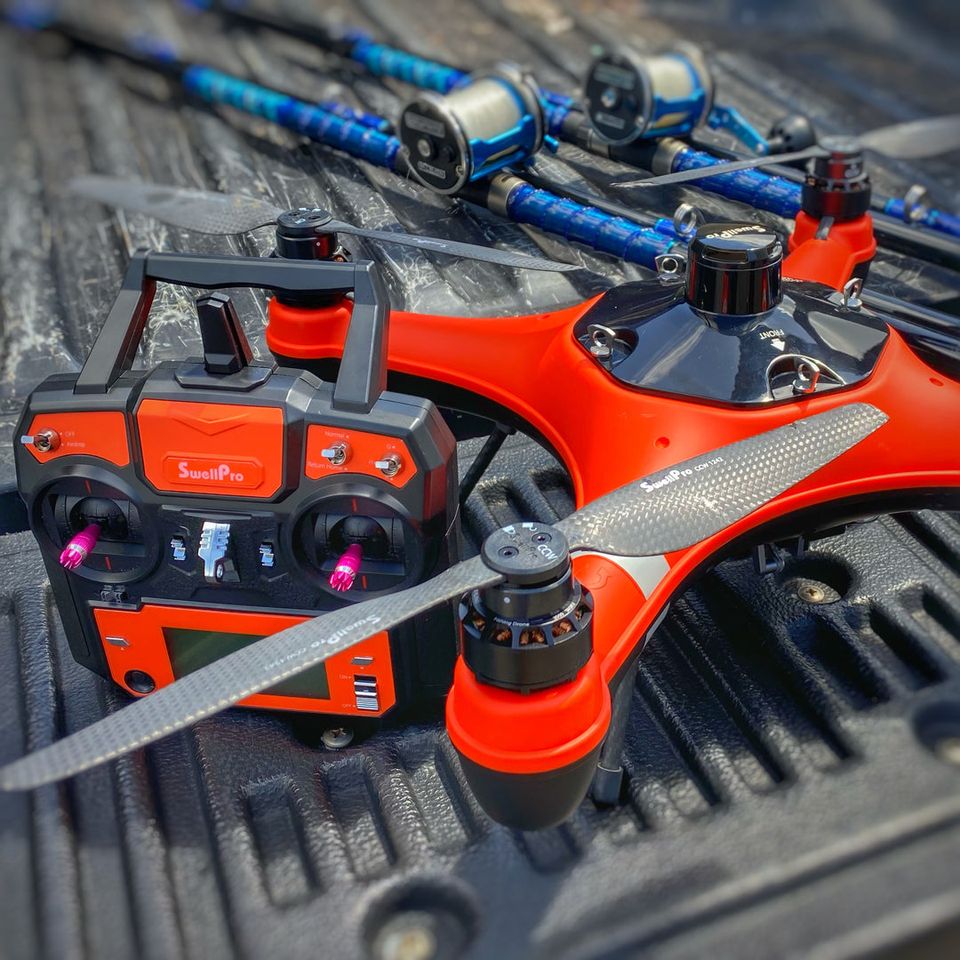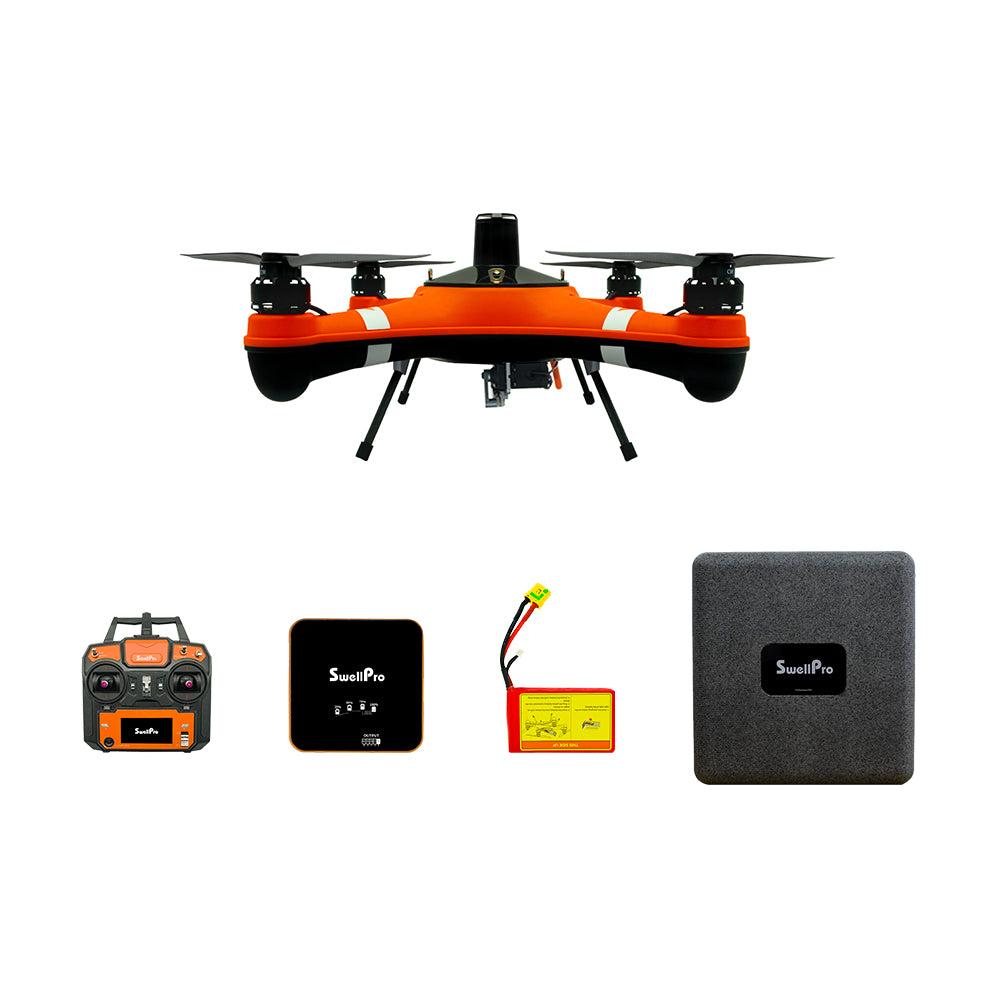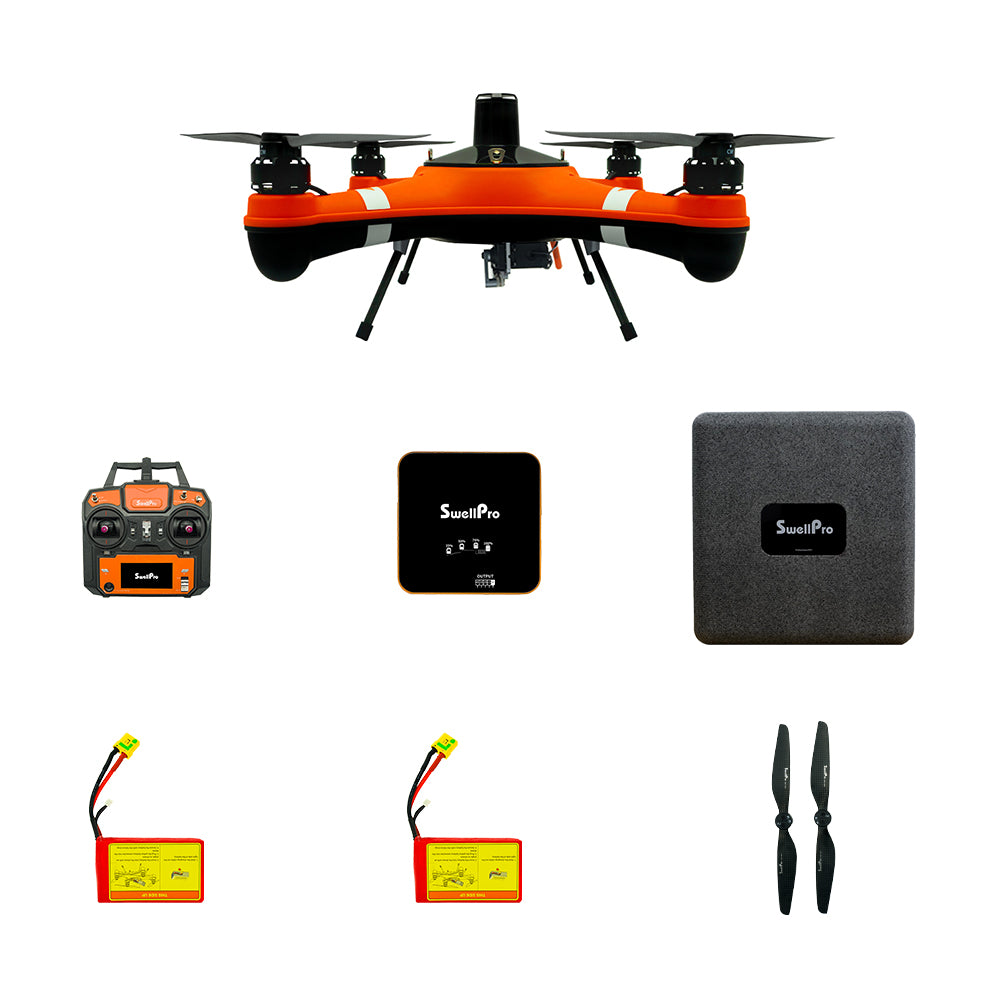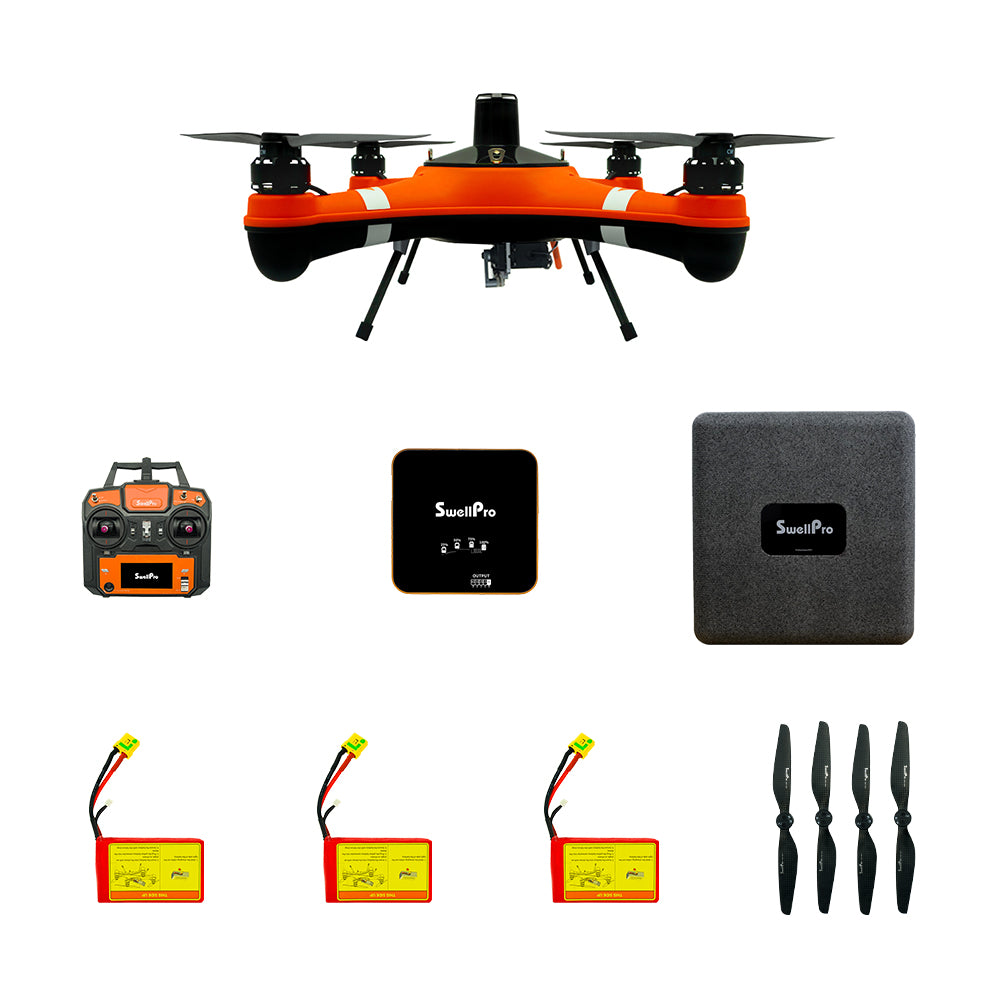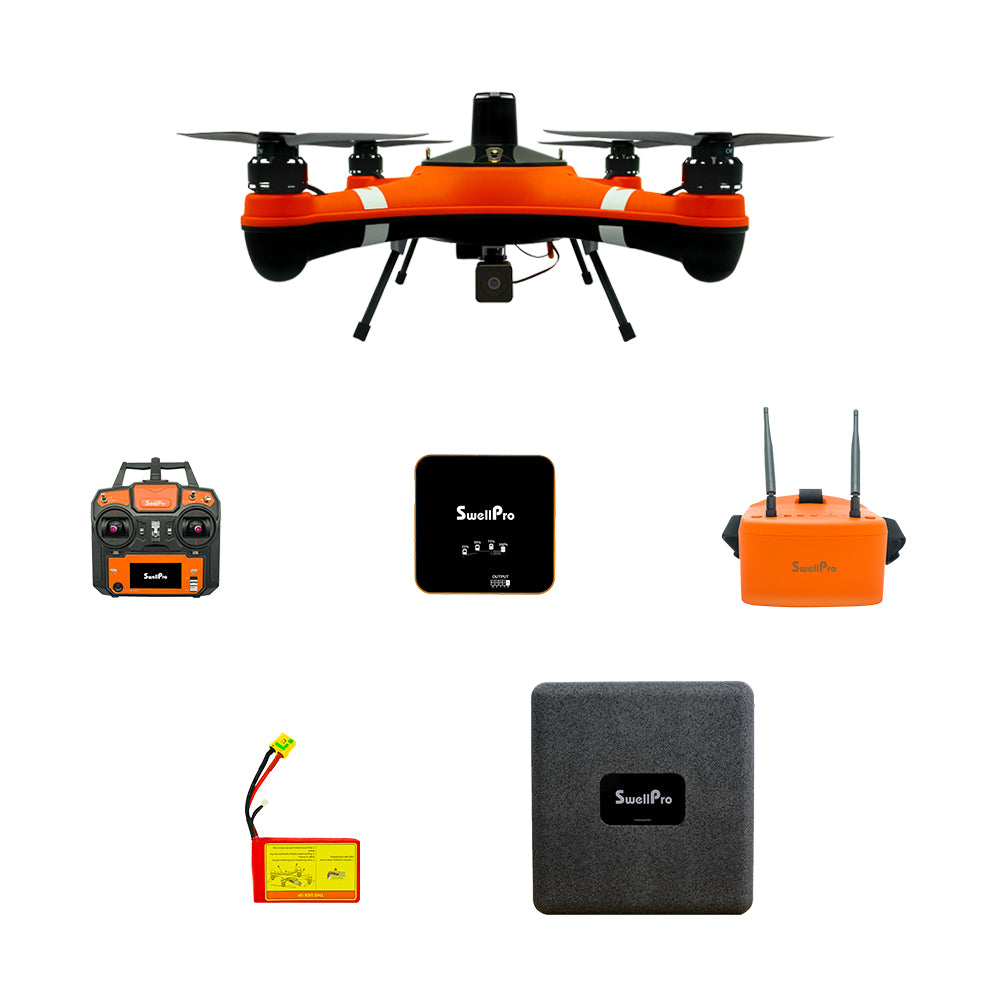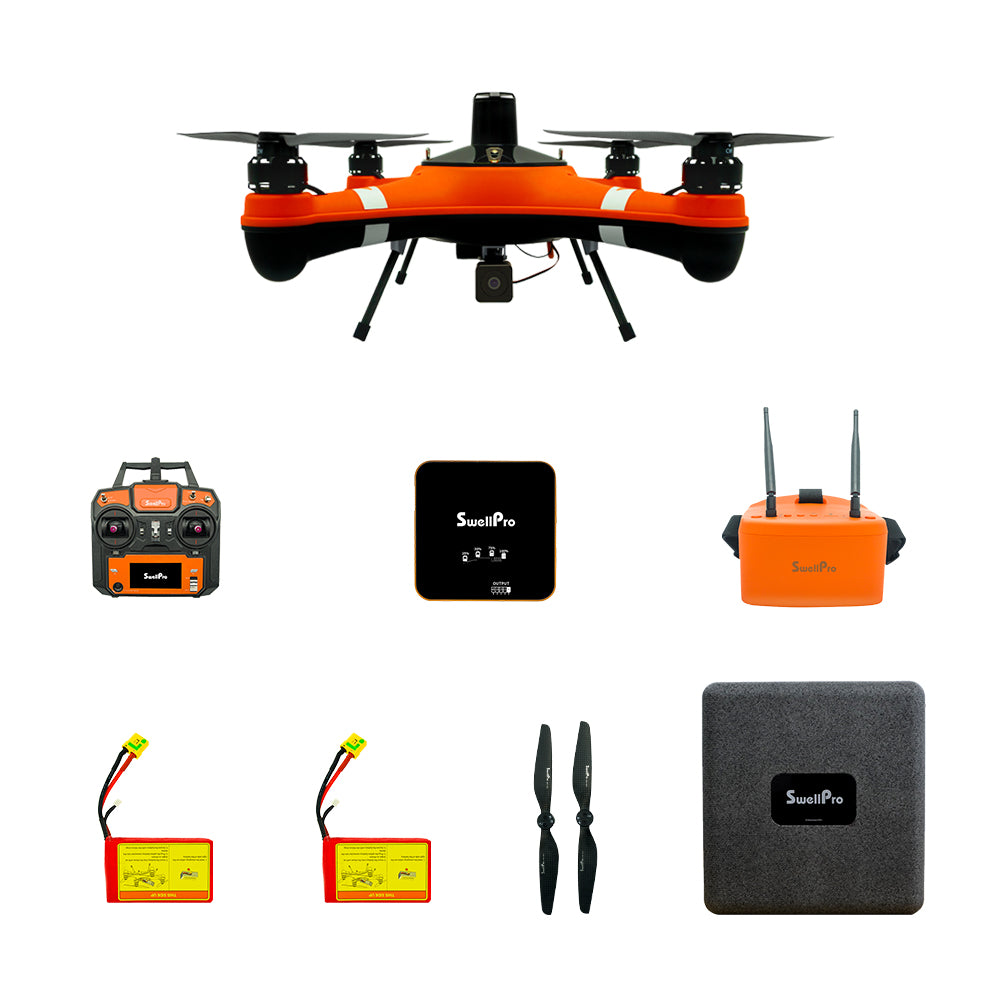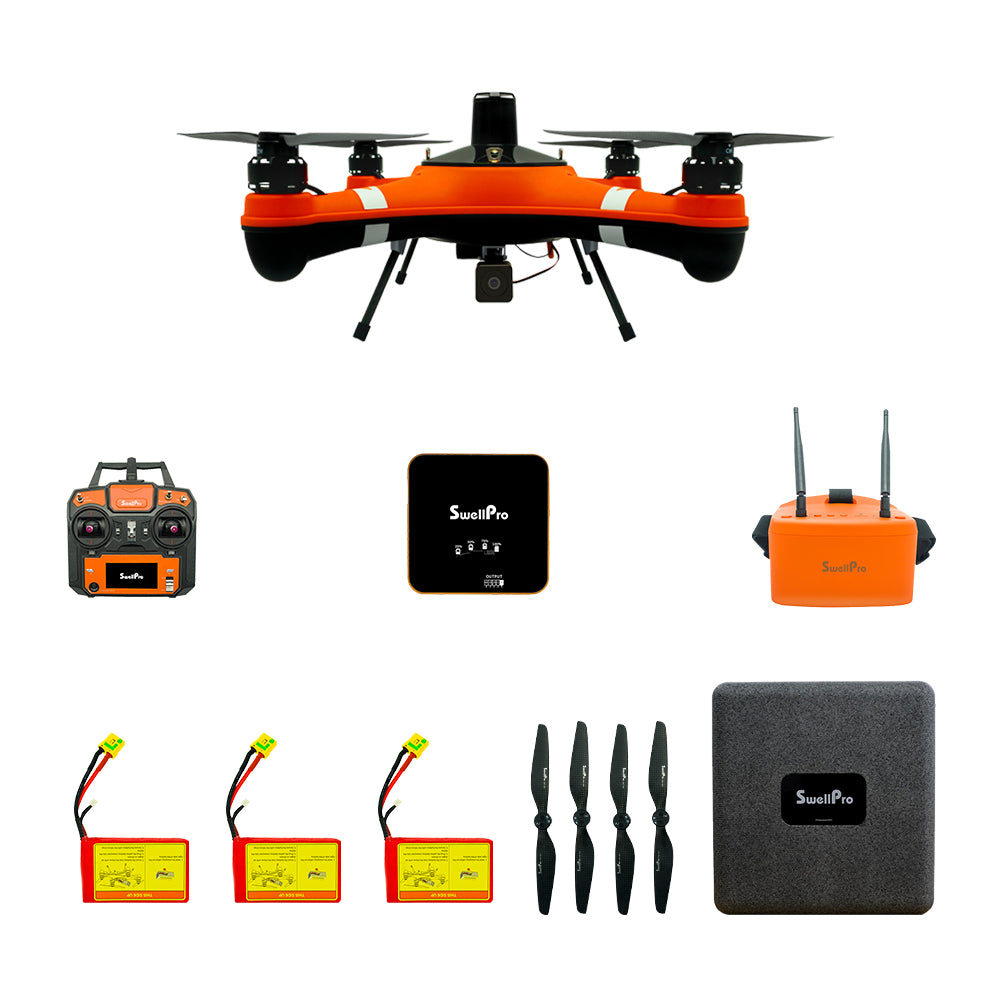 Fisherman FD1 WaterProof Fishing Drone
Only available in the United States.
FD1 Basic version comes with a bait release.
FD1 FPV version comes with a a bait release and 720P camera.
4 lbs / 2 kg bait lift capacity.
IP67 Saltwater-proof.
No Geofencing.
Extra Propellers & Battery:
Extra Propellers & Battery
Free shipping for order over $900.
Duty-free for USA, AU and NZ.
Buy now, pay later with Klarna.

Fisherman FD1
Fisherman FD1 is a purpose-built waterproof fishing drone for every fisherman. It inherits the same technology from SplashDrone 3+ but removed all the bells and whistles that don't contribute to bait dropping, thus reducing the cost. A stronger propulsion system enables the FD1 to lift heavier baits, fly longer and more stably in a windy condition.
IP67
Seawater-proof Aircraft
20 m/s (38mph)
Wind Resistance
1.6 km (1 mile)
Casting Range
Drone Shark Fishing with FD1 by Lisharkman
Dedicated for Drone Fishing
Contrary to the multi-purpose SplashDrone 4, Fisherman FD1 cancelled the features and components that are useless for drone fishing. Special algorithms were put into the flight controller of FD1 to ensure that the drone can maintain its altitude and position while lifting heavy baits. And there are many advantages that make FD1 one of the greatest fishing drones in history.
2KG (4lbs) Bait Capacity
High-capacity lipo flight battery, combined with high-torque and high-kv motors powers FD1 to lift baits of up to 2kg. Catch more fish or bigger fish by attaching multiple baited hooks or a big live bait to the line.
Up to 5 Drops per Charge
Thanks to large bait capacity and up to 30 mins flight time, FD1 can make 5 drops of 800 g (1.7 lbs) baits over 600 m (650 yd) on a single battery charge. Increase your fishing success to the next level.
1.6 Km (1 mile) Casting Range
FD1 can operate at a range of up to 1.6 km (1 mile). Land-based anglers can easily cast a long line and drop baits in any hard-to-reach fishing spots, without using a boat or kayak.
Rugged Body
The fuselage of FD1 is made out of marine-grade ABS to prevent cracking when lifting weights. The propellers are made out of carbon fiber for high stiffness. FD1 is far more durable than any other consumer-level drone in the industry.
All-weather, All-water Fishable
IP67 Seawater-proof Aircraft
The aircraft of FD1 is 100% waterproof. It is able to land on the water and take off from the water again, always fly safely back to the shore.
Level 7 Wind Resistance
The strong propulsion system and proprietary flight controller are tuned to maximize the flight stability of FD1 in winds up to 20 m/s (38mph).
Corrosion-free
The waterproof motors and internal electronics of FD1 are coated with corrosion-resistant coating adding an extra layer of protection against the salty sea air.
Heavy on Fishing, Light on Piloting
Rock-solid Stability
FD1 incorporates several sensors to increase stability during flight. The GPS/GLONASS can receive up to 11 satellites each and accurately holds the position of the aircraft. A barometer maintains the altitude while a gyroscope keeps the drone balanced in all circumstances. Any fisherman who has no previous piloting experiences can fly FD1 like a professional.
Bait Dropping at your Fingertips
Attaching fishing line into the bait release of FD1 and later releasing it just requires a push on a button on the remote controller.
Anti-Pendulum Feature
Drones may have a pendulum motion when flying with a payload. This feature can reduce the pendulum effect on the FD1 by adjusting the acceleration and de-acceleration.
Auto-release & Return
FD1 can automatically release the bait and return to the shore when the battery level reaches a certain low threshold or the drone loses connection.
Bait Releases for FD1 Fishing Drone
PL1-F
Waterproof remote-controlled bait release without camera for blind bait dropping.
PL2-F
Waterproof remote-controlled bait release with an angle-adjustable camera for real-time video viewing.
TS-2
TS-2 can automatically release the line when it get a strike, good for trolling fishing.
Dual-use GL1 FPV Screen Goggles
When the FD1 is fitted with PL2-F, an optional GL-1 FPV goggles allows you to see what the camera sees in real time. The GL-1can be used as a display screen mounted on the remote controller, or on-face goggles.
Aircraft
Waterproof Rating: IP67
Drone Weight(include battery and propellers): 2050g
Axis Diameter: 450 mm
Max Ascend Speed: 4 m/s
Max Descent Speed: 4 m/s
Max Flight Speed: 10 m/s(GPS); 22 m/s(ATTI)
Max Tilt Angle: ATTI Fast Mode 25°;ATTI Slow Mode 12.5°
Max Altitude from Takeoff Point: 120 m (GPS) / 1.3 km (ATTI)
Max Wind Speed Resistance: 72km/h | 20 m/s | 39knot
Hovering Accuracy: ±0.5m
Max Flight Time: 30 mins (no wind & no load); (approx. 15 mins with 1.0kg, approx.12 mins with load of 1.5kg)
Max Flight Distance: 1.6 km
Max Payload Capacity: 2.0 kg
Satellite Positioning Systems: GPS/GLONASS
Flight Control: Hawk
Motor: #3509/740Kv
ESC: 40A (flux)
Propeller: #1242 carbon fiber quick release propellers
Working Temperature: -10℃ ~ 40℃
Battery Type: 4S 15.2V 6500mAh Lipo
Battery Weight: 640g
Charging Time: 90 min
Remote Control
Weight: 378 g (without battery)
Size: 174x89x190 mm
Frequency: 2405 – 2475 MHz
Band Wide: 5000 KHz
Coding Mode: GFSKEffective Distance: 1.3 km (No interference, open area)
Receiving Sensitivity: -105dBm
Transmitting Power: Less than 20dBm
Channel: 6Battery
Type: 6V (1.5V AAx4)
PL1-F Bait Release
Waterproof: IP67
Max Payload Weight: 2kg
Size: 60.7*36.2*50mm
Cable Length: 220mm
Weight: 90g
PL2-F Bait Release
Waterproof: IP67
Max Payload Weight: 2kg
Size: 122.5*50*39mm
Cable Length: 160mm
Weight: 150g
Sensor Size: 1/2.7; support WDR (Wide Dynamic Range)
Resolution: 2000TVL | 800x480
Lens: F/2.5 f/2.1
Input Voltage: 5~36V
Video Transmitter
Frequency:5645 ~ 5965MHz
Channel: 40CH
Transmission Distance: 1.6km (No obstacles, no interference)
Power: 25/400/600mWInput Voltage: 7.4~26V
Size: 32*25*10.4mm (antenna 140mm)
Weight: 12.8g
Video Transmitter
Screen Size: 5"
Resolution: 800 * 480
Display Scale: 16:9
Brightness: 300cd /m²
Latency: <20ms
Lens: 8 times Fresnel lens, light transmittance 92%, no distortion of light
Antenna: 2 X RP-SMA male
USB: For charging(max charging current: 500mA)
Card Slot: Micro SD card (64G max)'Recording Resolution: VGA / D1 / HD optional
REC sound: ON / OFF
Recording Section: OFF / 3min / 5min / 10min
Resolution: 30FPS
Compress Format: MJPEG
Video Format: AVI
Language: EN/CN
Power: DC5V / 2A(USB)
Battery: Built-in 3.7V / 2000 mAh Lipo Battery
DVR ON - 2.5hour | DVR OFF - 3.5hour"
Size: 180mm*140mm*84mm
Weight: 393g
| Parts | Basic version | FPV version |
| --- | --- | --- |
| Aircraft | X1 | X1 |
| Remote controller  | X1 | X1 |
| Propellers (pair) | X2 | X2 |
| Flight battery | X1 | X1 |
| Balance charger | X1 | X1 |
| Charging cable  | X1 | X1 |
| Micro USB cable | X1 | X1 |
| PL1-F bait release | X1 | / |
| PL2-F bait release  | / | X1 |
| Video transmitter | / | X1 |
| GL-1 goggles | / | X1 |
| Carrying case | X1 | X1 |
Differences between SplashDrone 4 & Fisherman FD1
| SplashDrone 4 | Fisherman FD1 |
| --- | --- |
| IP67 waterproof aircraft & remote controller | IP67 waterproof aircraft only |
| 5 km (3 miles) casting range | 1.6 km (1 miles) casting range |
| UP to 3-axis 4K camera | UP to fixed-angle 2000tvl camera |
| Intelligent slide-in 6600 mAh 4S LiPo battery | Standard 5200mAh 4S LiHV battery |
| Compatible with sonar fish finder | Incompatible with sonar fish finder |
| 5.8G digital image transmitter | 5.8G analog image transmitter  |
| 720P video streaming ( via mobile APP) | 800x480 px video streaming ( via FPV goggles) |
Drone works as hoped for
The drone works perfectly and the controls and initializing are more straight forward then other manufactures. The only draw back that I have experienced is that the case should be a little larger to accomodate slight misalignment issues while stowing the drone and accessories. The closure mechanisms are only glued in place and will pull off unless you have the drone installed 100% exactly as it is packed from the manufacture. Takes more time to stow the drone in its case then it does to set it up. Do not get in a hurry
Fisherman FD1 WaterProof Fishing Drone
Won't reach satellite
Customer service is non responsive I've sent several emails!! Purchased last week new and still no response !!! I tried several open locations and nothing
So far so good
Works as should so far. Took out about 30 baits and did well. Very pleased so far. Waiting on that big shark.
Amazing
I am very Happy with the drone . Plenty powerful easy to use. And it was worth it already! Tik tok Jmelito
Drone FD1
Hola he recibido el Drone en orden con un servicio de entrega espectacular.. Lo he probado en vuelo corto en el Jardin de mi casa y creo que todo está muy bien
Subscribe now to receive exclusive offers and product updates.
Get an Extra 5% Off on Your Black Friday Order