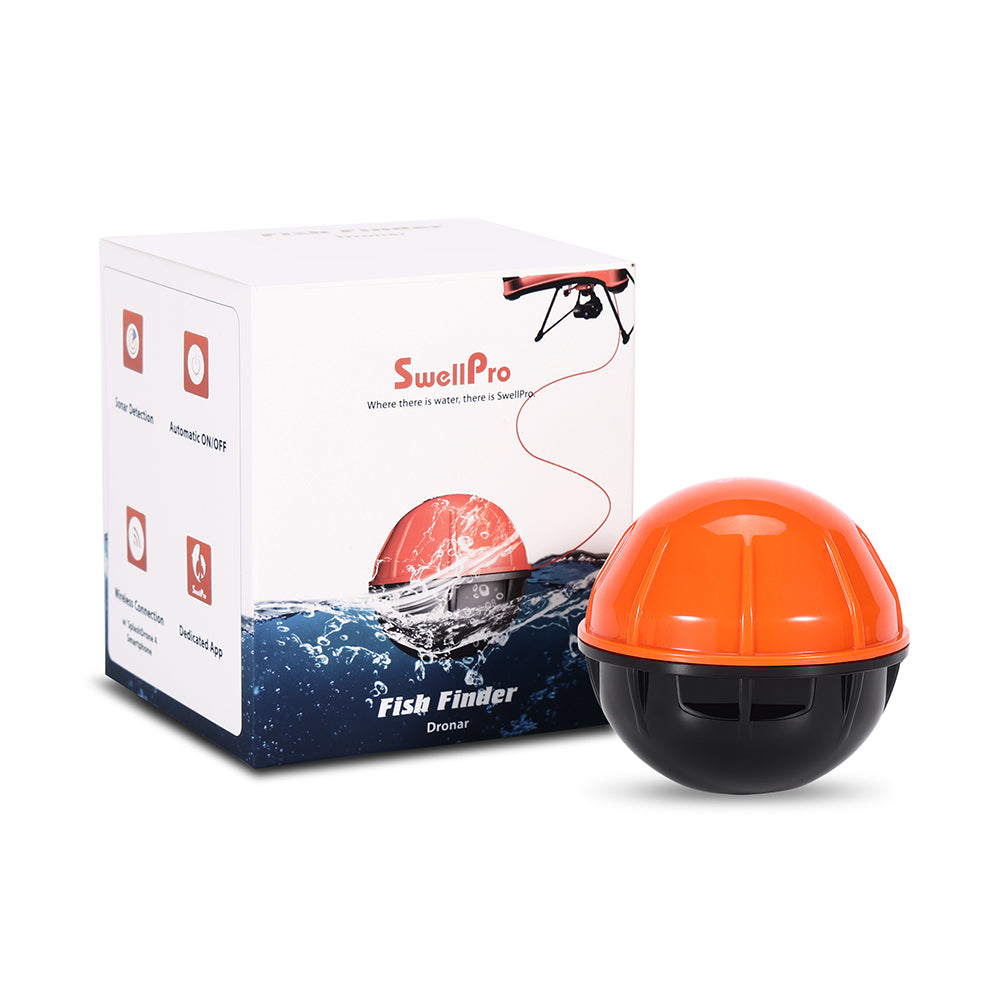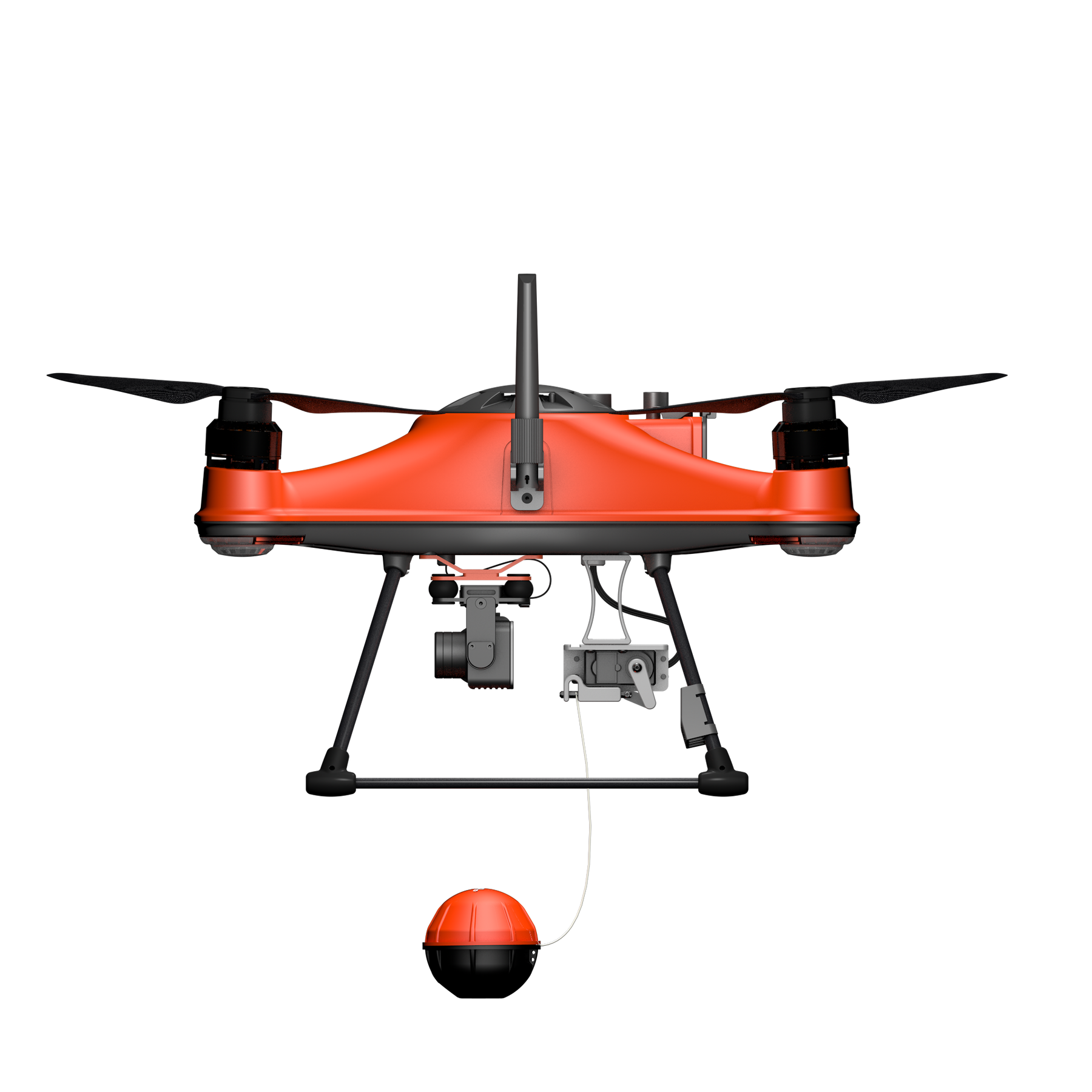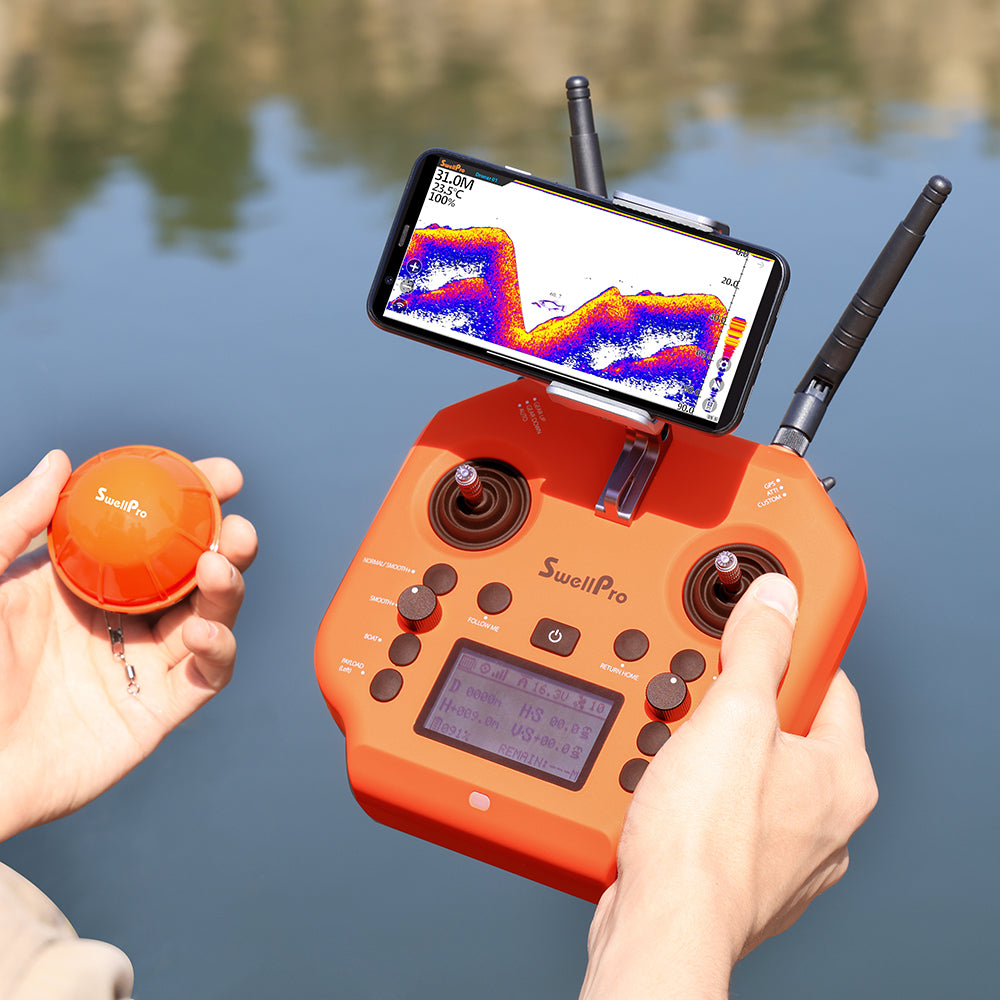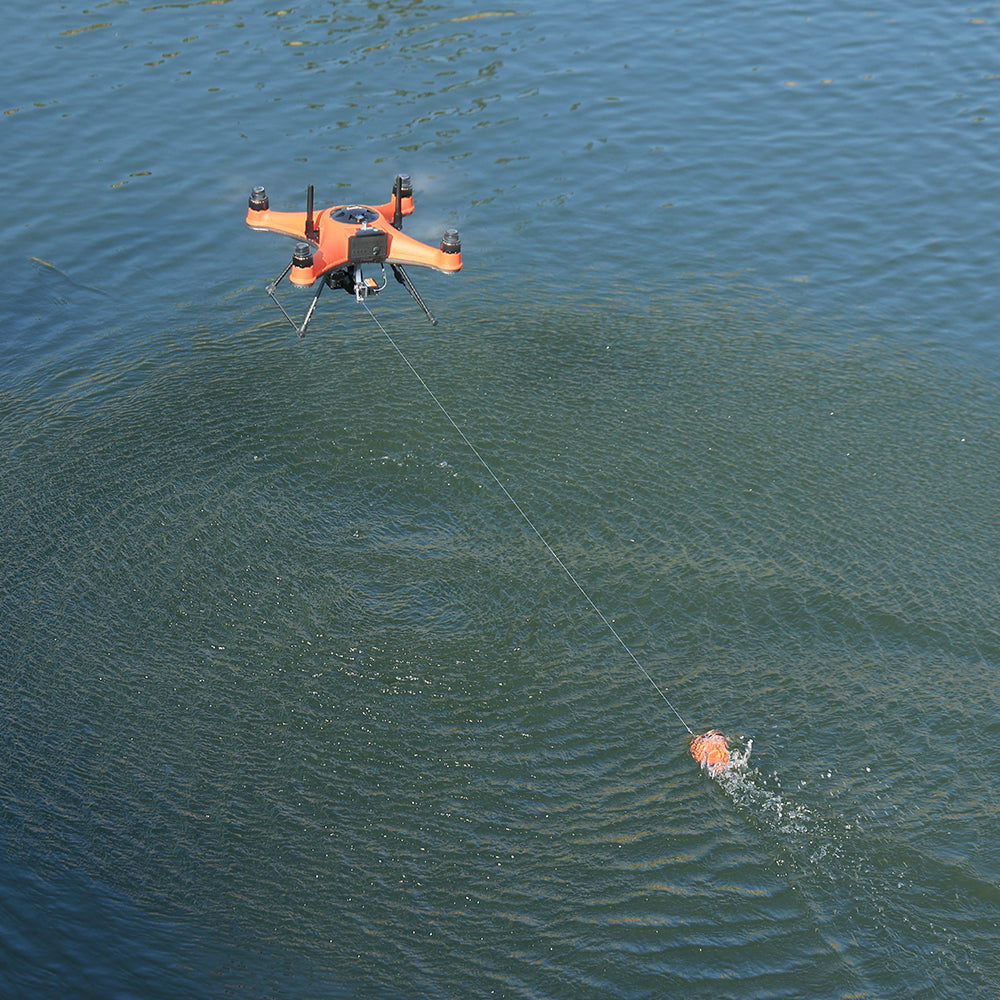 Dronar Fish Finder for SplashDrone 4
Free shipping for order over $900.
Duty-free for USA, AU and NZ.
Buy now, pay later with Klarna.

SwellPro Dronar Fish Finder
Find Fish from the Sky
SwellPro Dronar is the world's first flyable and castable wireless sonar fish finder. Working with SplashDrone 4, Dronar can detect fish and send fish visuals to your smartphone from up to 1 miles (1.5km) away. Find the perfect fishing spot fast while you are sitting on the shore.
Ultra-long-range Fish Finding
The Multi-sync digital transmission technology of SplashDrone 4 provides a high-speed wireless bridge for the sonar data travelling from the Dronar to your smartphone.
Fly to Scan 
Attach the Dronar to the payload release module of the SplashDrone 4. Fly the SplashDrone 4 to lift up the Dronar and troll it on the water surface just like what you used to do with a boat or a reel, but with much less effort. The fish finder will automatically power on and start to collect data once it touches the water.
Auto Area-scan
Set waypoints on the SDFly App. SplashDrone 4 is going to fly to the set waypoints and start area-scan automatically. Whenever there is fish, the fish alarm will go off to notify you on the App. Using Dronar's Auto Area-scan function, you can sit back and enjoy the precise and highly efficient fish-finding experience.
Dual-use
In addition to using with SplashDrone 4, Dronar is castable as a standalone fish finder. The casting range is up to 262 ft.
Built to Last
Both the SplashDrone 4 and the Dronar are fully waterproof and durable in design. They can float on the water.
Dronar APP
Fish Finding Made Easy
Comprehensive Fish Metrics
Easy-to-read sonar data allows you to see fish location, fish size, and depth in real-time.
Noise Filtering
Adjust sensitivity level to filter out noise and ensure precise sonar images in various kinds of water conditions.
Fish Alarm
Get notified when the Dronar detects fish underwater. Set the alarm to notify Small/Medium/Large fish.
Fish Icon
Clear visualization for when fish arise under the sonar. With the depth info beside it to tell you exactly where the fish are underwater.
Fish Coordinates
Present you with the accurate location of the fish with the longitude and latitude provided by the precision GPS receiver.
Specification

Waterproof Rating: IP68
Frequency: 125 KHz
Detection Angle: 30°
Depth Range: 1.9 ft - 131ft (0.6 – 40 m) 
Depth Precision: 0.1 m
Sensitivity: 100 Levels
Wireless Connection: 2.4G / 5.8G Wi-Fi
Battery Life: 3 – 5 hours
Charging: 3 hours (5V/1A)
Operating Temperature: -20°C~70°C / -4°F~ 158°F
Operating Range: 1 mile / 1.5 km (Use with SplashDrone 4) ; 262 ft / 80 m (Use individually)
Subscribe now to receive exclusive offers and updates.
Get an Exclusive 5% Off Your First Purchase