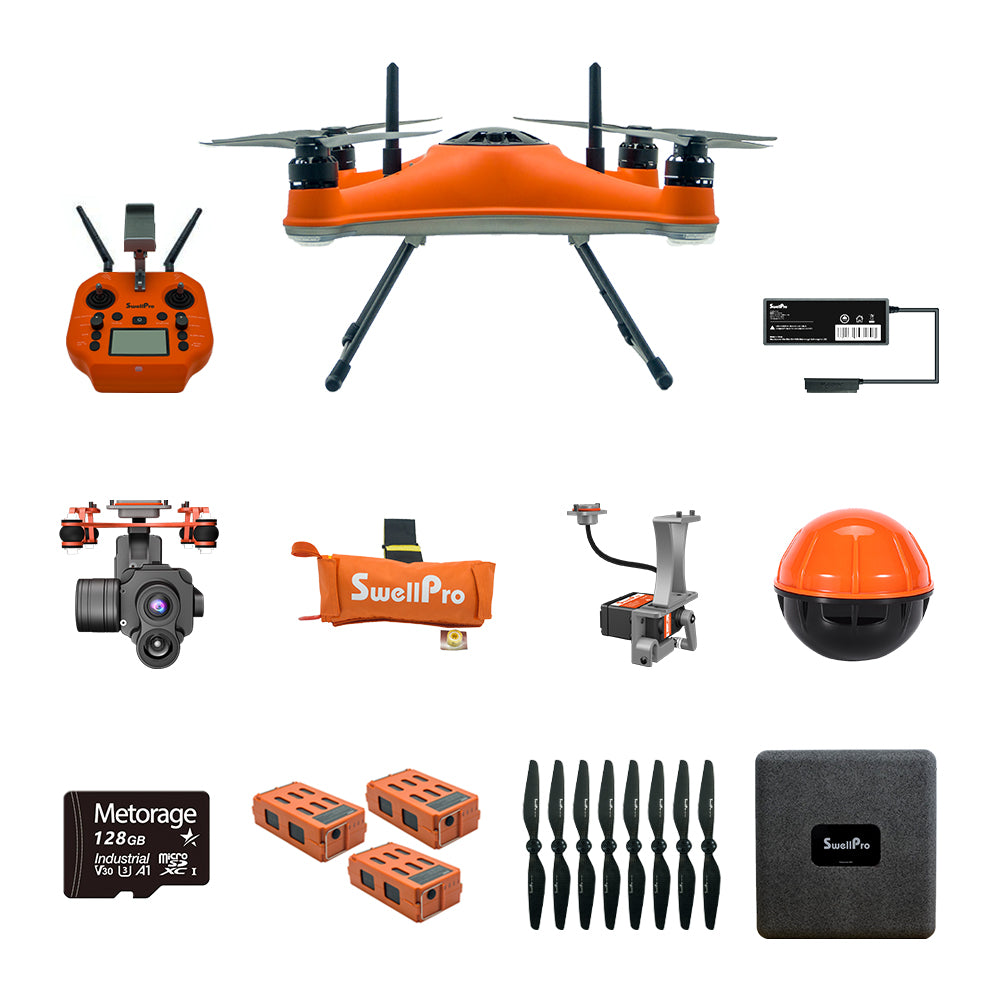 SplashDrone 4 Search & Rescue Combo
Free shipping for order over $900.
Duty-free for USA, AU and NZ.
Buy now, pay later with Klarna.

SwellPro SplashDrone 4 Search & Rescue Combo
SplashDrone 4 is an all-waterproof and all-purpose drone. Many emergency organizations have been adopting SplashDrone 4 to assist in search and rescue missions. Superior flight accuracy and reliability, operable in all weathers and all terrains, different payload options, SplashDrone 4 is designed to help you save more lives and reduce the time, cost and risks associated with SAR operation.
Key features of SplashDrone 4 Search & Rescue Combo:
Situational awareness: Fitted with a GC2-S 1080P 2-axis stabilized camera, SplashDrone 4 can quickly capture aerial data of a large area. This allows responders to have a situational understanding of the search zone and pinpoint possible locations where the missing person might be trapped.
Nighttime searching: The GC2-S has a starlight night vision sensor that can capture detailed images in low light condition. The camera has an inbuilt dimmable LED spotlight.
Lifesaving device delivery: SplashDrone 4 comes with a PL1-S payload release mechanism. It allows rescuers to drop an inflatable life preserver to people struggling in the water or deliver first aid kit to someone who is injured.
Sonar searching: When connecting to the Dronar sonar sensor, SplashDrone 4 can search for ship wrecks and potential victims in rivers or lakes. It can also return the information of underwater terrains. 
IP67 Waterproof: Both the aircraft and the remote controller of SplashDrone 4 is totally waterproof. The drone can float on the water and take off from the water. SD4 can be operated for SAR missions in rain or snow. 
What's in the box?
1 x SplashDrone 4 aircraft & remote control
1 x GC2-S 2-axis 1080P camera
1 x PL1-S payload release
1 x Automatic Inflatable Lifebuoy
1 x Dronar Sonar Sensor
1 x 128G memory card
3 x flight batteries
1 x battery charger
4 x propellers (pair)
1 x hard carrying case
Subscribe now to receive exclusive offers and updates.
Get an Exclusive 5% Off Your First Purchase