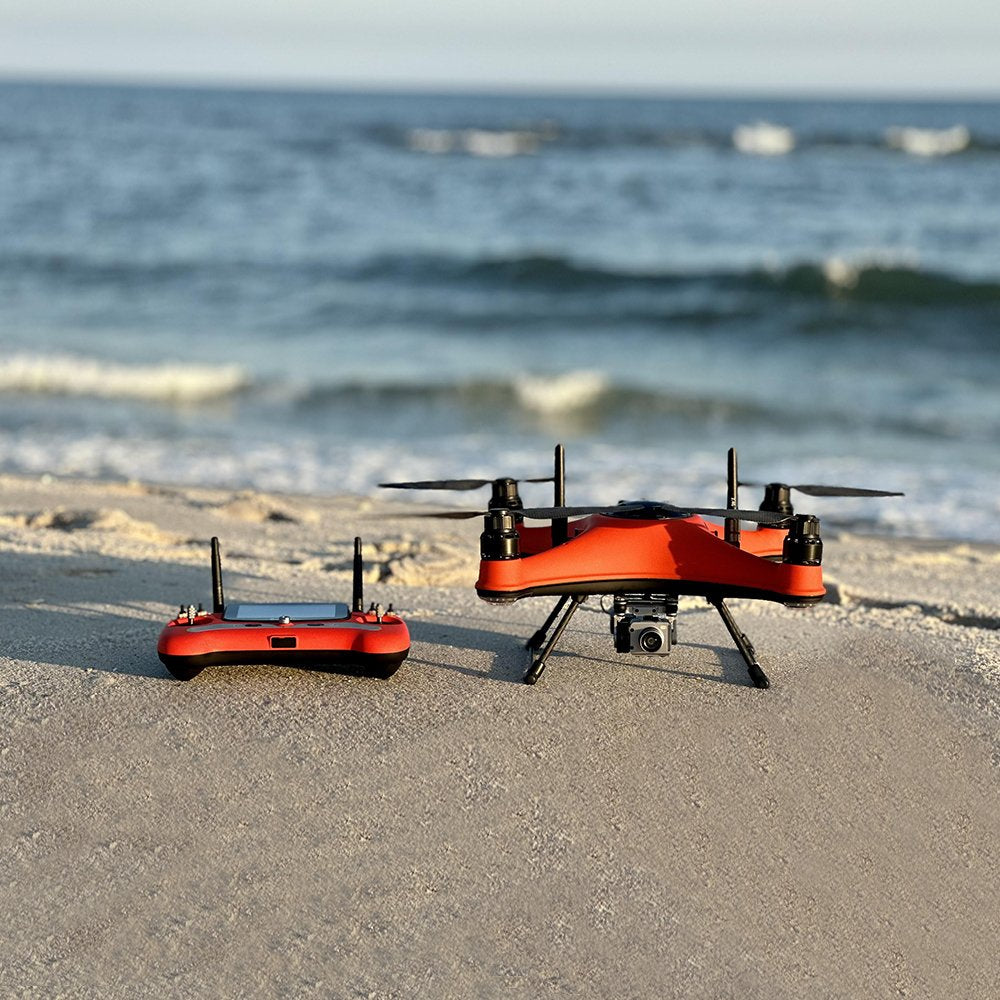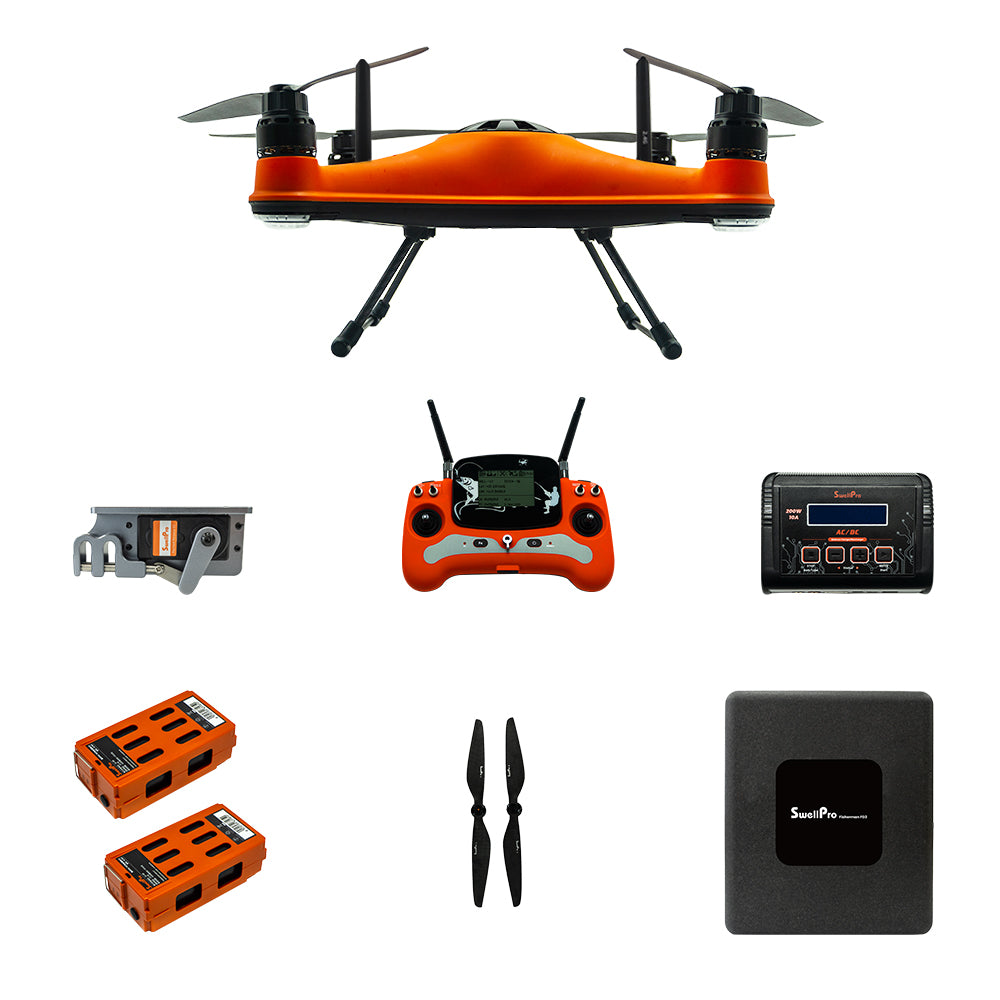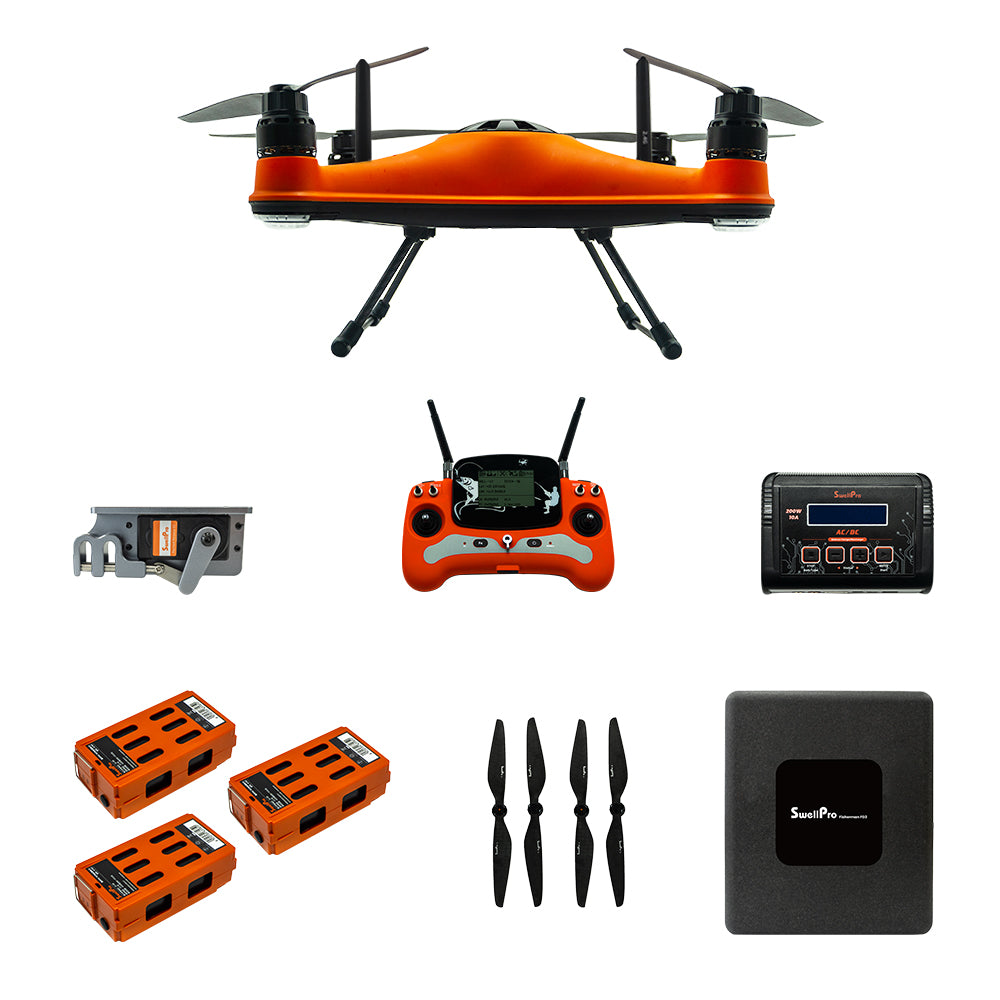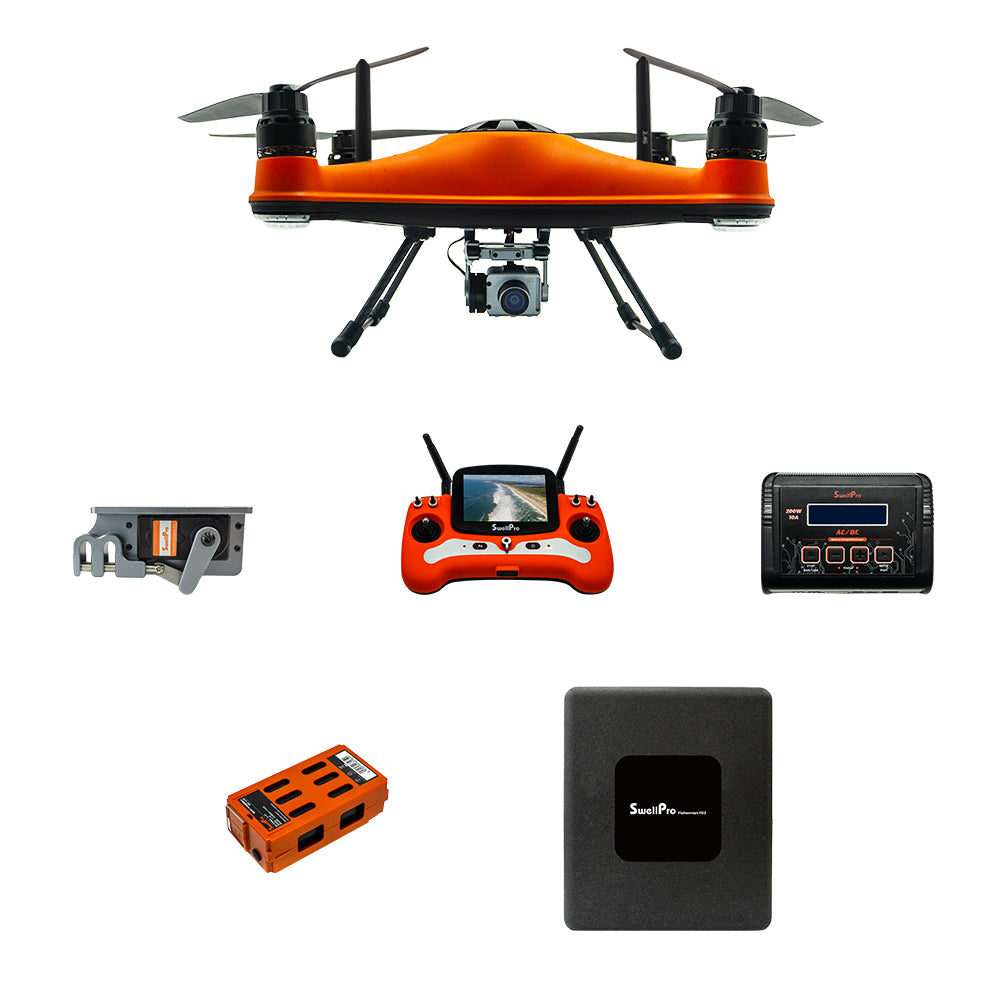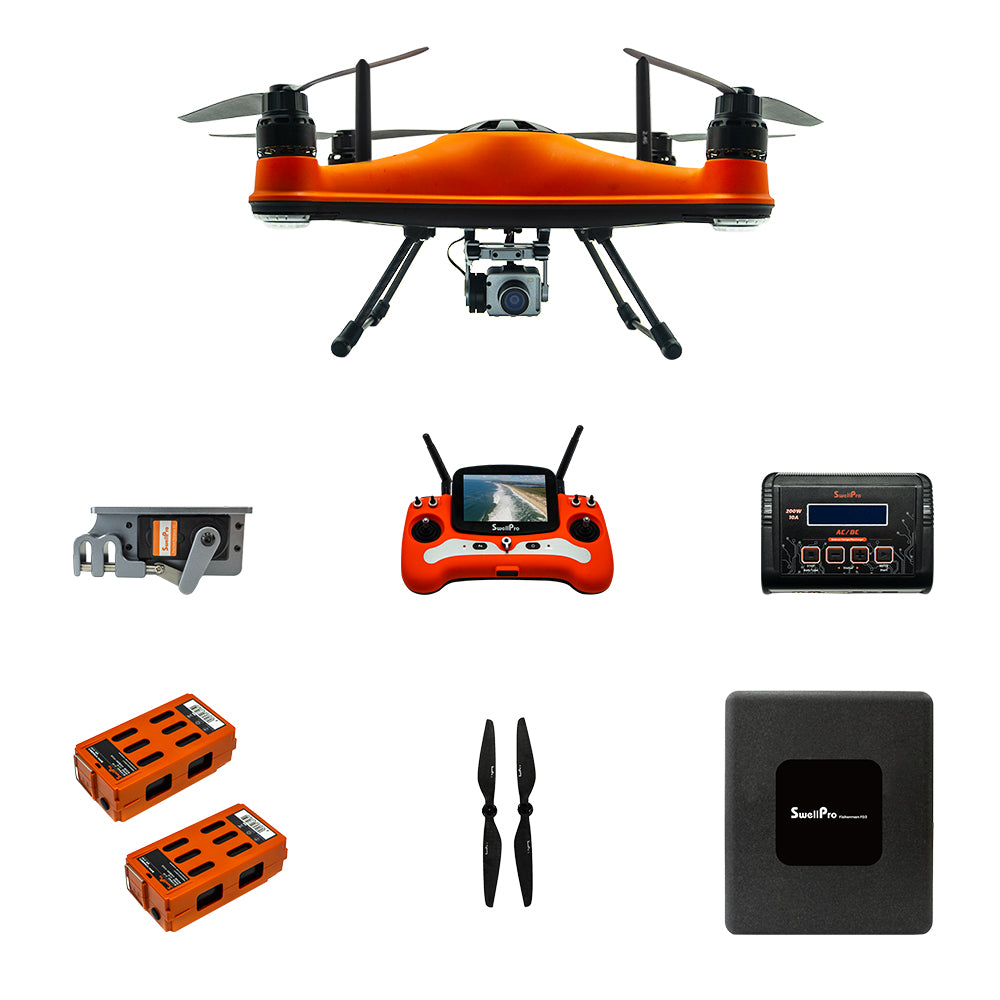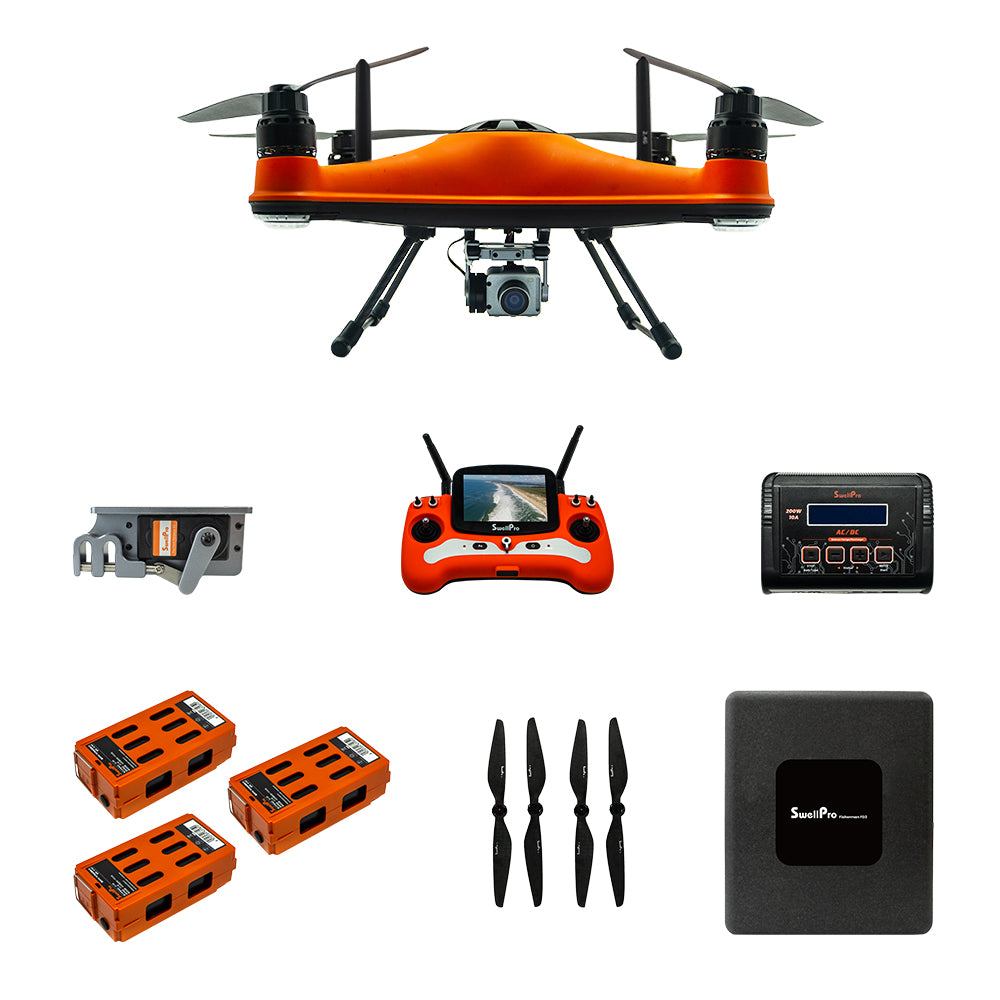 Fisherman FD3 WaterProof Fishing Drone
New Released Fishing Drone.
Calibration-free.
No Geofencing.
IP67 Saltwater-proof.
4.8 LBS / 2.2 KG bait lift capacity.
Basic version comes with a dual bait release, Advanced version comes with a dual bait release and a 4K camera.
Extra Propellers & Battery:
Extra Propellers & Battery
Free shipping for order over $900.
Duty-free for USA, AU and NZ.
Buy now, pay later with Klarna.

Fisherman FD3 is the most easy-to-use and reliable waterproof fishing drone ever made by SwellPro. It consolidates several advantages from its fishing drone siblings: the power-efficiency from FD1, the ease-of-use from SD4, the enhanced safety from Max. Fisherman FD3 comes in 2 versions: the advanced version features a 4K camera video system while the basic version dedicates 100% of its power to carrying baits.


4.8 LBS / 2.2 KG
Bait Capacity
GPS 9.0
Precise Positioning
Calibration-free
Flight Sensors

4.8 LBS / 2.2 KG
Bait Capacity
Fisherman FD3 is reliable for carrying baits of up to 4.8 lbs or 2.2 kg into the ocean. The great lifting power is drawn from a high capacity and high voltage 6S battery, high thrust motors and large-sized carbon fiber propellers. New electronic speed controllers enable excellent power-to-payload ratio and extended flight time.
Max Flight Time
With Baits
The flight time of FD3 can range from 9 minutes to 27 minutes on a single battery charge, largely depending on the weight of baits you attach to the drone.
no baits ~ 27 minutes
1 KG / 2.2 lbs ~ 14 minutes
2 KG / 4.4 lbs ~ 9 minutes
The Safest Drone on the Surf
S5 Flight Controller
The AlphaGo for Fishing Drone
100% faster than S4.
Refined algorithms for improved flight stability and altitude control.
Higher tolerance for heat, interference, and vibration.
More real-time data feedback for an interactive and safe control.
The new S5 flight controller powers the FD3 to reaches new heights in the performance of fishing drones.
Calibration-free
The S5 can automatically calibrate the flight sensors and eliminate magnetic interference to ensure an accurate and reliable flight performance in different locations. You don't need to calibrate the FD3 in any beach of the world.
Pendulum-free
The S5 is fine-tuned to increase stability and reduce pendulum effect while the drone is carrying a swaying baited line.
Auto-drop & Return
Fisherman FD3 can automatically release the baits and fly back to the shore in case of low battery and loss of signal.
GPS 9.0
Your Path to Seamless Drone Fishing
The latest 9th-gen GPS, compared with predecessors, makes great improvements in assisting FD3's flight by providing accurate positioning, navigation, and several safety features.
Higher accuracy
Being able to acquire up to 30 satellites, FD3 ensures precise navigation and maintains stable hovering in place.
Faster Acquisition
With stronger signal reception, FD picks up satellites more quickly than ever and reduces the time required to unlock motors.
Multi-satellite
FD3 can access multiple satellite systems including GPS, GlONASS, Galileo, and BeiDou for better signal quality and accuracy.
Interference-free
Advanced signal processing technology is implemented in the GPS receiver to filter out interference and noise.
IP67 Saltwater-proof
The aircraft of FD3 is entirely sealed, then air-pressure tested and dunk tested to guarantee 100% waterproof. The fulsage is made from marine-grade ABS to increase durability and survivability under great water pressure.
Corrosion-free
The waterproof motors, waterproof bait release and internal electronics of FD3 are coated with corrosion-resistant coating - adding an extra layer of protection against the salty air above the ocean.
Self-Floating Design
We designed FD3 with sufficient buoyancy on the aircraft itself. The drone can keep floating when landing on the water. Then, you can control it to take off again from the water and fly back to the shore.
Automatic Flip
If the FD3 accidentally capsizes in the water, you can use the joysticks to flip it back to its normal position, and take off!
Level 7 Wind Resistance
Thanks to the strong propulsion system and the GPS 9.0, FD3 can maintain a stable position and attitude in winds up to 20 m/s (38mph).
The Simplest Fishing Drone
On the Earth
Slide-in Battery
Swapping battery is super easy. Open the hatch door, slide the battery into the compartment, hit the power button, then you are good to go! The hatch door is 100% waterproof with a rubber seal when closed.
Screw-on Propellers
The threaded propeller mount allows for easy installation and keep the propellers from flying off the fast-spinning motors when the FD3 requires lots of thrust.
Fisherman-friendly Remote Controller
The remote controller of FD3 has a sleek game-console design for maximum comfort. The interface is clean with well-labeled buttons for intuitive control. Pilots can rely on the on-screen telemetry, video feedback and voice alerts to get situational awareness of the aircraft in real-time. A splash-proof and sand-proof body allows the remote controller to survive on the beach. There is no room for mistakes when you are controlling the FD3.
The advanced remote controller has an inbuilt multi-color display that can show the drone's live footage in 720P.
4K
Fish Spotting Camera
For Advanced Version
The FD3 advanced version comes with a 4K stabilized camera that can shoot detail-rich photos and videos. The camera can be tilt up or down via the remote controller to broaden pilot's field of view. With a clear aerial video feedback, land-based anglers cannot only see reef and rocks, but even spot fish on the water - knowing when and where to drop baits.
FDFly APP
Drone-cast
at Your Fingertips
The FDFly APP enable several autopilot features on the FD3. That makes it even easier for anglers who have no piloting experiences to fly baits out.
Auto Take-off
Slide to activate FD3 and take it off
Tap-to-Fly
Fly to the location you tap on the APP
Waypoints
Select several points to create a flight route
Fishing Spot Saving
Remember GPS points of fishing spots on the map
Auto-Fish
Automatically drop baits at saved locations
Map Download
Take map-enabled autopilot features off-grid
1 Mile / 1.5 KM
Casting Range
Fisherman FD3 can operate at a range of up to 1.6 km (1 mile). Dual rotatable antennas enhance the signal transmission in multiple directions, preventing loss-of-signal when the drone flying close to the water. Land-based anglers can easily cast a long line and drop baits in faraway locations. Casting baits with SwellPro is 100% hassle-free and more time-saving than using a boat or a kayak.
Specifications
Waterproof rating: IP67
Drone weight: 5.5 lbs / 2.54 kg (​​including battery, propellers, gimbal camera, and payload release module)
Size (w/o propeller): 14.6*14.6*7.9 in / 372*372*202mm
Max ascend speed: 7 mph / 3 m/s
Max descent speed: 4.5 mph / 2 m/s
Max flight speed:
-GPS: 22 mph / 10 m/s
-ATTI: 40 mph / 18 m/s (without payload); 31 mph / 14 m/s (with payload)
Max tilt angle: 30°
Max altitude from take-off point: 393 ft / 120 m
Max flight distance: 1 mile / 1500 m
Max image transmission distance: 0.74 mile / 1200 m
Max payload capacity: 4.4 lbs / 2 kg
Flight time: up to 27 mins (no wind & no load)
Max wind speed resistance: 40 mph / 18 m/s / 35 knots
Hovering precision: ±1.6 feet / ±0.5 m
Satellite positioning system: GPS/Galileo
RC transmitter power: 2.405-2.475GHz, <33 dBm(FCC), <20 dBm(CE)
Image transmitter power(for Advanced Version only): 5.725-5.825GHz,<33 dBm(FCC),<14 dBm(CE)
Working temperature: 14℉ ~ 104℉ / -10℃ ~ 40℃
Certifications: CE/FCC/ROHS/RCM
What's in the box?
Advance Version
Aircraft x 1
Remote controller x 1
Flight battery x 1
Charger x 1
Propellers x 2 (pairs)
Camera x 1
Bait release x 1
USB-C cable x 1
Charging cable x 1
Power adapter x 1
Phone mount x 1
Carry case x 1
Basic Version
Aircraft x 1
Remote controller x 1
Flight battery x 1
Charger x 1
Propellers x 2 (pairs)
Bait release x 1
USB-C cable x 1
Charging cable x 1
Power adapter x 1
Phone mount x 1
Carry case x 1
SwellPro is the best
Bought a Fisherman FD3 about a week before Thanksgiving with extra props and battery. I'm thinking it would be all in [1] one box,
but it came in [2] two boxes, [2] two shipments. and [2] two different days.
Shipment/box [1] one came the day before Thanksgiving Day [FD3]
Shipment/box [2] two came [3] three days later. Extra props and battery.
Support staff and after the sale staff were bar none! Great team support!
Received everything promptly, all well packaged. FEDX was the best.
Drone, Controller w/ 5" Screen, Charger and Batteries built very well,
Went fishing that Monday, and I can say fishing on!
thank you,
K. R.
Nice product
Product turned up very quickly even though Fedex went a bit astray
beautifully packaged drone in case
I immediately charged batteries and controller
the charger is a bit complicated and unfortunately one of the leads will not stay plugged in - it pops out so disconnects every time
I fixed that temporarily by using gaffer tape to strap the plugs to the charger
I will send video to Swellpro so they can replace lead
I have had my first flight
very quick and easy to connect drone to controller with voice responses which is just as well as the controller is pretty much illegible in sunlight
first flight was very smooth very stable hover and having been used to SD4 the flight and return were easy
Fisherman FD3 received
Item received promptly, Well packaged. Still in the box. looking forward to operating it.